Ouachita Mountain Flies
Please note the huge price increase for 2009!!!
These prices are current...

870-210-3681

To place an order on-line, decide which flies and how many you want, get a total plus $2.50 S/H (please note price change...), and e-mail me your order. Make sure to leave me a Phone # and your mailing address. Then come back here and click on the PayPal link below to use my secure PayPal service. As soon as your payment goes through, your flies will be on the way!

E-MAIL ME TO ORDER
(and leave a phone number)

Go to PayPal here!

One of the things I do is retail (and wholesale) flies. I began to "seriously" tie flies for my own purposes about 1983. It doesn't seem all that long ago now, but, I know it goes back that far.

I have been creating flies for the Little Missouri and the Ouachitas as well as tying all the standard, well known patterns, and even dabbling in the world of Full Dress Salmon Flies. But, being a guide, you will understand if there are some patterns I just don't let out of my box. Those are reserved for the folks who fish with me.

Below, you will find my creations available through Ouachita Mountain Flies. By getting your flies direct from me, you can get the patterns you need for a decent price. Call me and place an order and let me know what you think of your results.

Look at a complete list of flies available!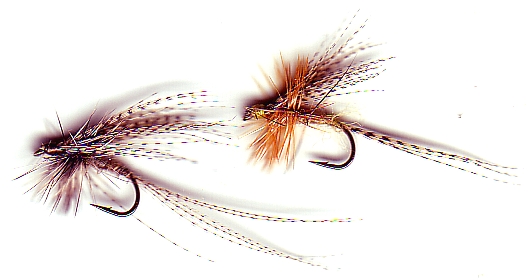 The "R&A Dry Flies" are new to the available arsenal! Based on the older style of dry flies patterns from a couple of hundred years past, these are tied a little differently than "Modern Catskill" dry flies, hence the name "Royal and Ancient" in reference to St. Andrew's Golf course in England. You can get them in March Brown, Light Cahill or Sulphur flavors!

Price: $1.90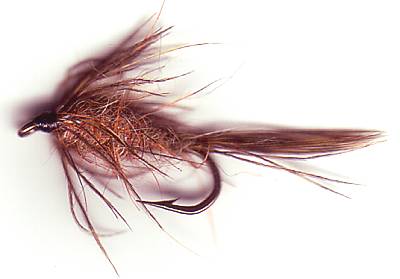 The "Long Creek" is my best March Brown nymph imitation. It has caught fish everywhere it has gone and is probably my most popular pattern.

Price: $1.90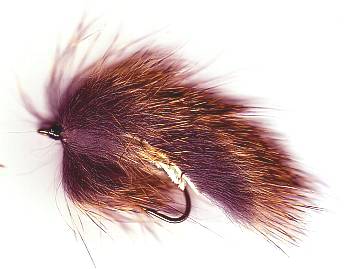 The "Squirrely Tukass" This is my sculpin pattern that has been very effective on the White and Norfork rivers. "Squirrely" for the material, "Tukass" for the Matuka style tying technique.

Price: $2.30


"Jeff's Mudbug" The one fly that I am asked to demostrate everytime I am tying somewhere. Very effective on everything from Red Ears to Trout, Smallmouth to White Bass. Everything eats crawfish!

Price: $2.65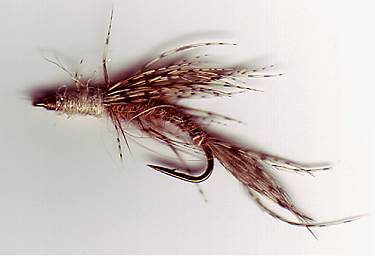 The "A & W Emerger" is a killer when the March Brown Mayflies are hatching. Fished very quickly, the Trout here can't keep off of it from late winter through spring.

Price: $2.00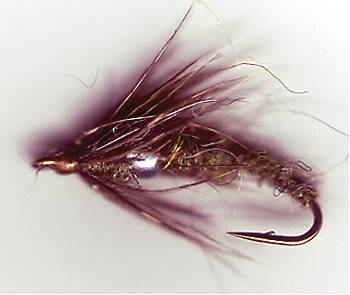 The "Original Bead Belly" has been one of my staples for some time now. It imitates primarily an emerging Caddisfly with its air bubble shrouded under the hackle. Does great anywhere!

Price: $2.00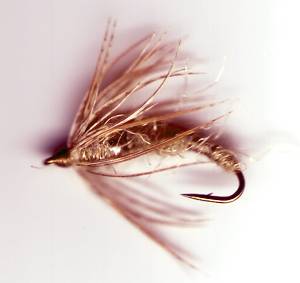 The new "Tan Bead Belly" - just another flavor to compliment the very popular original dark olive Bead Belly. Can't go wrong for a lot of caddis species!

Price: $2.00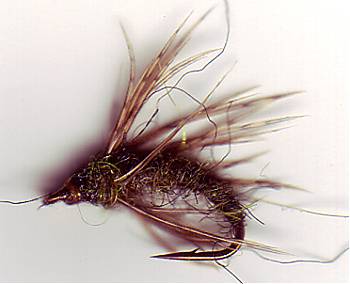 The "Smudge" has gained popularity as kind of a "catch-all" pattern as a reasonable imitation of caddis or midge emergers. I found it worked very well in still waters just under the surface.

Price: $1.90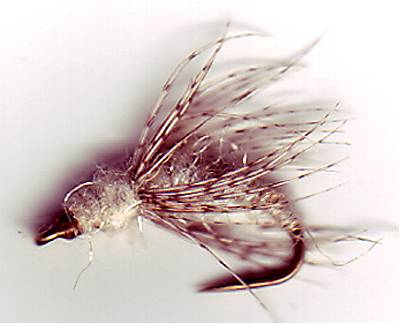 The "Smidge" is a lighter version of the "Smudge" and naturally depicts cream to tan flavored emergers. Does great when the Light Cahills or March Browns are hovering over the water at Prime Time!

Price: $1.90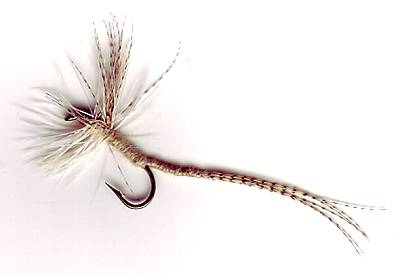 "Extended Body" Mayflies have been in my boxes for years. They can often make the difference on picky fish in slow or still waters where inspections are more thorough. My unique tying technique can be done in any number of flavors, tan, cream, gray, rusty, etc...

Price: $2.15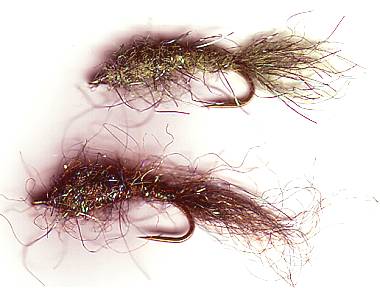 The "Little Mo' Wooly" is one of the latest versions of the Wooly Bugger to come off the vise. Rather than using a long marabou tail and hackle it is done solely with a blend of synthetics and Angora Goat which gives it lots of flash and movement.

Now in olive and the original brown/black/all kinds of stuff blend!
Price: $1.90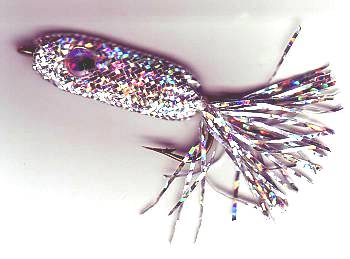 The "Holo-Flash-Shiner" is a pattern that I'd almost forgotten. A customer reminded me of it after he re-read an article I had written for FlyFishAmerica in which it was included. Don't look at these things in the full sun, they'll blind you. I like to use a special finish for them which requires several coats and, unlike epoxys, stays clear and doesn't build up thick and heavy. Consequently the cost is a little higher. If you're after something that eats baitfish, you might want to try a "school" of these!

Price: $3.65


Home | The Latest | Little Mo Message Board | Friends of the Little Mo | The Skinny Water Project | Stocking Schedule | Fly Tying & Casting Lessons
Ouachita Mountain Flies | Little Mo' Fly Fishing Festival | A Bit About Yours Truly | Prices | How to get here | References and Links | Catch & Release Tips
Custom Rods | The Little Missouri | Around the Area