Little Missouri Fly Fishing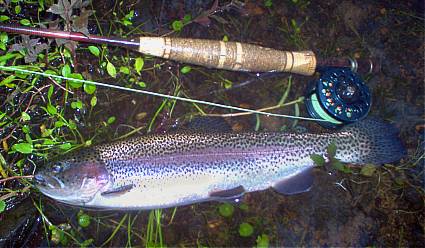 The Latest
Monday - January 10, 2022
Tuesday - November 16, 2021
Monday - August 2, 2021
Thursday - July 22, 2021

Message Board!!!
870-210-3681
So! Here we are! Into the New Year - 2022... What a couple of months it's been. Things kind of got slowed down for me the last several weeks. Sandy had all kinds of health issues that flared up and has taken a while to get back to normal - if you want to consider the day to day, hour to hour challenge that IS Parkinson's as anything normal!
She had developed gastritis through the autumn, which led to dehydration and some level of malnourishment and an eventual ER visit and brief hospital stay just before Thanksgiving! Getting her re-stabilized on the Parkinson's meds and making a dent in the gastritis (which can develop into some serious stuff) was a full time effort for a while!
To the point - she's doing much better now, thank you, and we're sort of returning to a regular schedule. However I did end up backing out of a few trips so as not to be away from the house, and that's why there's been nothing here, or anything from me on the Message Board recently! I just wasn't taking the time to sit at the computer. I did tie a lot of flies though!!! (Thanks, all, for the orders!)
So, I have not been on the river in quite a while, as you can imagine. It seems like way longer than just the middle of November. In the meantime the AGFC has been bringing in fish steadily. I know I've gotten reports of fish being taken out almost as fast though. The AGFC has upped the possession limit statewide to three days (15 fish per license) as opposed to two! Folks are taking advantage of that, I hear... Of course plenty enough people will keep their possession limit in one day!
The AGFC stocking list in their Trout Guidebook shows 58,180 fish scheduled for the year. There is a misprint (I assume) for the March numbers. The math shows that should be 15,000 fish rather than 1,500! Though the April number is down to just 1,980. Hopefully we get to keep a lot of fish in the river into May when the Catch & Release season cranks up. There is the 1,000 fish scheduled for stocking in May, but the June stocking is no longer scheduled. Rats...
It does appear that more fish have been going in during the October - December time frame, though this season nothing happened till November. I do see the AGFC's announcements on stocking here and there on Facebook and that made me feel better at least. Did anyone see any of the Browns that might have been stocked this fall? I've been quite out of touch!
As to water conditions, the lake has only come up two feet in the last month, now at 536.48' - far from flood and high water threats. There's been no generation releases since the middle of October which, while not unheard of, is a little bit unusual! Consequently, many of the fish that have been stocked to date have been pretty well concentrated at the stocking sites and immediate vicinities. The SWEPCO generation schedule still shows zeros across the board and I wouldn't expect that to change any time soon. Feel free to move about the river!
So I hope most have you have stayed healthy, avoiding Covid and anything else. I know a lot of people who have had issues, some slight, some in the hospitals. Don't mess around. Just be smart is all I can tell you. Thank the stars all of my circles involve outside activities, healthy people and significant distancing! Maybe I'll be back in the water soon!

Back Cast
My, my, my! About dog-gone time, eh? Finally back on the river with the beginning of a new season!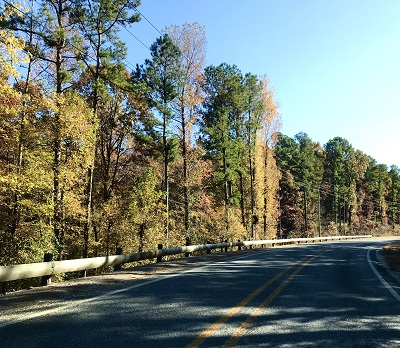 I did make a couple of late summer trips, but life has slowed me down in getting things done at the computer sometimes, and I fear, there really wasn't a whole lot to report... The water schedules were so erratic, trips were few and far between, distractions here and there - just put a crimp in my old routines.
<<<< Indeed, the second week of November rarley dissappoints for the fall colors!
None the less, as mentioned, a new season has begun! The AGFC delayed October stocking and we just got the first loads of fish in a couple of weeks ago. The summer loads were also non existent this year, so numbers in the river were down in general. However, the fish that were there into the early fall were very nice! Indeed we got one yesterday that was just about the 17 inch mark up in The Trough!
Yesterday, Blake Bunnett (Shreveport) took advantage of nearly perfect weather for his first trip to the Little MO'! All we could have asked for was a few more clouds and a little more breeze. But we did get into some resident fish as well as freshies. The freshies were pretty typical early season types. All about 10 inches or so, but there were a surprising number of resident fish (all looking like better than 14") easing around the upper Flat stretch.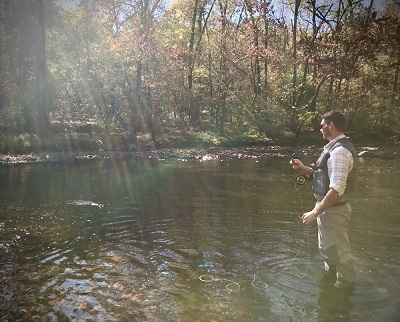 Finding things for all of them to eat was a bit of a challenge and retrieves proved to be of more importance - we found out by acciden! We threw a Griffith's Gnat, Light Cahill Sliders, and A & W's. As usual there was interest in all of them, maybe the Griffiths had the most refusals oddly enough, though! That's not typical action for a Griffith's, but we also had straight 5X tippet on at the time. Didn't think it would be much of a problem for the freshies but we found ourselves dealing with more resident fish in The Trough and Triangle than I honestly expected!
Afternoon sun spears through the trees as Blake Bunnett gets a few in at Hind's Bluff! >>>>
So after quite a few inspections and refusals - and with the evidence that there were still quite a few Light Cahills about - we switched to the Slider and some 6X fluorocarbon and things began to go our way. Blake had some nice hits a d a couple of nice fish on. Enough to straighten some hooks out and find out how not to move a rod to strike! That got better and his ratio improved gradually on the day.
As I said, the retrieve answer was "discovered" by accident... I was demonstrating the drag and roll technique and was simply trying to get the fly (a Cahill Slider at that point) back in to set up another roll when it got hammered! She was a beautiful late season hen at least 16 inches with huge fins and, NO, I did not think to get a picture!!!
We could have stayed up in the Flat, but we wanted to see a little more of the river so we finished out at Hind's Bluff where there were enough fish up in the riffels to get our attention and we got theirs with the A & W and also the Long Creek.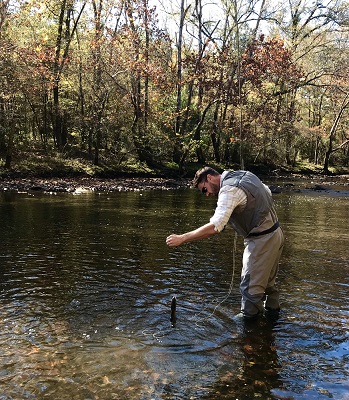 Blake got a nice taste of the shallow riffle fishing and then a bit of deeper water dredging. He had several on and in there, and even got to practice the release technique enough! We did see that there were some slightly larger fish mixed in with the "standard" sized stockers, so maybe the AGFC will be making up quantities with size this season...
There's been no generation for over a month as best I can tell, and there's nothing on the schedule for the rest of this week, and I strongly doubt that we're going to see any high water any time in the near future. The lake is currently at 534.23 feet which is a long way from "good" power pool levels and nearly 15 feet from flood pool! It's going to take a lot of rain before we see any releases!
That's the way to spend the day... Water is crystal clear right now too! 6X Fluorocarbon was necessary for the smart ones! >>>>
The first loads the AGFC brought in were only about 500 fish to each of the stocking sites. The schedule shows 5,520 rainbows and 1,400 Browns to be loaded in during November! So hopefully we see a significant rise in the numbers spread across the river in the next two weeks! Typically, they do bring nice loads in the week of Thanksgiving. We'll be waiting to see what happens in the next ten days.
Still, what's on the schedule for all of 2021 was a total of 48,810 trout to be stocked in the Lower River and only 7,600 at Albert Pike! Both numbers are way down, but Albert Pike is only half of what it was just a few years ago. There's a lot attributing to that. The fact that it's closed to camping probably has a much to do with that as anything. The Spring River hatchery also had flooding problems two years ago with a very large number of fish completely lost - so numbers are generally down across the state. I'll be anxious to see what 2022 holds in store...
On a totally different note - for all kinds of reasons - I do not intend to run the Little Mo' Fly Fishing Festival again. Sorry to tell everyone that, but it's something I've wrestled with for a couple of years and obviously it wasn't happening last winter. So your calendar is now open!!!
So, in the meantime - I'll see everyone ON The Water!!!

Back Cast
Made it back up in the middle of last week, Wednesday to be exact. And it was well worth the trip!!!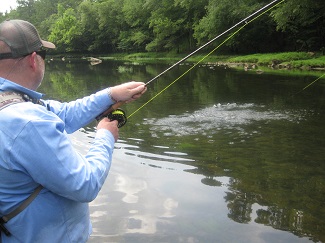 Met with Philip Cole (Alexandria, LA) on a very still and sunny morning, but the water felt great and we timed it nicely. Got some casting work done just before the fish really got going. There was limited activity before 10:00 AM actually. but as the morning continued the groups were on the move again!
<<<< There's some water being displaced there! Great summer action...
We threw Light Cahill Sliders at first with some interest... However there were only a few Light Cahills hatching at the time. We then went to Light Cahill R&A's and had substantially more interest with that, producing quite a few takes and a couple of fish on! Philip was learning a lot about things to do and things not to do in this kind of fishing. He mentioned that this situation was quite new to him and very different than the fishing he's done elsewhere!
The quality of fish has been great! Philip had several takes and hook-ups before he really tagged one (the "one out of four out of four" ratio was really holding up initially) and it turned out to be a really nice 14+ incher and quite hefty! Another beautiful fish with lots of color and dark red belly fins!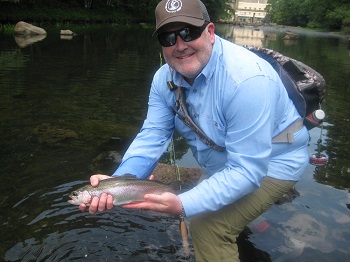 Most all of this was taking place in The Trough section and there were a lot of fish starting to move in and out by mid-day. no doubt they were staging for the afternoon high water... We kept creeping around, but started to get a little less action on the R&A and I said, what the heck, let's go to the Griffith's!
That's a really pretty hen from The Flat! >>>>
Every time the discussion of the "five must have flies" comes around, the Griffith's Gnat invariably makes that list! It is a great pattern and produces a lot of takes, but be advised - because of the quantity of very stiff hackle that makes it so buggy, it is also difficult to stick fish with!
The hackle acts as a bit of a hook guard and frequently the hook point gets pushed away from sticking the fish! Not to mention the super light wire hooks can get easily straightened on takes - one of the things Philip learned as mentioned earlier!
None the less, I like getting lots of takes and the 1:4:4 odds means more action in the long run! This eventually paid off when Philip stuck the fish of the day! At first it didn't appear to be anything extraordinary, but as the battle dragged on it became evident that this one was "better than average"! In fact it turned out be about 17 inches!!!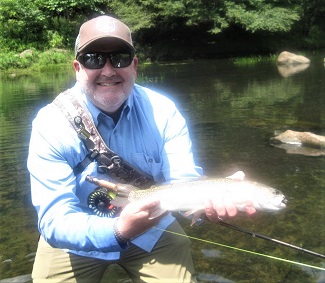 Unfortunately, on the one good pic I got of this one, the camera was getting some condensation on the lens - we had been watching fog waft over the water all day! It was quite humid... Sorry 'bout that Philip!
Fish continued to move about in increasing numbers and were very active by the time we called it a day! That's the regular scenario during the summer with consistent generation patterns. The fish, season after after season, develop the same habits based on generation schedules. By mid-week, they certainly seem to know exactly what time to start moving ahead of the high water to be!
<<<< Philip shows off the best fish I've seen on the river this year!
And just as fortunate, they are also quite predictable as to where they're going to be. Just need to know those lanes and not encroach on them!
The schedule for this week is looking good and the weather today isn't hurting either!
Monday and Tuesday - 2:00 to 6:00
Wednesday - none scheduled
Thursday - 3:00 to 6:00
Friday - 2:00 to 7:00
Saturday - 2:00 to 6:00
Sunday - 2:00 to 7:00
That leaves time each day for some Prime Time action for those who may be there. That last hour before dark can be pretty interesting as the Light Cahill hatch improves over the next three months!

Back Cast
I know, I know! It's been a seriously long time since I've updated the website. But it's also been one helluva summer for this household!
We had lots of high water from early May, which is standard operating procedure for the lake and river, but that lasted into June. It really shut down everything that was looking so nice for the coming summer, but I lost a lot of days on the river through that time frame - so there really wasn't much to report anyway!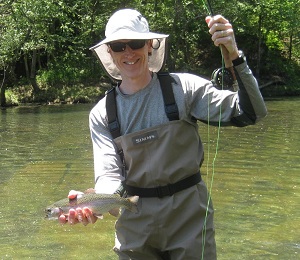 In fact, the last trip (until mid July) that happened was with old friend Jeff German on May, 14th! There were a few trips in the late spring and the fishing was as expected in the time period. The March Brown hatch came and went on schedule, but the excessive high water days and early crank up times didn't allow much fishing with them.
<<<< Jeff German shows off a nice late Spring chunker!
In June, Sandy and I had the privilege of staying with family and friends for a week in South Fork, CO! It had been a long time since we'd made any big trips to anywhere and this was quite the event! Sandy's kids and the grandkids were all there, so there was all sorts of hiking, ORV trail riding, Continental Dividing and Rio Grande floating going on with them! We watched, enjoyed the quiet and high country mountains! Oh, and I may have fished some...
Well, of course I did! More on that elsewhere!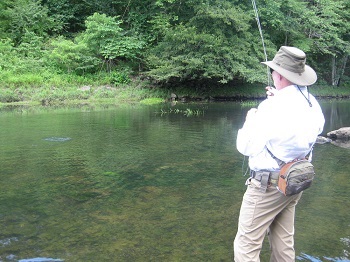 So, on to now! The most recent trip was back on Friday, July 9th with Bill Anderson from Texas. We finally had a Friday that had enough window to fish for a sufficient session. And, actually the fishing was better than I had anticipated!
Bill Anderson ties into... Something! >>>>
We arrived about 9:00 at Riverside and proceeded to get Bill some good casting stroke going. He says that was his main concern, but that's what they all say! As we were finding a groove I was keeping an eye on the cruising lanes and right on schedule fish were making their moves.
It was nice to see so many fish starting to move about the Flat in the usual July patterns. Man! They're so predictable - year after year - crop after crop! Mind you, I'm certainly not complaining. Makes my job a lot easier when the fish do what they're supposed to!
So we started moving Light Cahill Sliders about in the shallows and generated some decent interest and some swipes and full on hits. But shortly after we moved up into the Trough, Bill tied into the fish of the summer so far - for me at least. It was a 16 1/2 incher that threw us several awesome jumps and runs to match! At first I suspected a solid 14 inches, but every time we got a good look at her, she simply got bigger!
After several minutes Bill managed to corral the chunky fat Bow and we released and thought about it for a minute! I didn't have the heart to tell him that he probably wouldn't see anything any better than that on the day. But I did say that this one fish made it worth coming out to the water!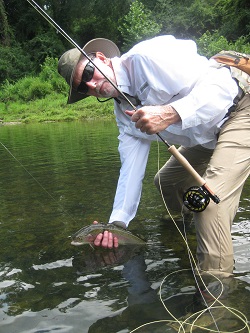 As the morning progressed into the afternoon the groups of four or five or six would meander about the shallows. We positioned ourselves in all the right places and produced quite a bit of action. We also threw Light Cahill R&A's with a measure of success!
At about mid-day, the fish really started to get on the move, and before we knew it there were dozens of fish moving about in both directions up and down the Flat, through all the regular cruising lanes! It was quite heartening to see all the activity after being away from the river for so long!
And indeed, Bill got one of the nicest fish we've seen on the river this year! >>>>
I hope that we have no "low" water issues and related problems through the rest of the summer, though i do see that for the rest of this week there's no water scheduled Friday, Saturday or Sunday... That scares me, but let's hope that there's enough cloud cover in the afternoons that we see no stressed fish.
I DO try to make a point of not fishing over them much after 2:00 PM or so, unless there's good cloud cover to keep the water cool. This is a good time of year to keep a thermometer handy and if the water is starting to get over 70 to 72 degrees, it's time to leave them alone!
The fish may be active and feeding and it may be tempting to stay out there, but having a fish on under those conditions could stress them, literally, to death! So bite the bullet and give them and yourselves a siesta!
So, in the immediate future, that being the next month and a half, you can expect increasing numbers of Light Cahills hatching, some Sulphurs as well. And every now and then a few Slate Winged Mahogany's, but they're not so important. The water and lake are stable - the lake is at 542 feet today. Maybe a little low already for this time of the year, but it should be pretty chilly water from the frigid winter and spring run-offs!
I believe the rest of the summer into the fall should be quite nice! Make your plans!!!

Back Cast
Always On The Water - Jeff