Little Missouri Fly Fishing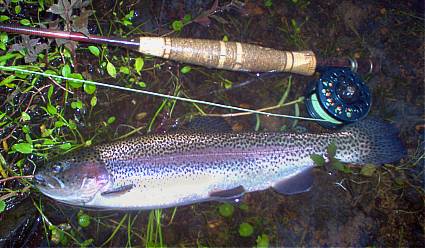 The Latest
Tuesday - December 6
Wednesday - November 23
Wednesday - November 16
Sunday - November 13
Monday - October 17
Thursday - September 29
Monday - September 12
Thursday - September 1

870-210-3681
Check out the current weather and forecast in Murfreesboro!
Squeezed one day in last week before all this ugly weather kept us off the river for the rest of the weekend! I met with Scott Austin (Texarkana) last Friday morning for his first attempt with fly fishing. We enjoyed the last of the nice weather at Riverside and some decent fishing for our session!
After learning quite a bit about the casting and a bit about bugs, seasons and gear, we started throwing some flies in with the enticing cruising fish around the Flat at Riverside! There were just enough fish showing and we started with an un-weighted Long Creek initially which only produced one or two looks... Went to a full bodied Long Creek after that and started producing takes!
Scott Austin gets his first fish on a fly where so many have done the same thing - Riverside Flat! >>>>
Scott was doing quite well with casting and the "fishing" throughout and it paid off quickly as he landed the first two fish that hit him!!! The "one out of four out of four" ratio was already being skewed his way! I don't think Scott was too worried about it... I believe he was already pretty well pleased with this new fly fishing thing!
We moved around the flat just a little bit and found that fish were concentrating in only a couple of places on a regular basis. The water, which had been looking a lot better over the last couple of weeks, was pretty murky again, but in a more seasonable manner... Just the regular early winter murky, I'd say! But fish were rising casually around the shallows and we turned up several as the morning progressed.
When all was said and done, Scott had landed not only his first fish on a fly, but his first Brown as well! Wasn't one of the bigger ones, but it was looking pretty good - nice color and well defined spots and carrying a bit of some weight!
As the mid-day passed it seemed the fish were getting much busier with actual surface feeding... So often fresh fish do all kinds of splashing around on the top and everyone thinks there's got to be some kind of hatch and then wonder why they can't raise a thing on a dry. Well, usually they're not feeding, just bouncing around randomly as they were accustomed to doing at the hatchery. No apparent reason!
<<<< Scott also landed his first Brown! Great way to start his fly fishing world...
After Scott headed back for the day, I stayed out for a bit trying to see what I could discern from this "for real" feeding! There were plenty of very casual, quiet, sipping rises all over the Flat, particularly after the clouds had finally started to move in. Sure enough, there was a significant number of tiny midges drifting around on the surface. And I'm talking tiny - probably in the nature of size 26 or 28!!! Black with hyaline wings.
Well I went to a Griffith's Gnat and raised a few, but I had been too lazy to switch to a super fine tippet and I think I was getting quite a few refusals. I also threw a #20 ADL Midge which produced about as well... We're getting into that time of year - midges will be the only thing you'll find on the surface menu. I saw just one Light Cahill floating around the entire day. They're pretty much done, but it won't be but a couple of months before the march Browns start to make their presence known!
Get your fly orders in soon!!!

Back Cast
Busy few days since last Sunday, but here's what was happening then!
It was indeed Sunday that I met with the returning Tolbert Greenwood, his son Sean and Sean's son Nick (Fort Worth, TX) for a three generation day on the Little Mo'! That is so cool to get to do with you folks now and then!
Tolbert Greenwood assumes the position... Actually, that's pretty laid back and relaxed I'd say! >>>>
The last time they came was April of 2015... What a different situation in mid November! We got Nick some first casting instruction and he took it quite well. Tolbert and Sean were listening for the remedial information and it wasn't long before we had flies on, but there just wasn't much happening in the Park - even in the Wall Hole!
We dredged the Wall Hole with Long Creeks for quite a while with only a hint of a couple of hits! It was rather discouraging... Fish were showing here and there, but they weren't really playing nice.
Seems to have been the standard for the Park on a lot of occasions this fall, even with the newer fish! Granted it was the peak of the straight up sun and no clouds with very little wind at the time...
<<<< Nick Greenwood and grandaddy Tolbert double up at Hind's Bluff! Sean was upstream of them at the time - sorry Sean I didn't get any pics of you this time!
At any rate, off we went for the usual attack. Down to Hind's Bluff to find no one else around again - at least for a little while. So we took up the best positions and proceeded to get into plenty enough action with some doubles and nearly a triple at one point!
We stuck with the Long Creeks for a while, but I had tied a few flies the day before that I was determined to throw in there just to see what would happen! That was the "original" Wooly Worm.
I dare say not a lot of "newer" fly fishers are going to be familiar with that one actually! And in fact the guys didn't know what it was on this day! But it was possibly and probably the first fly with which I ever caught a trout!
I just thought it would be kind of cool to throw a classic in there and see what the fish thought. I told the guys, as I was tying the first one on, that I was "going seriously retro" today!
Nick Greenwood gets his first fish / trout on a fly! Already a good day! >>>>
Well, the fish liked it just fine. Obviously, they had probably not seen one yet... They may have eaten just about anything just as readily, but that's not the point! This is one of the first flies I ever saw and it goes back a good 75 years - at least!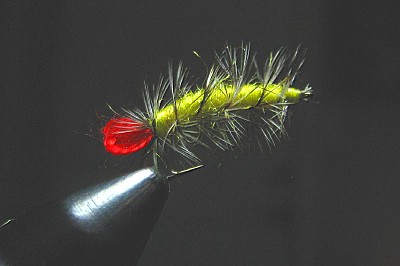 Wonder how many orders I'll get for this one in the next couple of weeks???
Just something fun to do! Next will be a Grizzly King! Ya'll look that one up!
We finished a really awesome day of weather with Bald Eagles flying around and plenty of fish landed! Once again - Everyone caught fish, nobody got hurt, it was a good day!
Monday we had a few hours of generation in the first part of the day and Mark Wiley reported that the stocking truck was there in the afternoon to boot! Should have been a couple of thousand fish spread all over the five stocking sites, some on still "high'ish" water downstream, so that's a good thing! Everyone have a great Thanksgiving holiday and for those who choose to take advantage of the fresh fish - enjoy!

Back Cast
Another gorgeous day on the river Tuesday as I met with Ruby & John Stewart Shreveport, LA for their first time to the Little Mo'! They had planned ahead and got a casting lesson a few weeks ago and let that percolate for a while before we could get a good time to get on the river. It was worth the wait...
John Stewart gets the day off to a good start... >>>>
Although we started at Riverside and got some refresher casting in, it was quickly clear that there wasn't much going on in the shallows in the late morning... Only a couple of fish had shown themselves to be evident while we were casting, and they were keeping their distance and direction a bit of a mystery! So, why not, back to Hind's Bluff!
A bit stunned to get there and see that there wasn't another soul! I know it was a weekday and all, but nobody???
So we took full advantage of it and settled in as the shadows were starting to cover the west side of the pool. And we had a nice northerly breeze most of the time. All good things!
<<<< Ruby Stewart - likewise!
Long Creeks were pretty much all we bothered with on the day. This time of year it doesn't really matter a whole lot what you throw out there - it's more a matter of location. Gotta throw where the fish are after all... I'm sure there's enough fish in the pool that have sore lips, but they're still going to try to find something to eat, even if it's a DNA reaction thing.
They're going on a week now and need to learn some real food. And of course there's also the first batch that went in a couple of weeks back! They may be starting to learn that some midges and Light Cahills can be pretty tasty - or at least nutritious. Never tried to eat any myself... That's where I draw the line!
At any rate, the Stewart's didn't take long at all to start getting the fly to the fish. And before they knew it, they were getting pretty good at strip-setting fish and the hook-up ratios were on the climb! The casting preparation, line handling and actual fishing were all getting into a good groove. Fish "landing" was going up accordingly.
John lands that big, chunky Brown... All the afternoon though, there was another bigger one that kept showing itself, but we never could be in the same place at the same time! >>>>
John found one of the better Browns in the shadows and, even for a freshie, the male with a bit of a jaw showing already gave him everything John wanted! Bull-dogged John around for a couple of minutes and took some line away as well! Turned out to be a very solid fourteen incher and heavy bellyed! We also turned up a couple of Rainbows in the same class! Not too surprising, but those weren't common either...
Looked like Ruby and John got everything they were hoping for on the first excursion. But as I told them at the end of the session, they need to get back soon... "Use it or lose it!"
So, after they headed out, I took that advice and fished for a bit myself. By then David McAdams had shown up and was having his fun in the middle section of the pool. I headed up into the bottom of Butt Buster Shoal where fish had been cutting up for a while.
<<<< Ruby ends the day well!
When I dropped a Smidge, which was still attached from the last time I threw my rod, into some of the little chutes and runs it was quickly hammered in the faster water. Oh! It was on, buddy!!!
I worked my way slowly down the shoal until I was swinging the fly through the terraced section. That produced numerous 'Bows and a couple of nice Browns, one of which I got my thumb a little too close to its lower jaw - the digit was bleeding for quite a few minutes after that! Use your clamps on those guys even if it looks like the fly is easy to get to!
Also had another one blow up and take about five yards of line off the reel on the initial run trying to get out of the shallow water! That was great fun for about eight seconds! Just enough time to buck the rider...
All in all, a very nice afternoon! Near perfect conditions and no crowds! Also got the report from Mike Ingram that he did indeed get a 20 inch Brown, so the average might be 14 inches, but watch out for what you might run into out there! Between that and Billy Guin's big one he got over the weekend I'd say the average Brown might could be a little higher! Thanks AGFC!!!

Back Cast
The new season has begun! And there's been a bunch of folks out to take advantage of it!
On Thursday I met Jason Horton (Texarkana) for the birthday trip his wife, Amanda, had set up for him! Excellent timing! The AGFC, on Wednesday, had dropped two truck loads of fresh fish into the river! That's a couple thousand fish at least and there were also several hundred nice Browns on the truck too!
Jason Horton leans back on one at the Hind's Bluff Access. What a place to be in November! >>>>
Jason was quite ready for the trip too and we spent a little while developing his brand new skills. The roll was coming along nicely and it wasn't long before we tacked on a Long Creek and started working on some of the fish that had been wandering about the whole time we were working on the casting. But, as seems to be the case so often, as soon as we put on a fly they seemed to be nowhere to found just a few minutes later!
Eventually we gave up on the quiet, still waters of the Park and headed down to Hind's Bluff, which seemed to be a hot-bed of activity! We managed to get into a spot as the small gathering thinned just a bit. Yep, there were a bunch of fish in the pool and it reminded me of the fall - maybe ten years ago - when we had no generation from October all the way into January! Thousands of fish had been stocked in at Hind's Bluff and with no high water MOST of them stayed right there!
Consequently, there were fish literally stacked on top of each other and they had all been thrown at constantly! They got smart and difficult faster than usual and there were plenty of them. With no generation, low lake levels currently and no real rain in sight i can see that happening again...
At any rate, Nick took full advantage of the opportunity before us, though, and landed several before the end of the day, including one of the new Browns to kind of finish up his excursion. It was bouncing around at his hands just as I tried to snap off a pic, then threw the fly before I could... Probably in the 13 inch class... Hefty! Seems to be the case with all the Browns that arrived this week.
Jason shows off one of the better fish on his afternoon! >>>>
Nick started out his fly fishing world with a really nice start. Expect to see him on a regular basis!
On Friday afternoon ole bud, Jim McMichael brought a couple more newbies to the river. He's good about doing that a couple of times a year! This time it was Jeff & Leslie Creel (Houston, TX). Seriously, can you have a better name for fly fishing???
We got through some casting on Friday afternoon and saw a decent number of fish, but couldn't stick any. The anticipation for Saturday was high though! Still it was nice afternoon and there was a decent Light Cahill Hover in the works.
<<<< Jeff Creel poses for his magazine cover shot!
Even well into November we're seeing good Cahill hatches and decent Prime Time action! I threw a Smidge out there and it only took a few minutes to raise quite a few fish!
I did take note too that we had been seeing a nice number of resident fish cruising in the shadows and feeding, but it sure seemed earlier in the afternoon that they all knew just how far away they needed to be to not be in harms way...
They were cruising through what seemed to be just out of reach of Jeff and Leslie's casts and only occasionally seemed to flirt with danger. Jeff landed a nice cast that produced a take almost immediately which Jeff wasn't quite ready for! Got to get that practice in somehow.
Leslie Creel does likewise... >>>>
Saturday we managed to get everyone in at Hind's Bluff again and proceeded to have a really nice morning! Long Creeks and B & B Little Mo' Woolies did all the work we needed on the day. As usual, when you hit the right line in the Hind's Bluff pool, you're going to get hit! There was a bunch of action all over the pool and the small crowd was having a good time.
Jeff and Leslie got a really good example of what it's like to get just a little bit spoiled by the Little Mo'! It's only going to get better too... Mike "Hen" Ingram reported that indeed all five sites have been stocked at least once now. And Melissa Jones from the AGFC did let me know that Browns were brought to Riverside, River Ridge and Hind's Bluff. Billy Guin got a Brown more like the 16"-17" class at River Ridge!
<<<< And a decent one for Leslie...
Folks, we need to be diligent this early in the season to make sure that we keep those Browns in the river! Make sure nobody keeps any (it is complete Catch & Release on Browns) and try to help folks handle them properly if you can. offer to help un-hook any if you're close and it appears the handling may be in question... We don't want to see the nice Browns laying dead on the bottom after all!
After a fun lunch with all of the McMichael contingent (thanks so much guys!) I caught up with Nick & Kristin Hummel (Dallas, TX) for a nearly spur of the moment meeting! Just worked out that they were there and I had the afternoon free! Good timing - must be the Super Moon!
Back at Riverside - where so many people have done their first fly fishing and landed their first trout or even fish on a fly - the shadows were already making their way across the Flat as Nick and Kristin got a really decent feel for the casting pretty quickly! It didn't take us long to get some Smidge's in the water! It wasn't going to be long before fish were moving around the Flat again!
And it wasn't long at all, like maybe a handful of casts, before Nick was fast into his first fish! I think the picture here pretty much says it all...
<<<< Nick Hummel - fish on, rod bent - "Look ma, one hand!"
Nick also later produced a decent resident fish with great colors, not to mention the fight. He could tell the difference from the other fish they had on... Nick may have gotten the first fish, but as was probably thoroughly discussed today on the way home - Kristin caught the biggest!
They did make sure to mention there was no competition involved here...
Kristin had the fish of the afternoon though. >>>>
The guys did hook up at least one double though, which is always a great sign. And I was pleased to see even more fish moving around the Flat in the late afternoon than I had seen the day before. It shows some degree of acclimation by the freshies already and comfort on the part of the resident fish.
I don't know how folks did today, but I'm sure we'll get some reports. I know we had a pretty good several days of fishing. Be back on Tuesday for more!!!

Back Cast
Monday - October 17, 2016 (Me and Sandy's Anniversary today, too!)
Took me a week to get to it, but here's another report! And it's not all that good I'm afraid...
The water is still a problem! I got reports over the last few days and on the Message Board that the water is still muddy, silty and not smelling all that great! And fish are even harder to come by. And, of course, the Catch & Release Season is over and until the AGFC gets to stocking again, don't expect to find a whole lot going on.
I worked with James & Chase Robertson a week ago Friday and Saturday, and Roy Whitfill and his dad Jerry on Sunday. I'm afraid to say, the fishing was pretty pitiful. Not a lot of fish left and the mornings have not been the time to be out there. The fish simply have not been at all enthused about mornings! I dare say they hated it!
<<<< One of the several nice fish that Roy Whitfill did manage throughout their trip!
We tried to find fish all over the place in the upper part of the river - Riverside and Sycamore Run. Just wasn't much doing... We raised a few, but the end of this season has been a far cry "different" than what we are accustomed to at this time of year. In fact, Roy and Jerry recounted that it was the same time of year that they came on their previous trip and they remembered doing quite well! Not so this time...
The report from the CORPS is that the lake is already "turning over", which I find a little questionable myself, but they were saying it's because of all the warm water that came in back in August. That would explain the odor and off color to some extent, but personally i think the August rains flushed a whole lot of loose bottom and silt on through the lake that normally would not be moving this time of year. The lake should be at its most stable right now and crystal clear, but that's definitely not the case!
At any rate, I do think the water conditions, for whatever reason, has had a major effect on the last of the fish for this season. There has been an extraordinary amount of generation through September and early October and that also seems to have put the fish off as far as normal behavior. So we just were not seeing them participate in their typical late season patterns.
Generally speaking, if you didn't get to fish the last four or five weeks - you didn't miss much!
Now I did hear from Roy and Jerry, who stayed for several days into the week and they reported that the mornings were as expected - not much going on, but it got a little better into the afternoon before the generation got going. And, after generation on the falling water at Prime Time, every day improved with more fish landed each day using Smidge's! That was great to hear!
Roy with one of the best fish of the week, down at the Sycamore Run! >>>>
James and Chase also had a little bit of success, but they only got to stay through Monday and didn't get to see the improving conditions of the next couple of days that the Whitfill's saw... James reported one nice 13 incher. We had had a bit of a tying class on Saturday afternoon and Chase tied his first few flies. I told him the new fly tiers routine: Put the first fly you tied on your fishing hat - and then put the first fly you tied that you catch a fish wiith on your hat. He managed to do both! excellent!
So, once again a season comes to a close. I'm usually a little depressed when October 16 comes around and I know that the fish are getting pulled out of the river, but this fall it may be for the best. Hopefully the lake stabilizes, and the river with it, to get back to normal out there! AGFC may bring fresh fish any day so we'll be keeping an eye out for that. I'll try to see what I can find out about the water conditions and if the AGFC may hold off until the last week of October for normalcy to set in!

Back Cast
A very busy weekend on the 24th and 25th. Well I was busy... The fish - not so much!
I had a large group coming from all over western Arkansas for the birthday gathering of one Jason Lofton set up by his wife Cindy! They came from De Queen and the Fayetteville area at least... Josh Spielmaker, Ricky Williams, Chad Gallagher, Jordan Tatum, Jeff Shreve and Zach Newcomb in addition to Jason! Quite the crowd!
<<<< That's a bunch of guys who had worked hard all morning and were taking a lunch break! Notice that most of them had their eyes glued to the water... That's positive thinking!
Unfortunately we were not blessed with optimal conditions... In fact, as challenging as the last trip was, this past weekend was worse! Hot, full sun, no wind at all and fish hiding elsewhere! Not conducive to seeing a whole lot of action.
Most of the group were throwing fly lines for the very first time so there was a lot of instruction and bouncing around across the Flat going on. We could only hope for a little help from the weather, but it was not forthcoming! Brutal... And the water wasn't right either! It was rather silty, even a bit muddy. I suspect there was a lot of movement on the lake after the storms in mid August that brought the lake up four feet overnight. That's a lot of silt to flush around at this time of year and the river is showing it!
But it wasn't a doomed effort when all was said and done. >>>>
Kind of a mess actually... Now the lake is back down to 541.24' when it was up to nearly 547' at the beginning of September! So, this year, there's been a lot of water moving around at a time when the lake is usually about at its most stable condition of the year. I suspect the oxygen content on the tail water might be a little lower than we'd like to have as well.
At any rate, all this doesn't bode well for the most recent conditions! And our guys on Saturday paid the price. But once we tacked some Light Cahill R & A''s on, at least Ricky Williams had the first bent rod somewhat early on! After that it was needles in haystacks as far as coming across signs of fish. They had headed for deep water and they did not want to play at all!
We saw very few over the Wall Hole and that was only when a hint of a cloud would cast the slightest bit of shadow. As soon as the sun hit the water again they were deep once more. But we did get at least one more fish on and I believe that it was Josh that did that! After that, it was a whole lot of casting practice!
<<<< Randy Rogers at least got a little bit going at Prime Time Saturday!
But in the classic way of fly fishers, no matter how new, everyone had a good time and Jason is already planning to return with some of the bunch apparently and spouses as well! Just planning n better fishing conditions and plenty of fresh fish around for that trip!
In the evening I met back up with Randy Rogers (Fort Smith) for a return trip! He, his wife Mary Katherine and son Will, had come down to the river back at the beginning of August and had a real nice trip, including a very decent Prime Time! Mary Katherine had also produced one of the nicest fish of the summer. I'm adding that back here because that report was lost on the old fatally affected "Blog"... And it was a really pretty fish!
Mary Katehrine Rogers did rather well on the first venture to the Little Mo'! >>>>
So, Randy and I got out for Prime Time on Saturday and we pretty much had the place to ourselves with the exception of a few casting types trying to throw some really big lures around. I don't know that it hurt our chances, but I'm quite sure it wasn't helping... There had been a good number of Light Cahills hatching throughout the day so I anticipated a lot of bugs for the Prime Time "Hover" and they were indeed there!
It took the fish a while to get after them, and we ended up with some action, but it still wasn't what I would have liked to have seen right now. The generation patterns are weird, the water is weird, the weather was no help... But fish were showing - however they weren't playing nicely... Produced only a few hook-ups and fish in! One really nice one though - great shape - nice colors!
<<<< Fish on at The Sycamore Run. Can't beat it!
In the morning we headed up into the Trough and found only a few fish showing themselves in the shadows... Randy did put a Light Cahill R & A out in front of the one fish that wanted to eat! Produced a confident take and a nice fight! After that it was slim pickins once again! We tried dredging a Long Creek around in the Wall Hole, but that didn't do anything for us either... Even Mike "Hen" Ingram was having a bit of a difficult time of it!
So, just out of curiosity we headed down to River Ridge to see if we could reach and raise anything at all there. that was futile I'm afraid. Any fish that were showing there a couple of weeks back had either vacated or were definitely not showing! I will say the water looked a little better down there though. Not as muddy, but still not clear, and certainly not "autumn" clear by any means!
Headed back upstream and pulled in at the Sycamore Run. Over all these years, the Sycamore Run has always been good for at least a couple of fish, just about any day of the year! It did not disappoint!
As we worked the Long Creek down over the drop off, Randy got hit with a nice solid thud and good fish on! That fish was right where he was supposed to be! And so was a friend of his after that! Randy had already gotten a Kentucky Bass on the trip and I was hoping we might raise a Smallmouth as well - at least get part of the Little Mo' Slam going! No dice... But a couple of nice trout none the less!
<<<< Randy finishes off the trip on a good note!
We finished the day out there and called it in time for Randy to get home and feed animals.
I'm hoping that the change in the weather over the last couple of days will make a difference to fish and fishermen! I haven't seen the generation schedule for next week yet. Let's hope there's a little less water getting pulled off the lake and water temps can get into the low 60's and maybe even into the 50's soon! I know the fish will be happier and the Light Cahills will get into max activity with the water around 56&deg to 58&deg !
And before you know it, fresh stocking will start up and a whole new season will get underway! November is a'coming!
Just got the generation schedule for the first week of October! Generation from 2 PM to 8 PM on Monday, Tuesday, Thursday and Friday. Nothing slated for Wednesday (odd...) or the weekend! Enjoy!

Back Cast
Monday - September 12, 2016
Had a great time fishing this weekend with Robert Walker and Bob "Grizz" Billings from Longview, TX!!! We may not have caught a ton of fish, but the guys sure knew how to enjoy themselves - and learn a whole bunch of stuff too!
Robert Walker gets into the first fish of the day! (Notice we had some decent chop on the water for a change.) >>>>
We started out Saturday morning with the typical casting instruction and "re-structuring" - getting away from what the "books" said do and what really needs to be done... It's almost always a shock to people how fly-casting actually happens! Some people believe it, some don't...
Most people see what they're supposed to be doing and believe it, but getting the brain to believe it and the ensuing muscle movements to occur seem to be another story most days.
Fortunately Grizz and Robert were doing pretty decent, though there remains things to improve... But then, I have that too... The key on this day was getting a fish near a fly!
We were the lucky ones to be able to take advantage of the first real cool front to come through southwest Arkansas this past Saturday!!! We had decent northerly breezes and broken skies. The fish were liking it enough to play with us quite a bit! They were still hanging around The Flat as we got ready to put some flies on and they were OK with eating some Light Cahill Sliders and A & W's and Light Cahill R & A''s.
<<<< Bob Billings got this fish on and a good bend in the three weight!
We raised a reasonable number of fish through the morning and moved into the Wall Hole after a while and, again, did reasonably well with Long Creeks and even a B & B Little Mo' Wooly! The water was still a bit warm and the fish had gone suspended by then, but here and there the guys pulled one out, including a couple of real chunks up to 14 inches!
All the while the casting was improving, slowing down and becoming more comprehensible for Grizz in particular and to a point for Robert. However, it seemed, as I came to find out, that Robert generally has had better luck getting fish on some of their trips... Seemed to be the case for much of this weekend as well!
Yep, that's what you want to see on your first day on a new stream! >>>>
We headed in for lunch and came back out in the later afternoon to some evening fishing. All morning I had been seeing a really good number of shed nymphal shucks drifting around the river. There was a good Light Cahill hatch in the works throughout the day and we anticipated a decent "Hover" for Prime Time! And while there were more decent fish landed in the early evening with the usual Smidge's, we didn't quite stay in the water right into the middle of Prime Time - not quite long enough I'm afraid...
However, as we were gearing down at the vehicles, we looked across Robert's truck bed cover - which was a shiny, nearly black, top - and it was nearly covered over with dancing Light Cahills! They were mistaking the bed cover for the river surface and we had our own little "Hover" happening up in the parking lot!!! Unfortunately, could not get a decent picture of it, but I dare say there were a couple of hundred mayfllies over the truck bed! Pretty cool...
Sunday morning, after shutting off my fan and getting under my blanket in the Dynamite Hill-ton, we got out to The Trough and found quite a few fish working there! I liked the looks of how things were developing early on.
<<<< Grizz Billings and Robert Walker double up for the first time at The Trough. Both fish were landed too, this time!
We already had some air moving by 9:00 AM and I suspected there were going to be some really excellent winds coming out of the north as the morning progressed. The only drawback was the bright sun in a crystal blue sky! Not a cloud to be found...
Which may not have been that big of an issue normally at this time of year, but all week long the generation had been cranking up at 10:00 AM and running till dark, so the fish were under deep water all day long and getting used to no bright light all day. It did other them greatly after a while...
Fish of the day! Beefy 14 incher with great color! It's what you come out of the house for... >>>>
But before that happened we managed to raise quite a few on Light Cahill R & A''s up top! There's nothing more fun than watching a dry fly get sucked under! And it's usually your fly that disappears while you're watching someone else's bob around or an Eagle flying by! Those are typically the best hook-ups - when you don't know it happened and can't over react!
But even before mid-day it was clear that all the fish we had been working on had vacated the entire Flat and headed elsewhere! We decided just for fun to go see if we could find anything down river and hiked down to the Big Rock Hole! Afraid all we did there was work on long roll casts and get wet to the waist - well, my waist at least... We took it on in for the afternoon.
<<<< Grizz with a nice September 'Bow! Couldn't hardly beat the conditions either!
I got the report this morning that the guys did go back out yesterday evening and caught a couple on their own, but alas, they still didn't stay out quite long enough to get the full Prime Time effect... They got off the water at about 7:30 again and they needed to stay out there another ten or fifteen minutes! Apparently it was past someone's bed time...
Again, we had a great couple of days of fishing, and caught some fish too! Actually the guys did quite well for this time of year at their experience level. The late summer fish are certainly a challenge!
Bad news for fishing this week though. Running Monday thru Friday from 7:00 AM all the way to 9:00 PM! Man! Nothing for next Saturday or Sunday though. Another significant cool down for the following week by the way!

Back Cast
As many of you have noticed, there was a "fatal error" on The Latest "blog" that I had been using for the last two years. So, I've been working to return to the old style page that I had done from day one! The Word Press Blog, while nice for retaining archives, was just as much labor intensive as this format is, and this, I have complete control of! I'll see if I can recover some of the recent post from this summer and add them here shortly and update all the rest of the site as time permits, but for today I'll make the following report...
Most recently, last Friday, the 26th, first time fly fisher, Pete Taylor met me on the river for instruction and maybe a fish or two! We had decent conditions though there was absolutely no breeze once again! It has been such a bizarre summer! Lots of rain, as almost everyone knows and now dreads, and very few days where there's been any wind at all...
<<<< Pete Taylor gets ready to land his first fish on a fly!
We did raise quite a few fish, however! Not a lot landed, but good action. Of course we were the only ones out there, apart from some bait fishers that needed some regulations explained. On a tip from Mike "Hen" Ingram, I tied up some yellow soft hackles and they did produce for us! We raised some fish on a couple of other things, but Mike's soft hackle was sufficient for most the day.
I suspect some of his success with that of late stems from the mid to late summer Sulphur hatch that can be prevalent and important any given year. We're also seeing more and more Light Cahills coming out in the mid to late mornings. Can't wait for some better temperatures and cooler water to get those really cranked up! That may be starting overnight too. Looking at lows getting into the low 60's on the river finally!
Meanwhile, Pete was getting a better grip on the casting as his morning progressed and all of a sudden it clicked! He starting straightening out nice clean casts around 20-25 feet over the Wall Hole and the fish obliged with some quick and ferocious takes! A couple of near instant rises to good throws is some great instant gratification!
Pete displays the fruits of his efforts! >>>>
Of course, just about the time Pete really got it going it was getting close to quittin' time... High water last week was coming at 2:00 PM and running into the night. This week had a rather odd start to the schedule, but I see they modified it during the week. They're running today and tomorrow from 2:00 to 7:00 and nothing for the weekend.
It truly is amazing how much of a difference a clean cast makes to the summertime fish. And it's just as amazing that this happens each season with every new crop of fish we get. The summer fish just get so used to people throwing all kinds of stuff over their heads they almost get complacent and blaze' about the whole thing. Pete found that out as every throw got a little better. He also found out just how strong these fish are, and that's at water temps hover in the upper 60's to 70° !
He was rather stunned at the power and speed once he tightened up on a few and ultimately landed that first one! So many people break off those first few fish when hooking up a summer fish is their first experience with fly fishing. The first tendency is to rip the fly right out of the fish's mouth as fast as they can. If the fish happens to have the hook point, it usually means a broken 6X tippet or a straightened out hook.
You can bet that happens to most folks 4 or 5 times before they start to figure it out... There is a significant learning curve to all of this and summertime on the Little Mo' has a very steep curve compared to the relatively gentle slope of the winter and spring.
Pete saw it first hand the other day. So if you're planning on a first time trip to the river before November, be prepared to be humbled and maybe even frustrated! However, if you luck out and get one of those early fall days where we've got a nice north wind blowing consistently down the river, not too many bodies on the water and bit of broken sky - the fish may be much more accommodating and happy to take a Light Cahill dry or Hopper all day long!

Back Cast
Always On The Water - Jeff
Please join in on the Message Board! Email me to register...
Click here to E-mail me at jeffonthelittlemo@gmail.com and say "hi" if you have any questions! Remember, if you do e-mail me, make sure you mention fishing on the subject line and identify yourself. Otherwise, I'm liable not to open the e-mail. That virus thing, you know!