Little Missouri Fly Fishing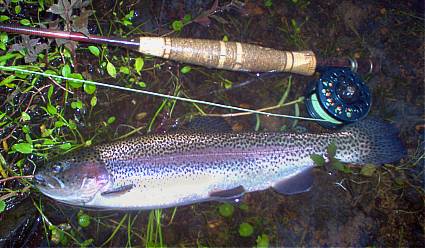 The Latest
Friday - March 19, 2021
Thursday - January 7, 2021
Sunday - December 20, 2020

New Message Board!!!
870-210-3681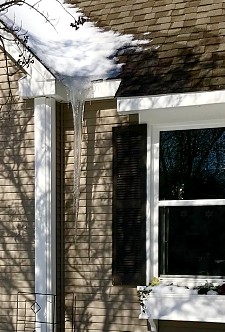 Seriously! A new report on the Latest!!!
Man - it was starting to feel like I'd never get back to the river with all that's been going on this winter! January simply wasn't all that busy, February was a complete bust with the snowpocalypse and then just too much high water. Even made a trip up anticipating a shut down time of Noon and they ended up running water all day!
<<<< Just one of the five foot icecicles to be found around the house!
Quite discouraging! I know some folks managed to get trips in here and there but the the reports were spotty...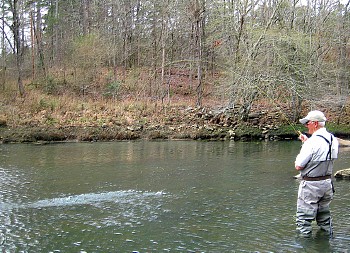 Finally, this week, we made it to the river twice! There was lots of water released all month until Tuesday with an early morning shut down. David Cooksey and Ken Harrison returned to see what we could do.
David Cooksey gets into his first fish of the day near the Triangle. >>>>
Weather was decent and comfortable, but the confused fish were not as congenial as I had hoped. But that's often the case when the majority of the fish available have been under high water for extended period. They are quite confused and have no patterns to depend on, not to mention they have no idea what to eat!
We had an afternoon start and found a few fish to work with initially throwing A & W's at them with steady, but not exactly furious results. David was doing well up at the top of the Trough and into the Triangle. The highlight of the day was a nice healthy Brown that came out of nowhere! That was great to see!
Ken, meanwhile, was working on his deliveries and picking up a fish here and there. At one point we did start to see more and more fish moving about, including a couple of pods of maybe a couple of dozen to thirty fish! They were on the move, up and down the regular routes! He did most of his damage around Copperhead Crossing.
<<<< A nice surprise - David's Brown up in the shallows!
Naturally about the time we were getting ready to hit another part of the river, the Stocking Truck showed up and dumped probably 1,000 fish in! Some really nice chunky looking things coming out the tube, too! Of course these would have been "Net Pen Harvest" fish.
For those who don't know, the AGFC collects fish at the beginning of winter and keeps them in pens on Lake Ouachita (and maybe still Wilhemena Lake), grows them up to big and hefty, then in March, gathers them up and delivers them to the rivers. Be prepared for a nice quantity of 12-14 inch chunkies!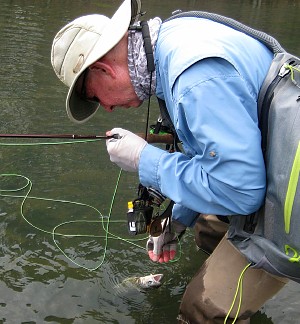 So we did pick up a couple of those on the way out of the Flat, but you can really tell the difference between fish that were just dropped in and those that have spent the entire winter in the river. Actually, there's no comparison! Give these freshies a few weeks...
Ken Harrison landed a really nice hook jawed male Eagle Lake 'bow! >>>>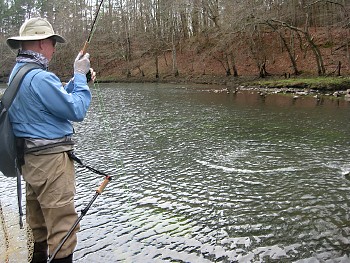 We headed down to River Ridge to try the "J" Ledge pool and beyond. Neither the Couch Hole Shoal or "J" Ledge produced anything - which is quite unusual. The J Ledge is almost always good for a couple...
<<<< Ken fast into one at The Trough...
So we trod down to the Big Rock Hole, which was also rather disappointing. But we finished out the afternoon with a little bit of action at the base of Hind's Bluff. But even those guys seemed to get wise to us after several hits and fish on.
Not bad for the first day back though!
Thursday (the 18th) was a slightly different story! David Adams and Dan Jepson came up from Texas for a few days. Tuesday they had gone up to Albert Pike and reported that they had a decent day - maybe landed a couple of dozen! Yesterday, however, the weather was kind of brutal! Cloudy, temperatures hovering around 46&deg all day and howling north winds - up to 25 mph! And it didn't seem to matter where you were, you were in the wind!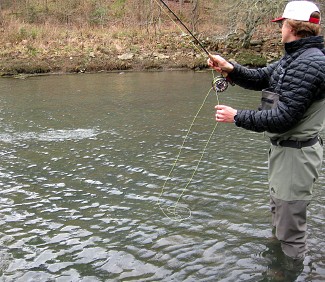 But we started covering the Flat, Triangle and Trough and it took only a couple of casts for David to get into the first fish of the day! Thereafter it was steady and frequent action! Once the guys got used to strip strikes and low rod tips, the hook-up ratios went up and they were highly productive.
David Adams deals with the wind and shallow water fishing to the good! >>>>
The mix of freshies and more seasoned fish was great and the size was consistently nice too! Dan brought to hand the fish of the day at 13.75 inches and David was close behind at 13.5", but that one was a wide body! And the majority of the fish were around the 12 inch class and with few exceptions they were chunkies!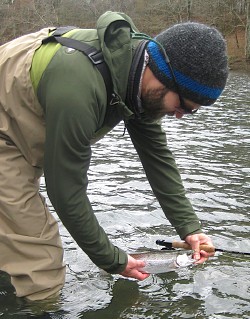 All of this activity was on A & W's though there were only a few March Browns showing under the cold windy clouds. The instant a little sun came through we did see an increase in bug activity - it was like they were just waiting for the chance to go! Never the less, the A&W was doing just fine for both guys.
<<<< Dan Jepson with his 13.75 incher! Made for a vry nice start.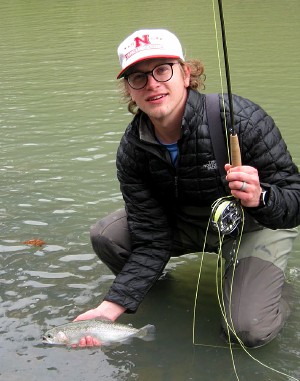 We worked our ways down the Flat, through The Trough where most of the activity typically is found, and then out into the Copperhead area where there were lots of fish showing and groups cruising around in squadrons again. With no generation slated now through next weekend (the 28th) this is only going to get better!!!
David with his "wide-body" at The Trough! >>>>
We headed down to the Hind's Bluff Access where we tried the base of Butt Buster Shoal, but there was nothing happening there at all! Rather unusual for there, but it certainly appeared that there were plenty of fish in the lower half of the pool where Gordon Shaw and crew appeared to be having a bit of a field day!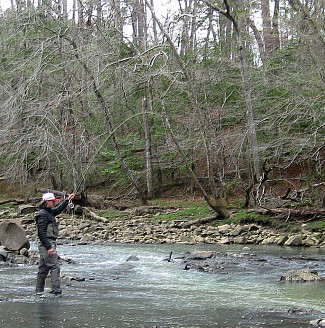 But we headed around The Bend and started throwing Long Creeks and Olive Little Mo's into the deeper, murky waters. There was quite a bit of olive / tan run-off from the storms of Wednesday! I'm glad the fish can see - and feel - through that coffee better than we can!
<<<< David high-sticks the riffles of The Bend with great success.
David started high sticking the fast water at the top of the pool where he did quite well. reading takes in the waves is always a bit of a challenge. He was up for it.
And Dan was dredging the deeper section and finding the right line every other drift and he kept himself quite busy with fish. Once you get the right landing, you can count on the fly drifting through the invisible prime lies. In some respects, the anticipation without visuals is almost as much fun as seeing what's going on in clear waters!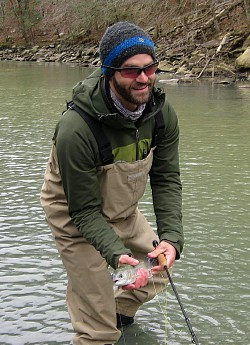 We spent the rest of the session moving down step by step, with the guys leap-frogging to the bottom of the pool. By this time we were finally starting to see more and more March Browns popping out. Dan even got to see one in mid emergence - the inspiration for the A&W! The fish seemed to be more aggressive as well and it was fish on until the very end!
And Dan ended the day with another really nice 13"+ though he may have had something even better on earlier! It's what makes you keep coming!!! >>>>
The Bend produced several fish in the 13"+ class and Dan had on another that might have been even beyond that! Alas that one gave Dan everything he wanted for several minutes but decided to make its way back to depths before we could get a close up... It was a very good day - everyone (even me) caught fish and no one got hurt! Despite the non-stop chaos of the winds, the heavy cloud cover and decided lack of warming sun, we had an excellent time!
As I mentioned earlier - it should only get better!!!
NO GENERATION SCHEDULED from now through next Sunday the 28th!!! Everyone enjoy what should be some good hatches on the way and March Brown Dries fishing coming!

Back Cast
2020 is behind us - 2021 started nicely enough the other day with our first trip to the river last Sunday. Tonight, I'll try to stick to fishing, but it's difficult to keep it that way. I was distracted by events of the last 48 hours and their tumultuous implications. That's all I'll say here...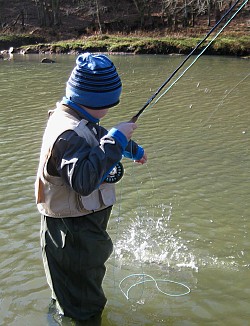 At any rate, last Sunday Jack Smith (Ruston, LA) brought his son, Jackson, to the river to see what they could find out. They found out plenty and got into some good fish to boot! The weather was questionable to start and the water even more so after the rains and snow that covered up the mountains and The Boro in the previous days.
<<<< Jackson Smith gets a handle on his first fish of the day!
In fact the guys mentioned that they had gone up to Albert Pike on Saturday, where the high was maybe 40° , and Jackson reported snow still up there! Oh well, it's New Years week - such should be expected after all!
We met mid morning after another frosty morning and got started on some new casting techniques and then on to some fishing. Throughout the casting session, I spotted only one fish that showed itself in the prime section of the Trough. Otherwise, there were virtually no signs of fish anywhere up and down the Flat. That's not surprising for the time of year and the water conditions.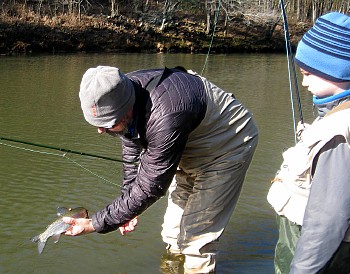 The river, as you can see, was still quite murky! Also something not all that unusual for the time of year, and considering all the rain of last week. It does make for some slightly tougher fishing what with low oxygen conditions and low visibility. But just because you don't see fish showing - it doesn't mean they're not there! We assumed they were right where they were supposed to be all along. And there they were!
Jack lands one of the really nice hold-over fish. Check out the fins there. >>>>
We tuned over some rocks in the shallows and quickly found a good number of nearly full grown March Brown nymphs. That really bodes well for early hatches this winter! I showed the guys a Long Creek next to the real thing and young Jackson was rather impressed. I believe he said something along the lines of: Man, that looks just like it! So, it was time to throw some in the water!
After a couple of solid hits, it actually didn't take too long before Jackson was into his first fish of the day. And much to my surprise, it was a really nice "resident" fish - a holdover from last year's stock! Great colors, full fins and plenty of fight. Jackson had a hard time keeping the rod tip high throughout, but he had a good jaw hook-up and eventually got the 13 incher in hand. Great way to start the day!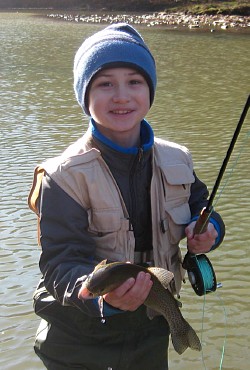 But not only did Jackson get the first fish in - he had four or five in hand before Jack could get his first one all the way in! Jack was having a bit more of a hook-up issue with more years of reacting with the rod than Jackson does. It helps to not move quite so fast...
Eventually, Jack got it going, though, and he too had his share of fish in the works. Including a couple more resident fish! I'm still quite amazed how many hold-overs we keep running into at a time of year when those are usually gone by now. I'm certainly not complaining - it's just unusual. I'm suspecting such may be the case due to a lack of pressure in the lock-down seasons. Don't be surprised if that continues this season...
<<<< Jackson displays the fish of the day! Not much else to say - it's all there!
On the other hand, take note that the AGFC has upped the possession limit for 2021 to three days rather than the two of many past years! In other words you can have fifteen fish in possession as opposed to ten... Not sure what the reasoning for that could be, but I'll wager it will be just as abused as it always has been.
Meanwhile, by early afternoon it appeared we had done all we could do with the fish in the Flat area. Winds had picked up and thankfully it was sunny and getting into the mid 50's, but the breezes and wet hands forced us into a bit of a break. We headed down to Hind's Bluff.
There we found virtually zero activity! Most unusual for that access, but it appeared to have been hammered thoroughly over the holiday weeks. Have to see when the next stocks arrive. We didn't tarry there very long with time running low and decided to give Low Water a try for the first time this season. We headed into the fast waters below the Bridge and only raised a couple of fish there.
But it gave the guys a chance to do a little fast water fishing to add to their techniques repertoire. We also gave some B&B Little Mo's a try and those did raise a couple.
With no generation for a couple or three days in a row, even at this time of year, it can be a tad more challenging to raise fish - particularly in the upper reaches. I'll be looking forward to seeing more numbers spread out up and down the river in the next three months! However, it appears, also, that stocking numbers are going to be down in 2021. Not so many scheduled for the winter months and none scheduled for June as I recall seeing. hat's a little disturbing...
So, 2020 was bad all the way around... 2021 is going to be "interesting" to be sure. Let's hope we can all be stable for a while at least!

Back Cast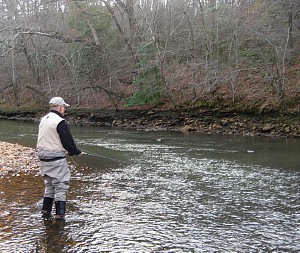 Looks like we managed to get in one more trip, last Friday, before the holiday shuffle kicked in! Fred Meyers (Bismark, AR) made it back over to the river after a recent trip that left him a tad befuddled.
<<<< Fred Meyers grooves his down and across at the base of Couch Hole shoal. Man, that stretch is changing every day after the White Oak fell in!
We tidied up his casting for a bit and set in to see what we could come up with around the Triangle. He had said that the last time he was in a couple of weeks ago, he was having trouble raising fish even though they were showing. So we discussed how "freshies" act and what certain rises indicate. He began to realize that it wasn't all him after a while. They have frequently fooled a lot of people into throwing dry flies at this time of year since freshies like to just slosh about for the sake of sloshing sometimes!
This is the quietest time of year as far as any kind of bug activity. We're all in between the end of the Light Cahills and assorted Caddis and the beginning of the Black Winter Stones and early season March Browns. About the only thing you're going to see active right now and for the next few weeks is going to be midges and it takes the fresh fish a while to learn to eat those on top.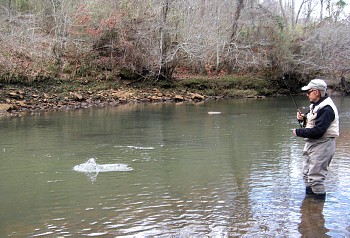 So we went after them with a blend of Smidges, Long Creeks and B&B Little Mo's in a scaled down size on the latter. The fish up in the Park were certainly playing it cool on Friday. They didn't like the off color water or the climatological conditions. They've never liked unstable weather and it was definitely on the changing side of nice! Despite the forecasts for mostly sunny and 50's is was more like 49-50 and high over cast.
We did find more fish hugging deep on the day than anywhere else. Only raised a few takes in the shallower riffles >>>>
There were only a few fish showing around the Trough and the rest of the Park for that matter. The water close to the dam at this time of year can be less than desirable with the low oxygen levels and murky. So it wasn't surprising that there was only so much action for us. Fred raised a few fish though eventually which, he said, was better than his last trip already!
With generation earlier in the day we followed what was left of the falling water at River Ridge. We found ample numbers of fish around the shoals and down into the J Ledge pool. Fish were tucked into the larger boulders under the faster water. We started to raise them in better numbers as Fred drifted the B&B Little Mo's through the feeding lanes. The follows were still kind of casual and almost half-hearted though several fish were landed before we were done!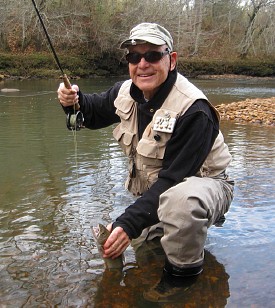 AGFC has brought in some nice fish already this season. Fred's best fish of the day was a significantly curved snouted, Eagle Lake male at 13 1/2 inches! This one lumbered about in the deep water of the J Ledge for several minutes, and even at that, I can't wait to see some of these fish once they get some fully grown tails on them. Hope they can stay in there long enough. I mention that as I've seen recently that the AGFC is upping the possession limit statewide to a three day total instead of the two day that it's been for years! Not sure what I think about that... Yes I do - I think it's going to be that much easier for the outlaws to load up ice chests!
<<<< Be prepared to run into a really nice freshie here and there. We may have seen a couple of hold-overs up at the Trough, but we couldn't talk any of them into playing. But this one made Fred's day!
By the end of the afternoon, Fred had learned and maybe, re-learned, a bunch of things about casting, fishing, fish, and water! It was definitely worth a quick trip.
Be looking for a good Christmas weekend for generation (or lack of) but tomorrow and Tuesday are both a wash and Wednesday is going to be limited. The rest of the week is "zeros" though!
Monday and Tuesday - two generators cranking up at 6 AM, running till after dark.
Wednesday - two generators starting at 11:00 AM for the rest of the day.
Thursday through Sunday - no releases scheduled!
The lake is still just at 537.27' with only a slight rise the past week. But that's only maybe slightly below normal for this time of year. I also noticed that the AGFC is planning on cutting back on the total stocking for 2021, I believe to just under 50,000 for the calendar year. We'll be finding out next summer how that plan has worked. Meantime get in the water, it's not that cold yet!!!

Back Cast
Always On The Water - Jeff
Click here to E-mail me at jeffonthelittlemo@gmail.com and say "hi" if you have any questions! Remember, if you do e-mail me, make sure you mention fishing on the subject line and identify yourself. Otherwise, I'm liable not to open the e-mail. That virus thing, you know!