Little Missouri Fly Fishing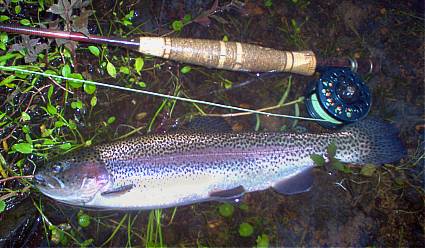 The Latest
Saturday - July 22
Tuesday - July 11
Sunday - June 25
Sunday - June 18
Thursday - June 1
Tuesday - May 2


870-210-3681
Check out the current weather and forecast in Murfreesboro!
Never ending effort to keep up around here!!! Went to the river last weekend... With grand-kids, tennis several times this week and all day today I'm just now stopping to update the reports! Sheeezzz!
As you all know, the conditions this summer have been brutal! We have fewer fish in the river than usual too! Mike Ingram did talk to Melissa Jones with the AGFC and we did not get either the May or June stocking into the river. They had another flood at the Spring River hatchery this past spring and lost a lot of fish again! Add to that our Cinnamon Ant hatch problems in June and there simply isn't the quantity of fish in the river that we normally see in a summer season.
<<<< Dennis Hoshaman battles a tail walker!
But we're still catching fish, none the less - and they are very nice quality! It's just going to be a bit more challenging than usual!
Elska Yakobian leans on a really nice one at the top of The Trough!>>>>
Last Friday morning I met with Dennis Hoshman and Elska Yakobian. Dennis had been to the river before, but it was Elska's first time to throw a fly line. So, there was a bit of instruction to get through, however, and that paid off nicely!
Actually, Dennis and Elska did rather well Friday morning. The conditions weren't too bad and we had some decent breezes and feeding fish at least. If you get lucky and get the right day, the winds and bugs may be on your side. The next issue is convincing the fish you do see!
We were throwing Light Cahill R & A's for the most part. Might have tossed a Slider in there too... The bigger concern was the tippet size, and material, though. We did OK with the 6X Fluorocarbon. It is already pretty critical with the fish we have. They are quite wary of anything extraordinary!
<<<< Dennis with a quick release...
Not a lot of fish caught, though certainly enough action to keep ones interest! And of course, the fish we do get on are all in great shape and nice size! Be ready for some explosive runs and aerials! Elska topped things out with a nice 14 incher with deep, rich colors! Pretty nice morning!
Elska shows off a beautiful 14 incher!>>>>
Friday evening brought Frasher and Adrienne Murphy (Dallas, TX) to the river. We finally are getting some generation (and actually a bit of a normal schedule this week!) with shut down coming at 5:00 PM last Friday. That was just about perfect for Adrienne and Frasher to get in some good casting prep and be ready for the right conditions as the time came!
By 5:30 we were fishing! And, of course, it was Smidge time! They got into a nice groove and the mist over the water was a great thing to see! Just adds to the event.
Water temps have been nice and it wasn't long before the fish were showing themselves on the falling flows. Not a whole lot of bugs to be seen, we are in between the major hatches - end of the March Browns and the beginning of the Light Cahills... Although, I did see some Slate Wing Mahoganys (Isonychias) and even a few Hexes!!! So, for the fish right now, I think it's more a matter of clean casts, line of sight and tippet size...
<<<< Adrienne Murphy with another really nice 'Bow! Apparently "red" shirts are the way to go, because the girls were getting all the big ones this week!
Adrienne and Frasher seemed to have a nice evening with a handful of fish in and a nice stop on their trip! Great way to spend a Friday evening!
Appears that Frasher Murphy might have been having a good time! >>>>
Saturday morning, Robert Walker returned with another bud, Roger McKinney (Longview, TX). Roger has been making a habit of this for a couple of years now!
I have to say the fishing was difficult... We had Light Cahill R & A's being thrown around the Flat with only mild interest. The fish were definitely concentrating in only a few areas around the Park and we eventually made it down into the Wall Hole where Long Creeks were added to the list of offerings over the weekend.
Not a whole lot of action, but Robert did manage a few. Sorry Robert, got home and realized I had no pics of you for the whole weekend! But hell, you're the lead pic on the website right now!
We took the afternoon off while the "Powers That Be" ran a couple of hours of water for us and got back to the Park at 6:00. Turned into a much better evening than morning! Roger, who had been nearly done in by the morning fish, held his own and then some in the evening!
Roger mcKinney discovers that summer Prime Time's can be pretty nice! >>>>
Several nice fish in hand and a decent Prime Time despite the heavy fog camouflaging all the mayflies that were out!
Roger got one of the nicest fish of the weekend which certainly made up for the morning session!
<<<< And a really pretty one on Sunday morning too!
Sunday morning we were back at it, a little earlier than Saturday, but I don't know that it made a whole lot of difference. Once again Roger got one of the better fish on the day, but the pickins were pretty slim. It's just going to be tough out there the rest of the summer, unless you can hit the right weather conditions.
This week we got some much better water releases! We got a few hours Monday and Tuesday, and Thursday and Friday. Nothing today, but a couple of hours tomorrow evening!
This coming week is very different, but way better than nothing like we had through early July! As follows:
Monday - running from Noon to 9:00 PM
Tuesday - running from 2:00 PM to 7:00 PM (nice)
Wednesday - running from 3:00 PM to 5:00 PM (excellent)
Thursday - running 1:00 PM to 4:00 PM (pretty good)
Friday - running from 1:00 PM to 5:00 PM (excellent)
Saturday and Sunday - running from 1:00 PM to 7:00 PM (nice again)
This seemingly random schedule will actually really help the fishing and the fish! They'll have good water over them at the peak of the hot days and you'll still be able to get in some decent Prime Time fishing with the exception of this Monday... I'd say the best Prime Time fishing will be on the 5:00 shutdown days. But at least 7:00 PM will still get you a good couple of hours in there. That is, if you stay out until the Whipporwhills crank it up!

Back Cast
Last Sunday I had a quick day with Ben Glick (Texarkana / Oregon) who has now fished with me several times this year! He is hell-bent on learning this fly fishing thing, I can tell you that! And doing rather well, thank you...
Hasn't been a lot of fishing lately. Not even getting many reports and I can imagine why. The lack of generation could become an issue and it certainly doesn't help the fishing conditions... I'd sure rather see a traditional summertime generation pattern. We're not getting anything but a few hours on the weekends.
An over the shoulder view at Ben's big fish - the light shape off his left shoulder! He was hefty!!! >>>>
Never the less, Ben came up and we tracked a few fish in the Flat with only mild interest. We threw Light Cahill R & A's, a Killer Cahill Emerger, an ADL Midge and the Smidge too.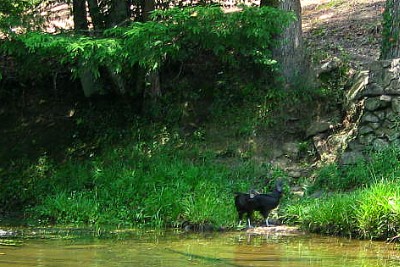 All of which got looks and produced as much interest as anything... But there were more refusals than takes, I'm afraid! Eventually we tacked on some 6X fluorocarbon tippet and seemed to make a slight difference. The fish are already quite spooky and difficult - which might help to explain the lack of fishing reports.
<<<< Our vulture audience... Hard to make them out in this shot, but they were quite interested in what we were doing - or maybe what we might become. I think they were having a Dos Equis!
As the morning moved along, the fish that were hanging around the Flat, as usual, moved down to the deeper water. With no serious cloud cover and just a little bit of breeze on occasion they were being very difficult and we followed them into the Wall Hole. That did help!
After working very hard for looks and a few actual takes in the shallows some of the fish in the deep water were slightly more congenial... Ben hooked up several decent fish and landed a few. The best was another wide-body, certainly no less than 14 inches and probably more.
After a long battle on his 4 weight and 6X with one spectacular leap, Ben finally got the leader in hand and I was about to get the pic when the big male gave us one more big slosh and off went the Smidge with tippet! A lesson learned the hard way...
A serious bend in that rod. More lessons learned on how to work a fish... >>>>
For a quick trip it was a pretty decent day and got to see a few really nice fish on the line. We weren't sure whether or not the two visitors shown here were going to let us out of the water though. I've never seen vultures let people on foot get so close, and they were quite interesting in that they were taking turns getting drinks of water! One would drop down, get a few sips and pop up, then the other would do likewise. This went on the whole time we were making our way to get out until we just finally got too close!
No generation again this week until Friday afternoon 3:00 to 5:00 and Saturday 2:00 to 6:00. Maybe we'll get in some decent Prime Time fishing! I went up to the bridge below the dam (which is finished with whatever they were working on by the way) and there are quite a few fish hanging around the Closed Zone, but nothing like we've seen in years past. Maybe a little high water will get them to move around and we can get a shot at them this weekend!

Back Cast
Wow! Did Chris May (West Monroe, LA) ever pick the right day to come to the river!
After all the threats of TS Cindy and the weather that we did get off of it, Saturday turned out to be near perfect! I left early, just after storms had passed through, but it was still quite oppressive in The Port! Car thermometer said 84&deg at 5:30 AM!!! Yuck... But I crossed the state line and got on up and the temps had dropped to 72 and it seemed like it stayed there the rest of the day! With northerly winds I might add.
Chris May got into a bunch of long distance battles yesterday!>>>>
So, it was like Chris' third trip to the river and he felt like there was much to be learned. So we moseyed about The Flat for a bit, tinkering with casting and only seeing a handful of disinterested fish. There were a few other folks out - David McAdams being one of them. He was picking up one here and there in one of his favorite spots. He was throwing an assortment of things too, all of which seemed to produce some interest.
The day started quite slowly, but I felt good about the possibilities with the over-cast and breezes. It was still early. I recalled why, for me at least, there's not actually a big urgency to be on the water at the crack of dawn. We only raised a bit of interest with the Light Cahill Slider we started with...
Since Chris had only fished at the Park we decided to have a look downriver a bit as we got into mid-morning. Down at Hind's Bluff, we only saw a hint of a trout or two, but never could raise them... We tried the Slider in the riffles and a Long Creek in the deep. Nothing, except a juvenile Smallmouth that Chris didn't quite stick. At least at this point a little Smallmouth would have been some thing!
<<<< And they all paid off big - with big fish!
We headed up to the "J" Ledge since it had still been doing well on the last couple of trips and dropped the Long Creek down into the olive water. Nothing showing there either!
We've had two issues this early summer, I believe. One there's no doubt - the kill after the Cinnamon Ant hatch was quite significant! The other is the bizarre lack of generation! Only a few hours, on the weekends of all things, the last couple of weeks! And generation on only 11 days out of the last 30! Traditionally, we'd see summer patterns of several hours every weekday afternoon with nothing on the weekends. That kept water temperatures great and fish moving around frequently. Not so this summer, so far...
Fifteen inchers can cover some ground... >>>>
So, Chris and I found nothing downriver this time... We headed back up to the Park to see what was happening. We found the Wall Hole drop-off unoccupied and set up camp there! David was still at his boulder and Mike "Hen" Ingram had joined him. The breezes had now turned into wind and we still had the good over-cast... And fish were getting on the move!
We still had on the Long Creek and that produced quickly. We tried the weighted over-sized Smidge that I had tied just or the occasion and they produced a lot of interest, but not so many solid hits! But both flies did turn up some really nice fish! Best fish I've seen all spring! As I said last week - those fish that survived the ant hatch are going to be the best of the best! And the fish we were getting were proving that to be the case. Chris said he'd never felt fish that fight like this!
He landed several wide body's in the 12-13 inch class, but topped them all with a really hefty 15 incher! Truly beautiful Rainbows!
Just for fun, after landing a bunch of nice fish, Chris wanted to see what a dry fly might do and I put on a Light Cahill R & A dry. It got slammed almost right off! And every time we got the good chop and waves it got even more attention. Don't believe we might have had the same interest if there had been significant sun, but on this day it was working!
Landed a bunch more 'Bows with the R & A but we had the show stopper of the spring awaiting us...
Just one of many real chunks on the day! >>>>
All the time we had been drifting or sinking the dry (which by the way was also working nicely) and casting to some of the fish closest to us, there had been something other than a trout, shad or carp hovering around in front of us and it was much larger... Well as Chris was stripping the R & A through the drop-off zone, whatever this fish was eased up on it from the side and wolfed it in! There was no doubt this fish wanted to eat the swimming dry!
Well, Chris tightened up as he was supposed to, and what I assumed to be either a White Bass or a Drum headed for the deep water - and I mean fast and heavy! The 5X Fluorocarbon held for the entire eight or ten minutes of surges in and out of the deep pool and Chris' three weight held up nicely as well... We finally got the fish in hand and while I was trying to get to the camera, of course it got loose...
If it was a White Bass it didn't have any indications of stripes at all... It had a drum-like body and mouth though I didn't get to see down its throat to check for the teeth. The belly fins were a odd shade of blue, almost turquoise, though! I a little befuddled. I've certainly caught drum on other things, but a size 16 dry fly just under the surface? The lack of stripes is what's really throwing me, otherwise a White Bass makes a heck of a lot more sense...
Never the less, it made for a very interesting day! And probably gave Chris tendonitis from hanging on to that thing on his three weight! Another great capper to a bunch of nice 'Bows on the day!
More weirdness on generation schedule this week...
Nothing on the schedule until Friday at 3:00 PM to 5:00... (That was on the schedule this past week and they did not run on Friday...)
Saturday 1:00 PM to 7:00 PM and that's it!
I don't get it... Lake is comfortable at 546.58' so I'm sure they're trying to retain some water for the rest of the summer, but running on weekends and not weekdays? Just don't get it!

Back Cast
Well, firstly and most importantly, a Happy Father's Day to all of our dads out there! Hope ya'll are all doing what you want to be today!
Hasn't been a ton of fishing lately, despite the rumors that I am "no longer guiding"! The reports of my retirement have been greatly exaggerated!!! But there was a bit going on the first couple of weeks of June. I even fished a bit one day!
Hillary Finch was determined that she was going to catch her first fish - any kind of fish - fly fishing on this trip! Kind of hard to spot what may have been a record "Silversides" hanging from her left, but there's no doubt you can see the shadow of same on her waders! No, really, I think it was the largest Silversides I've ever seen!!! >>>>
The big news which happened between the previous posting and current, and which some of you may have seen on the Message Board and my Facebook report, was indeed the predicted Cinnamon Ant hatch about a week early. Mike "Hen" Ingram reported that it was the biggest he'd seen and we do appear to have lost a significant number of fish because of it!
<<<< Jack Finch doing battle with the fish of the day and his first fish on a fly too! Did a great job landing this one - it wasn't easy!
The fish absolutely love to eat the ants - I take it they're quite tasty - but they can also poison the fish with the formic acid with which they bite you! As I said previously, imagine eating two or three hundred live ants and what that'd do to your belly! Now imagine your belly is about the size of your thumb with two or three hundred biting ants in there!
It's not uncommon to see tens of thousands of ants on the water in a day, and this may go on for three or four days... After the second day we start to see dead and stressed fish on the bottom of the river unless high water clears them out. It can make for some awesome fishing at the time, but it's also really bad news!
Don't know if the June stocking has yet to happen. I hope not... Maybe we can replace what was lost! On the other hand, the fish that survived the ants seem to be quite healthy and, naturally, the larger fish. I suspect the mortality rate was going to be much higher in the smaller ones.
A week ago Thursday Brain Finch brought his wife Hillary and young son Jack to the river from St Charles, MO! They were down for a week or so, doing all the Murfreesboro things and of course first time fly fishing was one of those on the list!
All three did quite well with the basic casting and it wasn't real long before we got an assortment of flies into the water. We had a decent weather day, though not all that ideal, so there weren't a lot of fish roaming around.
<<<< Jack - still going!
The water is low and clear once again and without the consistent generation each summer afternoon, as has been the case for a long time, we just aren't seeing the typical movement of fish throughout the morning and early afternoon hours that we're accustomed to!
And...Got it!!! >>>>
They so far, what's left of them, seemed to be staying in the deep water... But the weather of the last couple of days should have made them a little more inclined to come out of the deep.
We weren't that lucky last week! There were only a handful of fish on the move and they were quite spooky! However, March Brown and Light Cahill Sliders in the right place at the right time did some decent work !
Everyone had takes and tight lines by the end of the session and Jack made the day with a really nice 14 incher that was perfectly hooked and ran all over the Flat for a few minutes! Got some good aerials too!
Not a lot of fish landed but some good action made up for it.
Last Monday, Rich Arnold (Ida, LA) came up to see what he could find out. We found out that the fishing had gotten even tougher! All the way down the Flat there were fish around, but they were very discerning of everything already, however we did raise a reasonable few, only to be dismissed for what ever reason!
A bit of sloshing about as Rich tries to contain a real chunk at the Wall Hole! >>>>
After hunting around the Flat for a decent while and chasing the handful of rising fish that seemed to be able to stay a step ahead of us, we finally made it down into the Wall Hole. There, an Olive Little Mo' Wooly got Rich a nice chunky fish. We did get rises and takes to the A & W we had been throwing initially. We also got takes on a Long Creek and Smidge as well.
<<<< Which is done eventually. Check out the broad tail on that one! Got some leverage there...
Meanwhile, David McAdams was next to us changing flies about as regularly and picking up fish on just about all of them too! I often mention the quote I read - "If you're not changing flies every fifteen minutes, you're not learning anything!"
I don't know that any one thing did better than the others we all threw, but it did seem that the creams and lighter colors might have done slightly better... Next time I might have to take some larger, weighted Smidges with me!
Water patterns are still quite unusual for this week...
Nothing on the schedule all this week until Friday, Saturday and Sunday afternoons!
3:00 to 6:00 on Friday and Saturday and 3:00 to 5:00 on Sunday.
That's going to make for probably pretty good Prime Time fishing all three days hopefully better fishing Saturday, Sunday and Monday mornings! Enjoy if you're up there!

Back Cast
Seems like a long time since we got to fish! Hey! It HAS been a long time since we got to fish!!!
May, in recent years - including 2009 when the lake topped the dam - has been very wet and there seems to have been a high water event every year for quite a while! I looked back in my records for last May and it was four weeks without any fishing. This year it was most of that! And the shame is that May can be one of the most enjoyable months to fish, both as to the hatches and the fish...
Pat Carlson doing good things below Couch Hole Shoal! >>>>
So, once it was all over and things are now currently back to normal, I met with Pat & Don Carlson (Austin, TX) last Thursday and we had a pretty nice day! Started out rather cool early, but the fish at Riverside were suffering from too much sun! After being under high water for so long, it takes them a while to get used to the bright light again.
In those first few days after shut down they don't much care to come out of the deep water for a while... If you can get to them on some falling water that works a lot better - before they retreat to the deep water.
But we worked on them for just a short while while we worked on some casting and then moved around the river. We found fish to be a lot happier away from the Wall Hole and the Flat! Below River Ridge Pat had a bit of a field day with several fish landed below the shoal and Don was doing rather well at the "J" Ledge! Throwing A & W's in the shallow moving water worked for Pat and sinking a Long Creek into the deep water over the Ledge did just fine for Don.
If you could find a spot where there was good flow over the boulders and small channels you were likely to raise somebody! That's what Pat had working and she brought in one fish there in the 13" class! She was having a good time! Don meanwhile was raising fish from the murky deeper "J" Ledge with consistency and size... It was just quiet enough and barely clear enough to see a fish move here and there. And every time Don got the right landing and drift there was a fish willing to play.
<<<< Pat with her best fish of the day!
The last fish on there, was a really hefty jumper that broke Don off! We got a good look at it a few moments after the break off as it cleared about two feet of air just to show us what we had missed!
Eventually we headed on down to Hind's Bluff which we had all to ourselves! We found fish on both ends of the access and dropped Little Mo' Woolies into the deeper water. That was working too! Pat raised quite a few there as Don and I moved up into the riffles and fished a Light Cahill Slider and then a little Caddis dry. There had been some Light Cahills showing, mixed in with the March Browns!
Don Carlson got into quite a few at Hind's Bluff Access! Yes, there are still fish to be had there! >>>>
The takes there were very light and sometimes barely perceptible - until the line went tight and a fish exploded in the shallow water! You really have to know where your fly is in those situations. Anything that remotely looks like a boil anywhere close is liable to be on your fly!
<<<< Nicely colored fish for Don!
We had a nice day of fishing and it was great to be back on the river again!
Did it again on Saturday as regular Little Mo' angler David McAdams (Ashdown, AR) talked his cousin Doug Williams (Mobile, AL) into hitting the river for his first time! It was a brutally muggy and warm as the day progressed, but it was just borderline initially to want to have waders on to start. We all regretted that by the end of the day!
At any rate, the fish at Riverside were doing okay as long as we kept the cloud cover... We had a really nice time up in The Trough for quite a while. Lots of fish on the move and the guys were making the most of it! A & W's and Sliders. Both seemed to be working equally well!
David McAdams handles one of several fish from the "J" Ledge... >>>>
Doug's initial dilemmas manifested themselves as the slat water strikes kicked in. His first fish on broke him off in a heart beat as Doug didn't want to let loose of any line! that lasted about two seconds... The second one was on a little longer, but Doug still didn't want to give yet and wasn't ready for the speed of these "little" guys! After the third break off, Doug started to get the message. You cannot stop these guys!
He did just fine after that!
While David has fished a bunch on the river I asked him if he had been to the "J" Ledge and he had not. So, we had to try that again! And sure enough, there were still a bunch of fish hanging around the stretch and they were up to their normal activities. Hanging around the edges under the flows, waiting for the first good morsel to fall into their lines of sight!
The biggest problem with this particular fishing is keeping good contact with your fly... It's real easy to get some slack as the fly sinks slowly into the relatively quiet water. But there are just enough twisting currents to get line ahead and behind the fly! The guys were doing a real nice job of staving that off and it paid off with numerous hook-ups and fish! Long Creeks were doing quite well in the deeper water too...
<<<< A double for David and Doug! Some really nice fish putting serious bends into the light rods! Gotta love it!
Excellent fishing for a Memorial Day Saturday, despite the uncomfortable conditions! Which led to the morning storms on Sunday!
I left early Sunday morning, into a driving storm and scads of lightning, to head back to meet Mindy & Noll Morse (Dallas, TX) for a trip, like the Carlson's, that had been postponed about four times! I was worried we were gonna get hammered, but the weather really stayed away from the river all day.
Doug shows off a real chunk - almost 14 inches, but hefty!!! >>>>
We tackled a little bit of casting and moved quickly into fishing with Sliders and A & W's once again! The weather really kept people off of the river though, before Mindy and Noll arrived, I suggested to a few guys that they might have been putting themselves in bad positions on the Flat to actually get the best fishing. They were quite receptive to the hints and fly recommendations as well, and it was just a couple of minutes later that one of them had on a really nice fish!
At any rate, the fishing was actually quite good all morning for Mindy and Noll, though Noll was kind of on the bad end of the hook up ratio! He had a bunch of fish on and broke off a couple, but had plenty of action! Mindy, on the other hand was the one skewing the ratio in her favor...
We also tried getting a Long Creek down to the bottom of the Trough after a while. Seemed like the fish had grown a little weary of looking up into the light so much and we were getting fewer looks after a while. Switching to something that got down in front of them did a little better!
She did have two fish on that really made some serious runs, covering maybe 15 yards on one! Nice to hear a reel sing again! She landed on of those, pushing 14 inches and really hefty - the other one simply pulled loose.
Noll finished the day with a nice fish that he fought for quite a bit, got it close and then had the it make a huge jump just a few feet in front of us! Of course, the fly headed our way at the peak of the fish's air! Still not a bad way to finish a good morning.
Mindy Morse certainly enjoyed her first trip to the Little Mo'! >>>>
And more fishing on Monday! Don McLaughlin (Irving, TX) wanted to get in a little work on the river before he headed home, so we got back in at the Flat early! Once again, not many folks around and we took advantage of it. Fish were up to their typical cruising and when you had a fly in their zone it was going to raise a sniff or two!
I think we threw several things - the usuals all mentioned already - though we also threw an ADL (that's "All Day Long") Midge this time. It worked too and actually raised quite a bit of interest, but again, you have to really know where those little flies are. One can miss a lot of takes if the line's not tight or yu have lost track of where the fly is.
On the other hand, seems like when a fish takes one of these midges, they really explode on the hook-up! Not sure why that is... But it sure is fun! I even stuck around after Don had to leave and threw it a bit myself for a while... It had been a while since I had caught a fish too, you know!
We are now officially into summertime fishing! Catch & Release is in effect through October 15th and we should still have at least one more load of stocker coming in any time. Though that's not so critical, there are plenty of really nice fish in the river currently! Get your casting together - it's going to be more and more critical every day. And keep those casts short, by the way. A 25-30 foot cast way up in the air is going to spook the entire pod of fish that you spotted! Don't be that guy!
Don McLaughlin landed, maybe, the fish of the week! >>>>
Expect the Cinnamon Ant hatch in the next couple of weeks and the Sulphurs to show up by the end of the month and into July. Light Cahills will be about, but they really don't get cranked up until late July and August. Having a few Cahill dries would be a good plan anyway.
Got generation scheduled from 2:00 PM to 6:00 PM tomorrow (Friday 6-2), Saturday 2:00 PM to 5:00 PM and Sunday 2:00 PM to 7:00 PM... Don't ask me why we've been getting high water on the weekends when for the last twenty years there was little chance you'd see that, unless the lake was flooded. Now, it seems to be have become the norm. Though it does make for better fishing on the weekends, I have to say. moving some water and fish around really helps!
Enjoy!!!

Back Cast
Well, we were having a great spring of fishing until Saturday night! More on that later...
Last Friday morning, Robert Walker (Longview, TX) returned with another buddy of his, Bob Meacham (Austin, TX) and they timed it just about perfect! We got first-timer Bob to working the casts and a little refresher for Robert and then went to throwing A & W's around the Flat to lots of cruising fish.
We had just gotten serious about the fishing and raised a few when, despite what the schedule said, the sirens went off at Noon! Sheez... Doesn't happen often, but they do change it every now and then unexpectedly!
<<<< Robert Walker enjoys Prime Time in the mist!
I had checked the schedule early, but not after I left the house... Sure enough, it had been changed sometime in the wee hours and when they opened it up there was hardly any stagger between gates too! It came a-hoofin' through the Skinny Water and down upon us in less than ten minutes from the time the first gate was opened! David McAdams relayed that, and once I got back in cell range, they did show that they were shutting it down at 6 PM, so we had a plan at least.
We spent the remaining part of the afternoon down at Low Water where we did get into a reasonable number of fish still. There was still quite a decent flow there and a bit murky so we split time with the A&W for Robert and a Long Creek for Bob. Robert was having his way with Sunfish at the lower end of the cut-bank run while Bob was developing all kinds of new casting skills out of necessity at the mid point of the run.
Bob's casting was just starting to click a bit by then and when he made the good throw he got pretty immediate rewards! A couple or three more fish landed before the water hit and it was lunch time!
Bob Meacham worked his arms and brain hard for some of the hard to reach fish at the Cut Bank Run. Worth it! >>>>
We got back to the park just about 6:00 that evening and the water was already falling. It was also a crispy 62&deg on the east bank, which meant we wouldn't have to look very hard for fish on the falling water. Not like what you'll have to deal with in the peak of the summer post-generation when the east bank is more like 76&deg or 78&deg and the really cold water is on the west side!
By 6:30 we were into fish! The warm damp air was colliding with the cold water and we had the full mist scenario that everyone finds so cool when you get to fish in it! Just makes the fishing that much more interesting...
And while it's really quite the sight and sensation it actually hampers Prime Time fishing just a bit! The fish just can't see the hovering March browns as well and the action may not be as furious as it would be on a dry evening.
<<<< Robert and one of the better Prime Time fish!
But, it was good enough!!! And, as anticipated, the better fish were coming out in the low light and falling water in numbers. I quickly lost track of how many the guys had on and some of the fish put on some great aerial shows! Bob had one that had picked up his fly and swam several feet to the left of pick up before Bob ever knew it! Then, when Bob did get a full tight line to it, that fish exploded back to the right covering about 6 or 7 feet in the air across the water! And then broke off... And yes, it was the big one that got away on this evening.
Prime Time cranked up about 8:00 PM, so add about two minutes per day since then. (That is if you get to see a Prime Time anytime soon...)
Saturday morning we hit Hind's Bluff right off since the weather, I think, had the vast majority of folks staying at home. Except for die-hards like Jim and Judy Taylor who were working over the lower half of the pool. So, as planned anyway, we started in at the base of Butt Buster Shoal and began working our ways down the riffles. March Brown Sliders were in order here with the clearer water and quieter flow of the day...
Bob finds a nice way to spend the evening... >>>>
Bit by bit, we cast and stepped, cast and stepped, until the guys were starting to raise more and more fish. Robert got absolutely hammered by one of the first fish on the take and it was obvious the fish were going to be aggressive on the March Browns rather than the quiet takes of midges and "splatting" rises to caddis! I mean hammered!
Most of the fish were average although we did produce several that were in the 13"+ class. And, once again, so many of them are really starting to show their river quality condition! It only gets better from here on - but it also gets more challenging...
We decided to finish out our time below River Ridge, looking specifically to get into the "J" Ledge pool. But Robert got into a nice gathering of fish even before we got to the "J" Ledge! He was having a blast with that bunch once we located them. A & W's were still producing in the slightly faster water here and both the guys got to work on some drift techniques.
By the end of the day Saturday, Bob was definitely in a groove. >>>>
Eventually got Bob into the the top of the "J" Ledge where he was immediately dealing with several fish of his own. When you land the fly in the right spot and leave the fly in the water, you are going to get hit! (Assuming there's fish there...) We assumed, and there were.
Again some of the better fish on the day were down there too. Measured one of Robert's at 13 1/2 inches and he had another that was probably at least that. And all of them are getting pretty chunky feeding on the March Browns which are at their peak of emergence right now!
There's also been a larger black caddis out lately as well as some Yellow Sally's (a very small Golden Stonefly)! Quite the smorgasbord out there currently!
<<<< Maybe Robert only appears to be having a good time... You'll have to ask.
All in all it was a great couple of days on the river - and then the rains hit! Saturday night and Sunday early saw a ton of rain in the drainage and the lake came up nearly seven feet in less than 24 hours! It is now up to 552' tonight and it looks like the generators have been going since 6:00 this morning! SWEPCO finally got a schedule out today and they're showing a "normal" pattern for this week, but I just don't believe it!
With the lake that high at this time of year, I seriously doubt that they'll NOT be letting water go round the clock for the rest of the week... But they've completely baffled me on occasion, however, I wouldn't bet on getting to the river and having it at minimum flow for quite a few days. Typically, at best with three generators going, they can get the lake down about a third of a foot every 24 hours initially and then, once it's around 550', about a half foot every 24. They need to get it back to flood stage at 548' or even below that for this time of year.
So, I wouldn't plan on fishing this week - but don't blame me if they do something I wouldn't expect! They've fooled me enough times over the years, but this doesn't look good for the rest of this week... Anyway, I'll be at a state championship tennis tournament in Baton Rouge starting Thursday anyhow! Let us know if you get to fish!

Back Cast
Always On The Water - Jeff
Please join in on the Message Board! Email me to register...
Click here to E-mail me at jeffonthelittlemo@gmail.com and say "hi" if you have any questions! Remember, if you do e-mail me, make sure you mention fishing on the subject line and identify yourself. Otherwise, I'm liable not to open the e-mail. That virus thing, you know!