Please join in on the New Message Board! Easy registration and log in!
Click here to E-mail me at jeffontheriver@gmail.com
and say "hi" if you have any questions!
Remember, if you do e-mail me, make sure you mention fishing on the subject line and identify yourself.
Otherwise, I'm liable not to open the e-mail. That virus thing, you know!
Check out the current weather and forecast in Murfreesboro!
Well, about time I had something to say!!! Eh? Well, it's more just a matter of stopping to do the updates once again!
Between working on the "offic-udio", tying dozens upon dozens of flies and getting in some fishing, I just wasn't doing anything much else! But now trying to catch up. I finally got out the last batch of "Secret Flies" this morning! I can tell you, I used up a lot of partridge and hooks in the last three weeks! And that's about as close as I'm going to get to letting out the recipes for any of those too! Thanks again everybody!
As for the Offic-udio, we fianlly started painting and doing some trim work this past week, so that's getting closer. Never thought it would have taken all this time, but it's going to be a nice little studio for me to work in!
As for fishing? Been feast and famine! A typical summer except the water conditions coming off the lake have been awesome as expcected! All that cold rain well into April adn even early May has put a great cold core in the lake and the minimal generation most of the summer (until this week - 8:00 AM to 9:00 PM!!!) has kept that water in there! Consequently, the minimum flow temperatures up at Riverside have been in the mid to upper 50's rather than lower 60's that we have seen in recent summers!
Makes for some very healthy, happy fish! Doesn't make them any easier to fish over however.
<<<<< Doug Wilson prepares for a knuckle buster!
And success there has been a function of weather conditions almost at any given moment! We all know how much of a difference a wind makes. We've also had a lot of cloud cover on quite a few occasions rather than dead straight up sun all the time! Throw in a couple of significant cold fronts and if you picked the right time to be on the river you might have done quite well. Pick the wrong day and you might have been thoroughly humbled!
Had quite a few folks out in recent weeks and without going into huge detail (mostly because at this point I can't remember much detail...) things were fairly consistent in the last month!
Back in mid July Jessika McCubbins & Doug Wilson came all the way down (on a motorcycle much less) from Mexico, MO! We spent an evening on falling water and the next morning under very nice conditions. I've been making good use of the new Slider in the evenings and it even does OK as a pseudo dry fly when kept afloat. Of course it wasn't really intended to be a dry and it is a little difficult to keep on top, but there's just enough dry fly stuff there to do it....
During the day, we've done the most damage day in and day out of with ALD Midge, naturally. It's great fun to watch the fish and try to figure at what point they actually have the fly in their mouth! There are some tell tale signs, but you need to see them to read those... And that's hard to do in low light conditions. The takes are almost inperceptible on many occasions.
<<<<< Starting out nicely.
Also one of the great things for first timers to be able to do is come out on one evening and get some casting and a little fishing in and then come back out the next morning and put it all together after things settled in their heads overnight! It's what Doug and Jessika got to do on this trip and it worked out really nicely for them on the next morning!
As you can see the water was pretty quiet and that's when better casting makes a huge difference. And the later into the summer and early autumn we go the more critical it becomes to make clean short casts! These fish have seen it all and since there's so many of them left right now, if you spook one, you've probably spooked nearly a dozen!
Success for Jessika on her first day of fly fishing! That's hard to beat, or is it! >>>>>
Saturday just got a little better as the fish got more active as the morning progressed. That's the normal scenario, especially by the end of the week when the generation pattern has been well established through the weekdays. Come Saturday the fish start to move in anticipation of the coming generation - which doesn't happen! By then they've staged and collected and are really anxious to get to feeding! You can have a lot of fun with moving fish, literally a dozen or so at a time, as they come cruising by you heading for the upper reaches of the Flat up to the Skinny Water!
It's very consistent and they even stick to that pattern on Sunday's as well. But then, come Monday there's usually a new generation pattern to adjust to.
So the guys from MO had a really nice trip and even got a little chilled riding back and forth on their bike! They were much more prepared for hot weather. Instead we were into the low 60's in the mornings that week!
<<<<< And "beat it" they did. Finishing out their trip with a double of Rainbows in hand!
The next week Pauline Felker brought her clan, Beth & Tegan and Tom Turcotte (Omaha, NE and Des Moines, IA) and to the river and the fishing was a little tougher... Though,a s evidenced by Pauline there was some success! It's just hard to get a bunch of beginners in one place to get a whole lot of action. As I've told a lot of folks, the late summer is not the best time to get several first time casters to try to hook up any of these difficult fish!
Everybody had some action, just not a lot of fish landed. We see plenty of interest in flies and a lot of very close calls and "swim-bys", but the moment those fish see a hint of leader, even the 6X fluorocarbon that I use from April to November, they're off and often running!
Nope, not snagged! Did get to document that Pauline Felker had one fish there! >>>>>
And there's no doubt, the more bodies on the water, the spookier the fish are gonna be after a while. It's why I don't like getting out on Saturday mornings in the summer if we can avoid it! But a lot of times that's the only day people get to fish, so you take your chances!
Also got a visit from Dale Nannen (Hopedale, IL) who brought his grandson A. J. by to try it. Unfortunately I didn't get to document any of his action on the short session. I can tell you that, this summer, you're going to see a whole lot of fish! In fact, if you want to see about a thousand lined up like an Alaskan salmon run, go up to the bridge at the dam and take a look upstream. Of course they're all in the Closed Zone but that's a really good thing.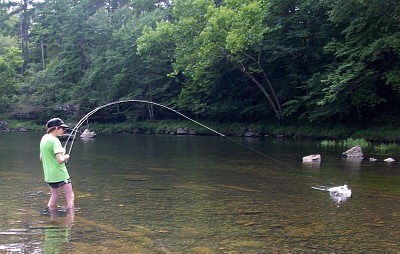 What a lot of folks don't realize is that the more high water we get, the more of those fish will move out into the river and into the Park! I've seen some real hawgs up in there too and I've seen some of them hanging around in the shallows of the Flat and around the Triangle. Good luck trying to get a fly to them though! Those fish tend to be a little more skittish!
This past week was pretty busy! On Thursday Kent Jantzen (Bradley, AR) brought his young nephew Tucker Nightingale for Tucker's first trout on a fly! After some casting we were able to get a bit of action, again mostly with ADL's. The morning's were cut short this past week, though, with generation cranking up at 11:00 AM... But we managed a few fish on at least. Even for a few hours, it may be worth the trip - if it's not too far, eh Mike R?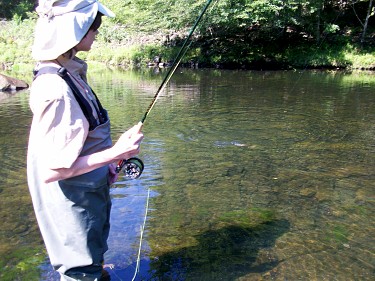 Jim Summa (Dallas, TX) and son Steven made it on Friday for the same treatment! Again, lots of action and a few fish on! Jim said he was really happy to get some casting insight, particularly witht he roll casts. The biggest advantage of the roll right now is that if done correctly you shouldn't have a line much higher in the air than a couple of feet! Which really helps with not spooking fish! And as you may have gleaned by now, that's a very critical thing!
Finally on Saturday Glenn Boyce & Lindy McCain came over from Jackson, MS for an event in the area and got a little bit of fishing in while they were at it! We had a really nice time watching scads of fish with actually quite a bit of action, but as usual, not a lot of fish actually landed! But if you can raise a bunch you're doing pretty good! Actually Glenn and Lindy had on quite a few in the short session, probably more fish than average for first timers in the amount of time spent with a fly in the water.
I do have some more pictures, but I'm currently in the Port and having some computer issues with the flash drive... Can't get them uploaded so it may be later in the week when I get back to the Boro before I can rectify that...
So, we're now getting into what is my favorite time to fish. August and September - not near the people out, high quality and challenging fish and the the Light Cahill hatch getting cranked up! Just a matter of how much water they plan to let go off of the lake in the next few weeks...
I can foresee some really nice fish being caught in the coming weeks!!!

Back Cast
Great fishing the last couple of days!!!
While Sunday afternoon was pretty dog-gone hot around here, Prime Time turned out to be really nice for Joe George (Mooringsport, LA)! We met at the park about 5:00 and got in as the shadows started to stretch just a little bit across from the west bank. Fish were quite active all up and down the Flat despite the bright sun and hot temps!
First fish of the trip for Joe George - a beautiful little Brown! >>>>>
We didn't raise a whole lot initially, but as the evening progressed we started to see more and more movement and nice action. We started out with a Light Cahill Slider and produced some good interest and a couple of fish on! First fish of the afternoon turned out to be a nice little Brown about 10 inches! Really happy to see that! We just don't run into that many after all!
After that the takes started coming more and more frequently as we got closer and closer to Prime Time! Joe turned up quite a few before he broke off one more fly (Just a little heavy on the strikes... Eh, Joe?) as it got too dark to see to tie on another one and it had been a warm evening. Mosquitoes were cranking up, as were the Whipporwhills, and Prime Time was peaked...
Still, between learning some new casting concepts and producing quite a few fish it was a really nice evening! Joe talked himself into going out again Monday morning!
We took our time getting out in the morning, counting on the wind to crank up on schedule. And high water wasn't going to be a problem - they're not generating this week until 4 PM and only for a couple of hours...
Well, no sooner had we gotten the boots on the wind did indeed get going! Perfectly from the north and north-east for the most part and about 15 MPH's. Just right, and it stayed pretty consistent until we gave it up at mid-afternoon. Excellent conditions and the fish were quite happy!
Just about perfect conditions on Monday! At least before the storms hit later in the day! >>>>>
We started out with a Griffith's Gnat and that brought quite a few takes for much of the morning. We also threw an R & A Light Cahill for a few minutes when I saw some of those hatching, but it wasn't enough of a hatch yet to get a lot of interest, particularly if the wind lied down too much.
But more than those, the good ole ADL Midge did most of the consistent damage. We started out around the Trough and produced a whole bunch of action mostly less than 20 feet from us. There were a lot of fish on the move throughout the morning and we were keeping the flies in the middle of their cruising lane. Once you were into the small flies you had to really watch for how the fish moved when they were close to the fly... Just the slightest hint of a take sometimes.
<<<<< Just one of the several nice fish on Monday!
We also got into the Triangle where there was a group of fish frequenting the little depression between the grass beds. They were a tad more spooky and though we did get a couple out of there, they got kind of wise to what was going on. Still, it took a little while for them to really get disdainful about what we were doing... Some nice fish moving around those shallows!
It turned into a very productive couple of days for Joe with lots of new casting techniques and some nice fish in hand! Can't beat it for the middle of July!!!

Back Cast
Hey! Remember me??? Still here...
Yeah, seems like there hasn't been much happening, but the fact is there's been too much! I just haven't stopped to do any updates for a while! There has been some fishing going on in recent weeks and it's been feast and famine as far as the fish were concerned!
I gotta go back to middle of June where we had a lot of high water and confusing releases. We ended up having high water all the way from Monday the 9th through that weekend - the 15th! Jeff Sinnot (Aledo, TX) was the last ones on the river that week on that Monday and the fishing was a little tough. Through early June the fish had been surprisingly spooky, but we weren't getting a lot of help from the weather anyway! In fact we got run off the river, after just stepping in, by heavy rains and a lot of mud coming in - not to mention the lightning!
Caleb McClanahan shows off on of the nice ones produced in the difficult conditions! >>>>>
Lake got up and it took the CORPS all week to get it back to down to a comfortable level and a bunch of folks had to cancel trips to the river! Well it's been kind of dry ever since with a few showers here and there and the lake is actually a little low for this time of year! Probably prompted the cut-back this week on the number of hours we've been getting of generation. We had been seeing a 1 PM to 7 PM pattern since that week, but this week they went to just 4 PM to 7 PM!
Next chance I got to get in the water was with Mac, and son Caleb, McClanahan (Hot Springs, AR) on the evening of the 19th! (Seems like a long time ago already!!!) We got in on the falling water and had pretty decent action with my new Prime Time pattern, the Slider. I do like the way it's fishing and we did nicely with it this week too!
Got back out with Caleb the next morning and had some somewhat challenging, but steady action. We threw an assortment of things once again including ADL's, AenW's and R & A's. The 6X and even 7X fluorocarbon is getting to be a necessity, but with a slick surface, the casting "cleanliness" and approach can be even more important.
<<<<< Brent Chustz takes advantage of the falling water Monday evening...
Last Friday, Brian & Ginny Homza (Shreveport, LA) made it up! They went to school with my brother and I went to school with Brian's brother! Smallish world once again! We did OK on the day, but once again the fish were very spooky and hard to get strikes out of! The wind was non-existent so no help there... We did have a few on though, none the less! The fish you do get this time of year, though, are usually quite a surprise to those who haven't dealt with them before! Speed and power and a lot of fish get broken off! most folks just aren't ready for them!
I'm afraid that was the case this week, at least initially, for Brent & Donna Chustz (Baton Rouge, LA). Let's just say we went through quite a few flies on Monday evening and a few more on yesterday morning before they both got a better idea of what to expect from these fish!!!
Donna gets one under control near Copperhead Crossing! >>>>>
Monday night we had a nice Prime Time with the Sliders and got quite a few fish on before I couldn't even tie on another fly! It was the best Prime Time we've seen in a while and conditions were just about perfect! And fish all over the place!
Yesterday morning we finally got some serious wind to help us out and the fish were the happiest I've seen them since early May!!! We threw ADL's and Light Cahill R & A's again, but it was the AenW's that did the most work! Lots of action on that.
Just one of the "average" fish on the day! >>>>>
Most of the fish were in the 11 to 13 inch class. Only got a couple that were from the latest stocking - most of them had been there a while and in really nice shape! Part of the reason why there were a "few" break-offs for Brent and Donna over the course of the sessions. As I mentioned though, they had plenty of chances to figure out just what kind of touch is needed to keep fish on and be ready for the runs and surges! Big time speed from these guys!
They landed a lot more fish the second half of the day! Got to the point where i have no idea how many fish were landed! That was a good day! The wind was really up and coming from behind us most of the time, making the conditions about everything you could ask for under the mid summer sun! In fact it was one of the better days we've had all summer!
<<<<< Brent with a quick release of a really nice fish! Great colors. Actually he did get it in hand, I was just slow with the camera, but I think it was a nice shot none the less... Check out the red in those belly fins!
So now that we're past the summer solstice and the days are getting shorter, I hope we see typical weather conditions with the mid-morning breeze cranking up about 10:00 - 10:30, on schedule! Makes a huge difference for the psyche of the fish, which certainly helps with ours too! It'd be nice to have that later generation crank-up time too... Maybe we can get through the rest of the summer with that 4:00 to 7:00 PM schedule! Just about perfect!
By the way, I had a real nice time last Saturday in Longview, TX for what Mike Hawkins calls their "Guide Tie"! Fun bunch of folks and a lot of tying and "secrets" shared! Not unlike one of my Workshops of days past... Have to find another way of going about having those once the "move" back to the Port has happened...

Back Cast
Always On The Water - Jeff
Home | The Latest | Little Mo Message Board | Friends of the Little Mo | The Skinny Water Project | Stocking Schedule | Fly Tying & Casting Lessons
Ouachita Mountain Flies | Little Mo' Fly Fishing Festival | A Bit About Yours Truly | Prices | How to get here | References and Links | Catch & Release Tips
Custom Rods | The Little Missouri | Around the Area