Little Missouri Fly Fishing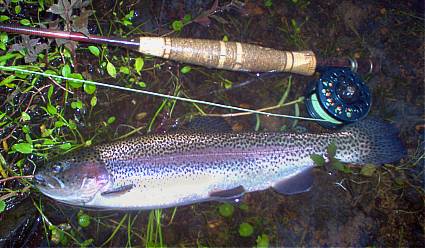 The Latest
Sunday - July 14, 2019
Tuesday - July 8, 2019
Tuesday - June 25, 2019
Friday - May 24, 2019

New Message Board!!!
870-210-3681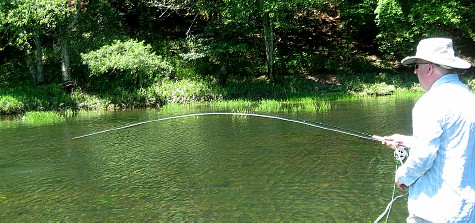 What with my dad's 90 Birthday this past week and celebrations to be had, now getting to the computer again!
This past Thursday the 11th, Eric Anderson (Shreveport) returned to see what he could do with the increasingly difficult and leader shy summer denizens! They did not fail to live up to their reps!
Eric Anderson doing his best to deal with one of the bull-dogging runs of the day! Summer fish are so strong! >>>>
We tried numerous patterns with some interest in everything, but seemed to do best with a pattern I've been messing with in recent weeks. We'll just say it's in the midge family for now... We had lots of interest - if only fleeting in many cases - a bunch of hard looks, swipes and takes! This produced several fish on, but it took some 6X fluorocarbon tippet to produce most of the activity! That led to some "early" releases and replacing a few flies.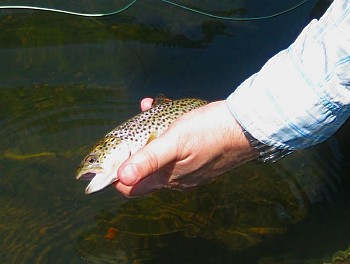 The fish are getting stronger and faster every day! And as mentioned, more and more leader wary! They are seeing everything that's not quite right... But we are well into July and that's to be expected, now that they are getting a lot of people throwing at them once more.
<<<< Eric's Brown in hand! We knew something looked a tad different as it got closer and we got a decent look. Interesting that it was cruising around in the peak of a bright day!
Still with all that, Eric was able to produce quite a few takes and some fish in - including a pretty little Brown in nice shape! So glad the AGFC waited till the Catch & Release season was under way before they brought in all those Browns. They are enjoying some protection for now. Maybe they'll get a chance to take this season.
As I said we tried several patterns and several techniques throughout the morning. Everything produced interest, but creeping the dark midge seemed to get the most takes. The issue with fishing something like that is being able to tell when you've had a take. Got to watch for that white mouth to open somewhere in the vicinity of the small flies. Or a quick flash or sudden swish of a tail. All can be an indicator that a fish has a hold of your critter. Very critical to have a tight connection between the hook and your hands.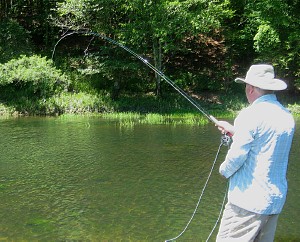 Mike Ingram was doing well with midges a well, with a different technique. Location and positioning are so important when it comes to fishing over The Flat. The biggest mistake people make out there is wading where the fish want to cruise - and they really do have consistent cruising patterns. If you disrupt those patterns you really cut into your chances of producing any confidence from the fish. If they are "scooting"past you, then you got too close, or worse blocking them completely out of their lanes!
More running around! In the shallows, cuts and grooves of The Flat, a fish on is going to head "somewhere" fast! >>>>
We had generation cranking up at 1:00 right on schedule and as usual the fish got busier as that time approached. This week we've got no generation scheduled for tomorrow which, I suspect, is due to holding water in anticipation of heavy rains downstream. We've got 3:00 PM to 8:00 PM Tuesday, Wednesday and Thursday and 1:00 to 8:00 on Friday. Saturday and Sunday are showing 3:00 to 7:00.
I also suspect that could change significantly at any time seeing how much water is dropping into the lower Ouachita Basin! It's possible the could hold off even more...

Back Cast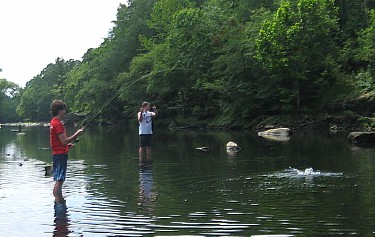 Days just keep flying by!!! Catching up with a week ago now - as best I'll be able to remember!
On Saturday, June 29, I met a big group from Evansville, Indiana! Jerry & Melanie Blanton brought his sons, Seth, Jered, Gabriel & exchange student Victor Moreno AND friends Joe & Theresa Berendes with sons Jack and Lance! It was quite the gathering and we got everyone casting and fishing before we knew it. Most everyone got the basic rolls and retrieves working in no time and as I have only four rods they took turns getting into the water after the initial education!
<<<< Gabriel Blanton was fast into several fish early on! This one displaced some water!
We had okay conditions to get started, but I was hoping for more breeze on both recent trips. We had broken skies and only slight breezes on that Saturday. But the fish were in a pretty decent mood and we were getting takes with some frequency! It was a little surprising considering how many lines were flying around!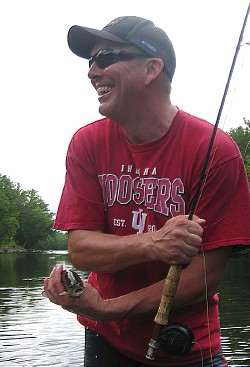 The fish were starting to occupy their usual cruising lanes with regularity and happy enough to take our Sliders, both March Browns and Cahills! We're kind of in between both species right now and you can throw in the occasional Slate Wing and Sulphur as well! Not to mention the small black caddis and assorted midges. We did also fish the small black midge through the week too.
All the guys were great about breaking for others to fish, taking turns frequently throughout the day and some had more action than others. It was young Gabriel I believe that had the most action early and often though! However, everyone had at least one fish on at some point. The number of hits among the lot of them was quite numerous and there were a lot of fish on!
Jerry Berendes was definitely happy to see this fish! >>>>
I think all but one of the bunch actually landed at least one and several of the fish were really dark and healthy. The consistent generation each day has created some really nice critters out there! There were a couple of extra special fish on too! I think it was maybe Victor who had possibly the best fish of the day on. It made a couple of knuckle buster runs, covering ten or fifteen yards, before simply pulling loose.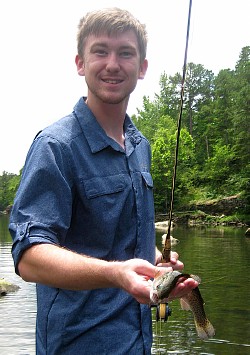 All in all, it was a pretty productive morning and early afternoon! The fish were quite predictable what with the consistent generation patterns of the last two or three weeks. As we got closer to crank up time, the fish got busier and moving around in larger and larger groups. You can look forward to a lot of activity right into the early afternoon during the week.
<<<< Seth Blanton got in on them here!
The whole gang got a big kick out of seeing the gates open up at 1:00 and the rising water too! Just like anything one hasn't seen, it's pretty impressive I'm sure!
By Monday when I met with Brent Schoolfield the fish were a tad spookier and probably a bit battered by the activity of a full weekend of people playing around the Park, as we are apt to see in the mid summer! It took them a while to start getting on the move under the very still conditions.
Water temperature was great again and it looks so good by the way - clear and clean. A far cry from the murky mess we've seen for the previous summer and fall! While the extra flows were nice the last year, it was a bit of a silty flow.
After some awakenings on the casting front, Brent worked hard for his takes from the fish that were willing. We moved around The Flat and then up into The Trough...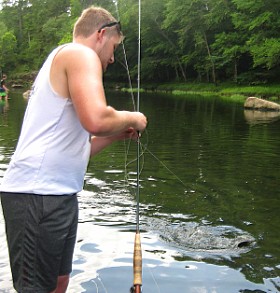 We found some nice fish concentrated there, but even with tacking on some 6X fluorocarbon tippet, the fish were still quite difficult. It was quite frustrating!
<<<< Lance (I beleive) brought this chunky one in by hand only to see a VSDR up close!
I really do think that the Monday morning "wary" had set in on the fish. Spooky fish combined with no wind to chop the quiet water was making them so much more dubious about hitting with any aggressiveness.
Though, eventually, Brent did produce a good number of takes with the Cahill Slider once again. And even though he bent the rod on several we just couldn't keep one on enough to get one close! It was really pretty brutal. Just one of those days when there was a lot of action but no fish in hand! It does happen that way sometimes...
Maybe we'll get another look at them this week!!!
Generation today was 1:00 PM to 8:00 PM
Tuesday & Wednesday also 1:00 to 8:00
Thursday - 1:00 to 7:00
Friday - 2:00 to 5:00 (perfect!)
Saturday & Sunday, however, no generation scheduled.
Not my favorite thing to see during the summer. It'd be nice to see a couple of hours every day at least... Remember, leave those fish alone after 2:00 or so till the sun is off the water again in the evening if you can! Much better for them!

Back Cast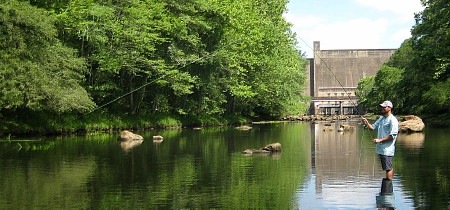 More fishing!!! Yeah!!! Got in three nice days on the river this past week. Actually- close to excellent days! The fish were happy, the weather - for much of it was great, and the company superb!
Adam Glick didn't take long to get into a nice one! >>>>
Last Thursday brought Ben and Adam Glick up from Texarkana. I think we tried to get in this trip on two other dates this spring only to be washed away. Turned out to be worth waiting for. After the overnight storms from Wednesday the weather, for mid June, was close to spectacular!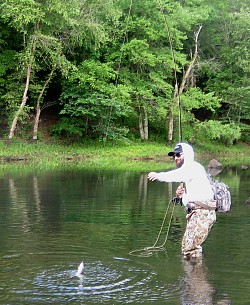 I left the Port with a temperature reading on the car of 70° and I don't think that moved much until we got out of the river at noon! Conditions were great, 65° water, dry air close to that, and perfect breezes all day! Couldn't have asked for much better
A few little casting tweaks and we were in, starting out with a little midge that produced strikes reasonably well, but I wasn't thrilled with it as yet.
Went to a couple of Sliders through the mid morning, but it was the A & W Emerger that really turned the tide our way. Produced the most fish throughout the day, and some really nice fish. Once again, the average was around 12" to 13", but stout fast fish!
<<<< Ben Glick wasn't far behind and the fishing stayed quite steady throughout the day!
The guys managed a couple of doubles and even a triple! That is, Adam got one on - Ben got one on - Adam released his and had another hooked up before Ben could release his! I thought maybe we could get a "quad"!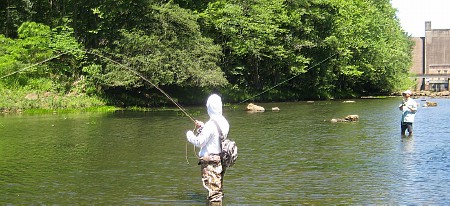 For the late morning, right up until the time the high water pushed us out, the fishing was pretty furious. Hits were nearly constant for at least an hour! The type of fishing you dream of - particularly after so little of it for the past two thirds of a year!!!
Ben and Adam with at least one double - I believe there were more to be had, but also notice the nice chop that's now on the water. Makes a huge difference in the fishing! >>>>
There were some really nice fish on and had similar and even larger sizes to be seen as they cruised around the Flat. Nothing extraordinary, but likely in the 14 inch class.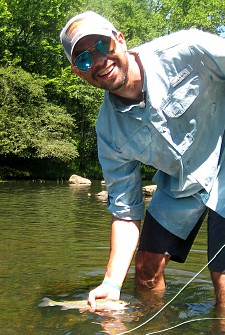 I don't think I spotted anything larger than that, but with the condition that they are all in (even the most recent stockers) I'll take 12 inchers all day long! They can really get around on 5X tippets. Fortunately we didn't really need to go any finer as yet, especially with the chop we had on the water for most all the day.
<<<< Adam displays just one of the numerous healthy fish we got into. They are really starting to show nice colors and full tails and those white-tipped belly fins.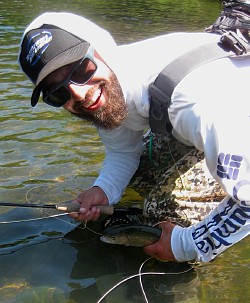 We had generation slated for Noon (Thursday and Friday) but be ready, they are sounding off the sirens starting about 20 minutes till without a lot of stagger between gates, and by Noon we were actually getting out. As opposed to what we are accustomed to seeing - that is, maybe first gate's siren at a quarter till and the water not reaching the Park until maybe 20 minutes after the schedule time. They are cranking juice "ON" schedule
Ben does likewise with a nice dark fish. Great colors on the fish, and the water is in the best shape it's been in over a year now that all the work on the power house seems to be done! >>>>
But we still got in plenty of nice fishing in a morning. Certainly worth the ride!
On Friday old pard, Gordon Spencer, returned after a couple, maybe close to three years, away from the Little Mo'! That's too long! He made up for it quickly. The same black midge that only did so much on Thursday really produced on Friday! Go figure... Solid takes under only slightly choppy water. Not near the nice conditions of the day before, but not so bad either.
Gordon was having quite the "moment" as he put it, casting to cruising fish with his little cane rod he found on line. All the while we were getting his casting back under control after the long lay-off. Many adjustments to be made for the soft bamboo over the course of the two days, but by the end of Saturday he was in a great groove! Casting clean once again!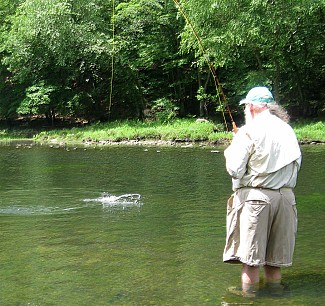 Meanwhile, the fish were being quite helpful with the frequent distractions! Lots of swipes, flashes, refusals, takes and hook-ups! We had a little later start to the day, so we only got to enjoy the real action for a couple of hours. But it was indeed steady through the period. As in, I couldn't tell you how many fish he had on!
Gordon Spencer returns!!! And the fish were glad to see him in the river as well! >>>>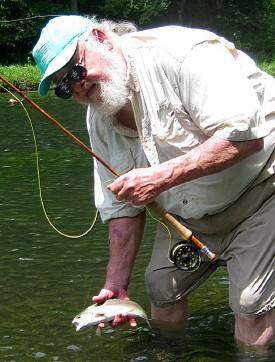 We came back out for as much of Prime Time as we could get Friday night. With shut down exactly at 8:00 PM we were looking to get in at least a good hour. The water dropped relatively fast and we were into fish quicker than I anticipated.
They started popping up sooner than usual from one bank to the other. I had to remember that it's only June and the water is still pretty cool coming out of all three generators, so rather than warm water on the east bank and cool water on the west side (as we'll see later in the summer) - the river is still cool throughout!
<<<< Gordon holds one of nearly thirteen inches - he had some real chunks on the line with one making a couple of 15 yard runs!!! ! Great fun to watch...
So, we had fish showing early and everywhere. I started swinging an Olive Little Mo Wooly with the current while it was still up and that brought a few savage pulls. But the water dropped quickly and it wasn't long before we moved up into the Trough to finish the evening. There were plenty of reachable fish even though the water was still about a foot and a half above minimum.
I believe we switched back to an A & W until that one was ripped away by the last fish of the day! Some really long runs and great aerials in the fading light made for a nice finish!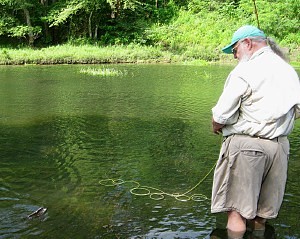 Saturday morning we got back out and Gordon made me fish along side - something I just really never do, but he wanted to see me fish for a change as well! Well, I just couldn't say no this time! We tried some Killer Cahills and "dry" Long Creeks and the black midge and honestly the fish were a tad tougher on the morning, but it was Saturday and there were more people out, so they could have been a bit spookier. It was also still and muggy again. But, we did produce quite a few fish none the less!
Gordon and another deeply colored male - even showing a bit of a snout already! >>>>
And thanks Gordon, I haven't had my rod on the water for that much time in close to a year!!! I do fish every now and then, usually after clients have left for the day, but maybe only for 45 minutes to an hour typically. We stayed on the water till 1:00 enjoying quite the nice day of fishing! Great to be back on the river and looking for more later this week!
Water schedule looks pretty awesome for this week!
Monday was only 2:00 PM to 7:00
Tuesday is 8:00 AM to Noon! That's quite different, but great this afternoon!!!
Wednesday - 2:00 PM to 6:00 PM - Nice!
Thursday - 1:00 PM to 7:00 PM - Also nice...
Friday - 2:00 to 7:00 again.
Saturday and Sunday - only 3:00 PM to 5:00 PM both days!!! That's pretty awesome!
So a really great schedule for fishing all the rest of this week! Enjoy!!!

Back Cast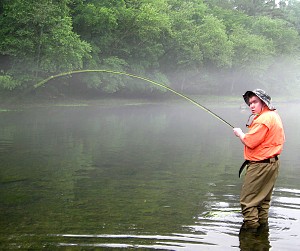 Finally, the conditions are getting somewhat closer to normal, but the fishing has been way above average!!! At least this past Wednesday - sorry I'm just now getting to load up a report...
But you'll enjoy this one! I met with Randall Keiser (Alexandria, LA) and his son, Preston, with Chris Perkins along for the ride (actually he was the ride!). We had low water finally for enough hours on a weekday to make a trip worth doing! This week they've been opening up around mid-day each day. Tomorrow and Sunday are even better!
Preston Keiser took no time at all getting into his first fish on the day! There are scads of really nice fish running all over the Park and we could see them coming! >>>>
We had typical morning fog and perfect 55&deg water, and even a little more clear than usual for this time of year - particularly considering how much water has been moving all winter and spring! Regulars David McAdams and Mike Ingram were in their favorite spots and they were getting fish steadily! In fact, their activity had reached the "obscene" level. Fish on constantly and there was definitely some water being displaced by the sloshing fish! That is, they were generally hefty!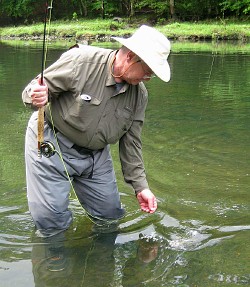 We got Preston and Randall some fast casting instruction and fishing techniques ready to go and it wasn't long before we had some Sliders in the water. I got Preston into a groove with where to land, length of drift and speed for working the fly and headed over to Randall to tie one on. About the time I got the tippet through the eye Preston quietly was into what turned out to be the fish of the day right off!
<<<< Randall Keiser prepares to get one to hand at the Trough. Remember what I said about "displacing some water"? That one's putting up quite the wake!
He had a great hook-up and took instruction on handling the line and rod tension perfectly and five minutes later we had his first trout in hand! And it was a beautifully colored, extra beefy at 13 1/2 inches, but it sure seemed bigger than that! Had the girth of about a large pear! Awesome fish right off th bat! And Preston followed that up with several more on and three more in hand, all above average. Or maybe this summer 13-14 inches is going to be the average!!! Mike Ingram said he's had some fish in the 15" - 16" class recently!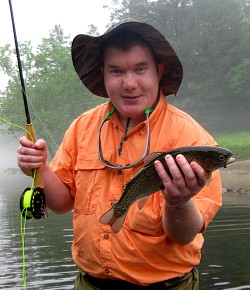 Since we've had so much high water, there's a lot of fish in the river - not to mention the load that was just dropped off this past Monday! And when there's lots of high water, as we've had, not only do the fish not get taken out in large numbers, they seem to grow better and healthier under those heavier currents! So currently, Riverside and River Ridge are kind of loaded up.
Preston displays the fish of the day for us. Hold your hand out like that and imagine that fish in yours. You'll get a better idea of what a chunk that critter was! >>>>
AND "not to mention" that this week's load had several hundred Browns dropped in! Mike found the pod of them and landed seventeen! They were smallish he said, all about 8 inches or so. But they should remain around the Park all summer in the protected catch & release area.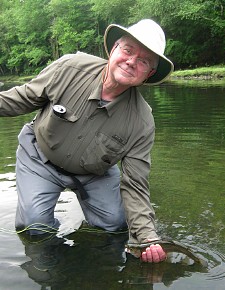 We didn't run into any Browns ourselves, but we had plenty of action with all the big Bow's - we didn't get anything under 12 inches. Preston was roughing his dad and uncle Chris up pretty badly, getting fish on about four to one and landing his... Chris and Randall finally started to make inroads into the totals, but Preston still finished the day ahead!
<<<< Randall shows off one as well. Man, they were all really nice fish - not a runt in the bunch! Very excited about the fishing to come this summer...
Early on the Sliders seemed to be doing just fine, but as the morning moved along we switched to A & W Emergers and, as is typical, they hammered those! Around 10:30 we got some of the very predictable breezes that crank up like clock work about then and the fish got that much more excited. They've also gotten into their routines with running up and down the Flat and anticipating high water. I'm always amazed that every season a whole new crop of fish get into the same patterns, year after year after year.
Now that we're getting closer to the summer rain patterns, and the lake is currently under control with regular generation - even on weekends - I'm anticipating a great four months of summertime fishing! Possibly the best we've had in years if things stay as they are! Should I repeat that? Possibly the best we've had in years if things stay as they are!
And speaking of good water here's the generation schedule for the coming week:
Monday (Memorial Day) - no generation slated at all!
Tuesday - 3 PM to 7 PM only
Wednesday & Thursday - Noon to 8 PM
Friday, Saturday & Sunday - 3 PM to 8 PM!
Man! That's hard to beat after all the water we've had for so long! We've been seeing less than three generators running most of the spring as well, but that seems to have changed. Everything is back to full generation when they're up and back to normal minimum flows as well. As much as we enjoyed the extra flows for most of the last year, I think the water conditions will actually be better and more productive, and better for the fish. Enjoy!!!

Back Cast
Always On The Water - Jeff
Click here to E-mail me at jeffonthelittlemo@gmail.com and say "hi" if you have any questions! Remember, if you do e-mail me, make sure you mention fishing on the subject line and identify yourself. Otherwise, I'm liable not to open the e-mail. That virus thing, you know!