Please join in on the New Message Board! Easy registration and log in!
Click here to E-mail me at jeff@littlemissouriflyfishing
and say "hi" if you have any questions!
Remember, if you do e-mail me, make sure you mention fishing on the subject line and identify yourself.
Otherwise, I'm liable not to open the e-mail. That virus thing, you know!
Check out the current weather and forecast in Murfreesboro!
Happy Mother's Day to all the Mom's out there!!! I know my mom appreciated the trees I trimmed the other day!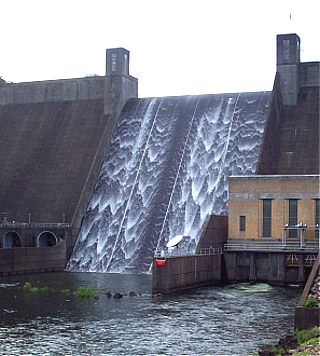 I was just realizing that it was about this time of year that the lake topped the spillway a while back and was looking back in my stuff to see when that happened. It was May 14, 2009 already! And you'll recall that the Albert Pike flood was actually the next summer in 2010 and was totally unrelated to the flooded lake! Though we did see the effects of the Albert Pike flood on the lake and river for several weeks after... Mostly a distinct "sandy" look to the water coming through the dam!
At right - the first time since 1968 (and only the second time in the dam's history) that water was coming over the spillway! That went on for several days while all three generators were wide open and both the Bunger Valves on the west side of the spillway were cranking as well! Many of you will recall the water up to the seats of the benches at the Wall Hole!
Well, no threat of any of that right now! The lake is at 546.09' this morning and not moving - that's two feet below flood pool and 17 feet below topping the spillway! We'd have to get a whole lot of water, real fast, to see that again... Let's hope everything stays as it is right now!
Last weekend I joined a whole bunch of folks at the Cane Country Fly Casters Expo down at Natchitoches! Great time and the club did a real nice job of putting this together! The vendors and tiers took up most of the space in Prather Coliseum which was awesome! That's a big room after all! The best part for me, though, was getting to visit with folks and tying a few flies! Got to see Judy and Bill Stall, Kyle Moppert, Tom Jindra, Walter McClendon - all folks I haven't seen in a while and we were able to relax and tell some stories, old and new! Made Sandy laugh enough to where she couldn't breathe! So we headed home... Couldn't stand anymore!
They Cane Country folks are already talking about making it a two day event next year, so start looking for that on your calendars!
I was trying to get in a tennis camp during the past week, but I did get out for Prime Time on Wednesday afternoon! Mac "Irish" McClanahan was already out there waiting for the water to fall... We both got into a few fish on the falling water and then it was quiet for a while. I had lost track of what time it was getting dark lately and was a little premature on my estimate for Prime Time to start. That didn't happen until nearly 8:00 PM!!!
By the way - there's NO GENERATION scheduled for this coming week! We can fish all day again, though that may create some algae issues as the week progresses... On the other hand the fish will probably be taking advantage of some cruising opportunities once they realize there's no high water coming!
Wednesday evening, though, once the Prime Time Hover started the fish got busy! I had gone to the Smidge already and Mac was doing quite well with a Crackleback - said it was the first time he had fished it and he was quite pleased! I was doing fine with the Smidge and the fish are just in great shape and super strong. Water conditions were perfect and 10-11 inchers were running us all over the place! Nice way to spend an afternoon. Enjoyed visiting with Irish till well after the Whipporwhills were done too!
I also got a good report from Ashley Berry when he stopped by that he had caught a good number of nice fish at River Ridge, both Browns and Bows. And he did say that he got one Brown that did not look like one of the fresh stockers. Had the seasoned colors and fins! That's really great to hear!
On Saturday morning, after all the storms had cleared out (washed out my tennis camp two days in a row) I met with Minnette Fontenot and Lori Joubert (from Lafayette, LA Gee! - imagine that!) on what was a near perfect day! The air was dry and cool and the water was chilly.
The girls were getting their first dose of Arkansas fly fishing and we worked on the casting for a bit and then tried to find some fish. I could see from the cabins that the Park looked a little crowded so we dropped down to the Sycamore Run. We found only a couple of fish there and Minnette raised on of them with an A & W, but the water was so clear and shallow that it didn't take long for these smarter fish to get wise to us being around. So we looked a little further downstream where we got into a nice concentration of healthy fish!
At this point I refuse to divulge exact locations - I'm going to keep these to myself.

Or you could go with me to see them...

At any rate, the girls got quite a few takes and fish on - well, Minnette did at least... The fish weren't being quite so nice to Lori, though we watched a couple of fish chase her fly without getting a hold of it! That's annoying, but these were really nice, dark fish, one of which appeared to be a Brown as it showed itself briefly!
Minnette and Lori working the deep water at the bottom of the Couch Hole - diligently but unsuccessfully I'm afraid... Nice job with keeping the rod tips down though! >>>>>
It was close quarters fishing and the girls enjoyed watching the fish just a few feet away in the clear water, I think, as much as anything! Of course, getting one in hand would have been great, but a few good fish on almost makes up for it!
Eventually, we did end up at River Ridge and tried to fish the tail of the Couch Hole a bit, but I think the new fish had moved out of there. We only saw one rise there and couldn't get it to come back after Lori's Long Creek. I didn't see a whole lot of activity out in the deep water either by that time of day. It was getting into that early afternoon "lull" kind of thing and it past lunchtime for the humans.
Still we had moved quite a few fish and had a decent number of hook ups to keep Lori and Minnette's first trip here interesting! SInce they'll be in Shreveport for another two years I suspect they'll be returning with their kayaks to do the paddling the storms kept them from, oh, and revisit the trout that didn't play fair!
I'm down in the Port right now and about to hit some balls with my sixteen year old nephew, Louis Guerin, who is now starting to beat me on a regular basis... He couldn't do that two years ago!!! What happened??? I'll take the credit - I taught him too well!

Back Cast
Quick report here before I head for LA for tomorrow's Cane Country Fly Casters Expo in Natchitoches! All kinds of demos and programs from our regions best fly fishing folks! Looking forward to a great time! Everyone in the area needs to be there!
Around here, though, on Wednesday I hooked up with Doug Ransom (Michigan via Barksdale) for his first shot at fly fishing before he heads back north! He wanted to get a better concept of all this before he hits his old home waters with a fly rod!
Doug Ransom gets a look at his first fish on a fly! Nice, dark rainbow! >>>>>
I've got to say that Doug was one of the best students I've ever had. Talk about grasping the concepts and then putting them into practice! Looked like he'd been fly casting for years - correctly! Laying out nice, straight, clean rolls and overheads almost from the outset! Excellent job, Doug!
We did get into some of the new fish as well as some of what can now be termed as "residents" since many of them have been in here for a good while.
We had nice hatches of March Browns and Mahagony's through the mid day while we dodged a little drizzle here and there. And as we have seen often over the decades, particularly at this time of year, when a heavy low cloud comes over and darkens the skies, the mayflies mistake it for Prime Time and start hovering! The fish were getting after them real quick and the A & W was doing just fine.
We had a reasonable amount of activity despite the unstable weather and Doug did get his first fish on a fly - a nicely colored resident fish with full fins!
Just to see something a little different and a little bit of moving water, we left Riverside for River Ridge to see what we could find at the base of the shoal. Doug got to learn a little bit about reading water and how to fish a foam line, but there wasn't a fish to be had there unfortunately!
But we did step up above the weir for a little bit before the real showers hit us. There we found a whole bunch of the fresh Browns that came in this past Monday and they were splatting after hovering March Browns with some gusto!
Doug did get a hold of one of them - right at the 9" range that Melissa Jones had reported were sent - and he got it in close enough to get a hand on the leader and a real good look at it! An official catch of a Brown as well!
Not bad for a first day!
<<<<< Alyssa Yates having fun with her first fly fishing as well!
Yesterday brought Alyssa Yates (Shreveport) for her induction into the fly fishing world too!
We were in the process, weather-wise, of going from a warm muggy day to a cool windy day! South winds to start, calm and slick, a bit of drizzle, cooling northerly breezes by mid day! Take your pick! Hell - it was apparently snowing in north Arkansas still this morning!!!
At any rate, we were getting the same low light "Prime Times" every now and then as the dark clouds slid over us. But the fish wee ticked off apparently and even though they were feeding nicely they weren't real excited about taking a fly form us! Alyssa was getting the fly where it needed to be regularly and doing a nice job of working the A&W, but the fish just weren't playing nice!
It took us a while to get a strike out of them, but that just made the hits that Alyssa did get all the more exciting. And her first hook up was quite the event! Let's just say that she was a tad excited!
We eventually moved into the top of the Wall Hole and sent a Long Creek into the green water. Didn't take very long to get a few hits and a couple more fish on! Her last hook-up lasted right up to the moment we were about to get a good picture of a fat 12-13 incher in hand!
Of course you know what happened then...
<<<<< Yep! Does look like a good time is being had!
Still, the glimpse of Alyssa's smile should tell you how things were going. She learned how to handle a fish on very quickly, particularly after the first one was quite eventful, and by the end of the session she was gliding her best fish right up to her hands before that one released itself!
Great fun, both days! And everyone will be so happy to hear that we did get that load of fish in last Monday - including the 600 Browns that were on the load. Melissa did say that we can still expect two more loads of fish later this month and again in June as scheduled!
With the nice cold water still coming into the lake right now, despite the missing fish of the winter, I'm looking for a nice summer once again!
Well, I'm outta here. See lots of you, I hope, in Natchitoches tomorrow!

Back Cast
Odd day today! I really didn't know we were supposed to get any weather at all! But we did...
David Jonas (Mansfield, TX) braved the elements and we arrived at the park at 9:00 only to see the river running full... Hmmm.... There was a whole grade school load of kids on a field trip to the power house too... I suspected that they were actually running the generators just for the occasion. I went up to the Corps office to see if we could get a clue and they told us they were planning to shut down at 10:30 - very odd thing to be doing so I still think it had to do with the kids.
So we visited for the duration with ole buds, Fred Duffer and John Moran who've been up for the last couple of days. Most entertaining. They also informed me about Hank Patterson - the greatest fly fishing expert in the world. Ya'll need to check out his stuff on YouTube - Hank Patterson. Pretty interesting!
At any rate, once we did get the water close to fishable, David and I set to work with a Long Creek as the fish started to show themselves! When we reached a good position we started getting bumped!
Of course, that's about when the heaviest of the rain (and it wasn't very much really) rolled through with some thunder up in the atmosphere. For a change we weren't deterred by the conditions and fished through it. There was actually quite a bit of activity most of the morning and David had takes on a regular pace - most of the time - and bent the rod on one really nice fish! His hook-up rate was right on schedule too.
As the water got closer to minimum there were indications that the fish were really getting after emergers and we switched to an A & W which did produce some vicious strikes initially! Eventually, though, the fish seemed to get wise to us where we were and we decided to drop down to the Wall Hole since no one else was around at all.
Went back to the Long Creek to get deep and started casting over the edge of the drop-off. That worked quite well with a good number of takes down in the green water! And again, the fish we landed were strong and chunky! They've been eating real well down there! A couple of them looked like they were carrying eggs they were so fat!
Nice fish! Nothing really significant as far as size today, but very hearty and healthy! Been eating their high protein critters, oatmeal and Wheaties, I guess! Unfortunately the extra water in the morning cut into David's allotted time to be over from Hot Springs on their vacation and we called it a day. Still, not a bad few hours of fishing despite the weather!
We've already got the generation schedule out for the coming week and it's very interesting. A couple of hours, afternoons only, during the week from just 3:00 to 5:00 PM! That makes for all day fishing and really nice Prime Time fishing on tap! Also supposed to be very warm the first part of the week and closer to normal the rest of the week with a little chance of weather on the ends and in the middle!
And of course, the Summer Catch & Release season starts on Wednesday! Whooo Hoooo!!!!

Back Cast
Had a very nice day with Bill Campbell from get this - Murfreesboro, TN! He was stopping through to take advantage of the river on his way to Dallas... Not a bad halfway point!
After the lightning and thunder that woke me up about 4:00 AM, it didn't take very long for the clouds to clear out through the morning and turn into a spectacular spring day! Northerly winds, 50's and bright sun! everything the fish should like!
<<<<< Bill Campbell gets ready to land his first Little Mo' trout!
And they were a little more congenial than they were last week! We drifted an A & W around the Flat for a while and it produced several takes and swirls. By mid morning we were seeing a reasonable number of March Browns drifting around and the occasional fish chowing down on them. It wasn't furious by any means, but they were finding the floating critters.
With only the slightest hook-ups to our names, I wanted to head downriver to maybe catch the falling water just right. We've only got two hours of generation in the mornings this week so I figured it wouldn't take very long for the water to fall. We arrived at the Factory Site just a little ahead of ideal levels, but got in to give it a try anyway.
I was once again disappointed with the lack of fish downriver... Despite a good report on the Message Board recently, we didn't raise a fish and only saw one rise down in the original Honey Hole... Whatever may have been there last week had "moved on" in one fashion or another. Tomorrow could be a different story! Who knows!
So, we headed back up to the Park where the hatching March Browns were calling! And it didn't take too long to see rises around the Flat as we walked down to the water again! A little maneuvering around and we were in a good position to drift an R & A March Brown over the prime cruising lanes and in the nice shop that was on the water!
That was productive the rest of the afternoon and Bill got into several fish - all of which were seriously hard fighting! Particularly a really healthy, fully-finned and seriously ticked-off 14 incher! This fish wrapped Bill around one of the big boulders twice and tried to find that hidden tunnel under there! Somehow the leader held and the fish stayed on, even after I grabbed my camera - that's usually a guaranteed quick release!
<<<<< The fish of the day! A beautiful 14 incher with great colors and full fins!
And most of the takes we had were fairly aggressive and quick. Only one was somewhat subtle... But there were also quite a few flashes and refusals behind the fly. The fish that are left are starting to get a clue, that is as to what doesn't quite look right. Amazing how quickly they can get off an attack path just when you're certain they're going to nail the fly!
About mid afternoon we saw the most activity, probably. And there quite a few fish rising in several directions, though it seemed to come and go in waves. There'd be quite a few rises in a ten minute span and then it would be a little quiet for a while. Certainly that was an indicator that the mayflies were hatching in waves as opposed to a steady pace. Gotta be in the right place at the right time certainly - and there's got to be fish there too!
Towards the end of the available time left we just happened to spot a whole crew of fish, probably fifteen or so, go sliding by us in the shadows! And as often seems to be the case, the last one in the pack decided to turn and take Bill's fly! It's more fun when you totally expect it to happen.
The siren kicked off just as Bill needed to get going so it turned out to be great timing. As I said, just a really nice spring day and quite a few fish in a much better mood than last week!

Back Cast
Strange couple of days on the river. Yesterday I had an impromptu session with Jeff Macgouirk (Bossier City, LA) after we had met on the river on Wednesday! Of course the weather, as you all know, was quite a factor yesterday morning! But we managed to fish through it all with only a 30 minute break for the worst to go through.
Up in the Park we worked on the casting for a while. The wind, which had been howling all night long, had laid down almost completely when we met! It was muggy warm and nearly dead calm. Unfortunately so were the fish...
They weren't showing any signs of activity anywhere! Not even down in the Wall Hole. Didn't really surprise me considering the atmospheric conditions. I had noticed on the way to the river that all the horses had their rear ends facing southwest... Not a good sign!
<<<<< Jeff Magouirk working hard in the cold rain at Low Water. Suffice it to say we fished "wet" flies all day long!
We threw an A & W around the Flat for a bit with zero results and then headed down to River Ridge to fish what might have been left of the falling water. We didn't raise even a Creek Chub as the thunder started to roll in from the southwest.
But there was certainly enough lightning and thunder to get off the water. We got to the little pavilion just in time for the bottom to drop on us! Quite the downpour, but fortunately no really bad weather. We dodged the bullet this time on the timing of the passage. It hadn't gotten hot enough to produce severe storms!
After the heavy stuff moved on out we moved down to the Hind's Bluff access where we didn't raise a thing in the base of Butt Buster Shoal and only a couple of strikes in the lower end of the pool! Not many signs of fish either - but I still laid that on the weather's door step. Trout just don't like the unstable weather... We've known that for a long time!
Part of what Jeff wanted to do was to see other parts of the river so we headed on down to Low Water since he'd be able to fish to 4:00 PM down there. By then the wind had shifted to the north and it was starting to get cool! In fact it was 74&deg at 9:00 AM and 48&deg at 2:00!!! And still showering pretty steadily. It was starting to get on the miserable side of things and the fish that were around weren't helping the situation! We only had a couple of half hearted bumps in the runs below the weir!
Jeff had learned a lot of stuff on the day from casting to fishing to water to bugs! Just not a whole lot of "catching"... But, as we say: "That's why they call it fishing!"
Well despite what should have been great conditions today behind the front, it kind of what we dealt with today as well! "Fishing..."
Renee and Kyle Sawyer (also Bossier City, LA) braved the weather yesterday to be here this morning for their first attempt with fly fishing! As Kyle said, it's been on Renee's "bucket list".
After dealing with the casting and the wind we worked some A&W's around the Flat in the bright clear water for a while. Still nothing happening! It was a little strange for no fish to be showing at all, but that was still the case. We were getting a few March Browns popping out, but it was so windy that if there were fish around, they weren't finding the critters! No rises the whole time we were there.
So after a while we dropped down to the Sycamore Run hoping to find more activity after yesterday's generation. We had a real nice hatch going around mid-day, but no takers in the Run! Not even a Creek Chub or a sunfish! Kind of eerie. The Sycamore is almost always good for a couple of fish. Not today...
I was starting to formulate an opinion...
Renee and Kyle Sawyer enjoying a beautiful day above the Pipeline! We did at least produce some interest in the cool winds! But let's just say, the Sawyers didn't get spoiled today! >>>>>
We moved a little further down where we did finally see some fish and even get a couple to bend a rod! But alas, nothing landed. It was very frustrating for me to watch Kyle and Renee working so hard for very little reward! They were doing pretty much everything they needed to do, but not many fish seemed to care a whole bunch.
We moved on down to the Pipeline! And that only produced a couple of hits and a couple or three rises! I had switched Renee, at least, to a Long Creek to get into the deeper water there and that did produce some mild interest. But we did not find any numbers of fish anywhere that I had expected to find in some of these prime spots considering the generation every day!
I know the AGFC cut back on the numbers of fish stocked this year, but that was at the Factory Site and Low Water only. That shouldn't explain the lack of fish compared to what i'm accustomed to seeing at this time of year...
The more I thought about it the more I'm beginning suspect that the harvest rate this winter was phenomenal due to the lack of generation (8 total hours) from October to the end of February! That gave people way more opportunity to get on fish that were concentrated at the stocking sites. Either that and/or fish are just going off somewhere never to be seen again!
My barometer on how many fish are around has always been how many were hanging around above the bridge at the dam in the Closed Zone. I went up there and looked this afternoon... I saw one rise halfway to the dam! Typically you can see several hundred up there - easily! That kind of scares me... It's almost like there's a water problem, but we have great conditions!
Have we really been cleaned out this much through the winter??? Maybe when the weather settles down into a late spring pattern with warmer days we might see more activity. And of course AGFC will be bringing a couple more loads into the Catch & Release area in the next month.
But on these last two days, there just wasn't much to talk about, for whatever reason! May 1st can't get here quick enough for me!

Back Cast
Well, I was working on an update earlier when I was distracted away by the bombing at the Boston Marathon. Hideous... And our thoughts for all involved. Just makes you sick.
Weather and water kept us off the river for the previous week and then some. Sandy came up with the intent of getting some fishing in for a change, but it took about five minutes of her being outside here for her asthma to kick in with ferocity! To the point where thoughts of the emergency room were coming to mind! Apparently the pines that were at peak pollen production here the last week are different and/or more plentiful than what's back in the Port! So, we kind of stayed inside as much as possible. Rather disappointing for her, but the alternative was just to get back into the car and head south...
But late Sunday afternoon I did get out on my own and hopped around the river for a bit.
I pulled up at the Park to find about 10 folks out playing in the water - the requisite rock throwing and sloshing about on the warm afternoon. I suspected, and verified, that the fishing was going to be pretty ineffective for a while. I saw two rises in about 45 minutes and decided to look elsewhere!
Stopped in at the Sycamore Run and found just a couple of fish. A little disappointing as I expected more after a week of high water. There were some lug-sole footprints about though. Some fish could have left the river over the weekend there... I did get into quite a few further downstream though. All with an A & W to this point.
Butt Buster Shoal looking nice on a spring afternoon! >>>>>
So, feeling better about things, I headed to Hind's Bluff to see what was left. It appeared to be pretty quiet with just one couple "chair" fishing! They said it had been pretty good until about an hour before. I moved up into Butt Buster Shoal and began swinging the A&W in the riffle. It was almost immediately effective! Including a really well colored up Smallmouth! Hadn't caught one of those in a while! That was cool...
The faster water also produced a couple of really nice chunky fish! They've been eating really well again! Of course this is the time of year for diversity in hatches. I saw a few Golden Stones, March Browns and a lot of Mahogony (Isonychia) spinners dropping eggs all afternoon! Got to tie some little rusty critters for that!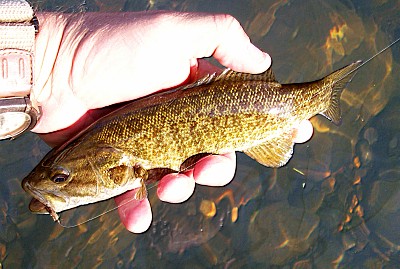 Left there for Low Water! Nothing much going below the shoals... Actually "nothing"! Just a few slaps from Silversides and Creek Chubs...
<<<<< Well marked little Smallmouth that chowed down on an A&W at the Hind's Bluff Access...
But back up in the cut bank below the weir, I found several nice fish still hanging on. However, they were very concentrated in a prime lie! Hit that line and you got the takes. And the takes were very confident and solid like an experienced fish! Yep, they'd been around the block and these were the ones that have made it through the winter and spring! Heavy and hard fighting!
After playing with those guys for a while it was getting close to Prime Time and I was curious to see what the fish back up at Riverside were thinking! Stepped in there and tied on a Smidge. It was clear that fish had indeed replaced the humans all up and down the Flat! There were already numerous rises visible in both directions as well as March Browns already on the Hover!
Proceeded to land another half dozen or so in a very short while! And these fish were also chunky with the largest probably about 13 inches. They'd doubtless been hiding out deep in the Wall hole just waiting to move into the Flat. With no one to stop them they had made their moves and were on the prowl!
The evening turned onto a typical spring Prime Time! Unfortunately we won't see that again until next weekend...
Schedule for this week is two generators to start up at 2:00 PM Monday through Friday, running up to three generators from 3:00 to 9:00 PM. So, a summer-like schedule this week rather than morning and evening generation. Kills the Prime Time fishing until Saturday and Sunday... That's going to get quite a bit of water off of the lake this week, though. Unless we get a ton of rain this week, which is anyone's guess right now, we should have a stable lake this week..

Back Cast
Wow! Time for an update, eh?
There was a bit of fishing going on despite the weather and activity! Last week, on Wednesday, Charlie Moore (Hot Springs, AR) came over for some instruction and help! It was a spectacular day, little breezy, but very nice and one of those "Poppin' & Hoppin' " caddis days!
We got on the river in the early afternoon and played in the Park for a while, but soon moved on down river and took advantage of falling water at both River Ridge and The Factory Site. And in the warm afternoon sun the caddis were on the move and the fish were right there with them!
<<<<< Charlie Moore lands one of many in the Old Factory Site Shoal - the "Original" Honey Hole!
We had done OK with an A & W up to that point, but it was certainly time for an Unknown Caddis to be skittered around the shoals!
You don't want to miss this hatch, ya'll! It's too much fun as the fish will slap a fly right in the surface film, on it, or even just under it! These caddis dance around on the surface and are hard to spot in the fast water, but the fish sure do find them!
For two or three hours every afternoon you're going to see these "splatting", slashing rises and even fish coming out of the water after the little tan / grey caddis. A size 16 will be about the right size...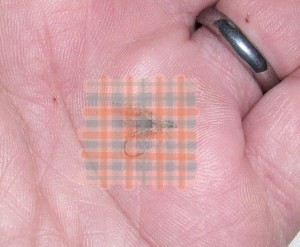 <<<<< OK - OK! Here's a picture of one!
Yeah - ya'll wish!

At any rate we finished up our session in the Factory Site Shoal with perfect water and a whole bunch of happy fish scarfing down the caddis! It's the kind of thing you read about! Of course I suspect a nice little Elk Hair Caddis might do just fine. I just don't like tying them and the, uh, "water fowl" feathers just seem to do a much better job imitating these critters!
How many of ya'll just inched closer to the screen???

Not only did Charlie have, I believe, a pretty good time, he found out a bunch about fishing the moving water, some of the places and what to look for in those spots! That's what it's all about for me at least! Education!
What a difference 24 hours later!
Jason Spindler brought his clan all the way down from Indiana for Spring Break to pass through here and then head to the Texas coast to see what they could do in the salt as well!
His son, Asa, was wanting to try fly fishing and since they were doing the Crater and all else around here a couple of hours of fly fishing was on the agenda!
<<<<< Asa Spindler working on his first fish on a fly in the fast water!
The weather, 24 hours after the near perfect day with Charlie.... High was about 45&deg with some stout north winds while we were out and in the middle of casting instruction we could hear the sleet bouncing off of the rain gear!
Shheeezzz! Just reminding us that it was still actually March and not April, just yet!
The gang was going to head to Texas that afternoon so it was going to be a short session and I suspect that was probably fine with Asa's fingers, but they're from Indiana after all. I mentioned that this was probably a nice spring day for them! So we got down to River Ridge and got into the shoal there where Asa had plenty of opportunities to get some fish on.
He was an excellent student and tried hard not to over do sticking fish! He had numerous fish on, but not quite in for twenty minutes or so. Then the 4:4:1 ratio started to tip his way and he landed a bunch of fish thereafter!
I was afraid it was going to be one of those days that seems to happen to beginners frequently. Lots of hits and bent rods, but none in the hands! He took care of that shortly and tagged quite a few!
Asa gets one in hand while dad, Jason, and brother, Able, look on! Just a nice way to spend an afternoon - even if it did feel like it was going to snow any minute! >>>>>
Nice break on a long trip - a couple of days around the Boro. I suspect the fly fishing portion was a little more productive than the diamond hunting! But then, it only takes one diamond to make a good day!
I feel for the folks who decided they were going to fish over the weekend, though! Friday, Saturday and Sunday's highs were all 45&deg or colder! Throw in the drizzle, a little thunder and brutal winds and it just didn't make for our favorite conditions. Particularly at this time of year! We're kind of supposed to be done with all that! I stayed in, tied flies and tried to let my wrist heal some more... Yep, an injury in that tournament last week... Fortunately it doesn't affect the casting!
Back out yesterday though, with Stephanie Herrman (Farmerville, LA) for her first taste of fly fishing!
She'd been wanting to add this to her list of things to give a go! She's a serious kayaker, hunter, sky-diving, outdoors woman!
Stephanie Herrman starts out nicely with her first fish on a fly at Riverside! >>>>>
She spent Monday morning bow hunting turkeys in LA, drove up, set up camp for the night, took a 20 mile bike ride and fished in the just warm enough sun Tuesday afternoon!
Hell! I'm tired just talking about it!!!
Geared up at the Park as the water was beginning to fall and got into some cast production. In tennis we call it stroke production so I'm going to start using that term!
Anyway, she started getting a handle on things and we tacked on an A & W in no time. Fish were actually rising long before the water was all the way down and maybe running just two generators for two hours instead of all three made that difference.
We set up shop in one of my favorite little holes that everyone walks through all the time, and had quite a few takes and fish on fairly quickly! With a nice tail wind coming out of the north it was easy to get some really nice drifts and lots of takes!
And most of the fish were hitting seriously hard.
Shortly, "Irish" Mac McClanahan showed up with a buddy and I had to give him a hard time for a minute. In the meantime, Stephanie was focusing in and steady hits were forthcoming. Not frequent, but steady enough before it kind of quieted down. On down-river!
Stephanie gets a big fight from one in the River Ridge Shoal! >>>>>
Well, of course, it was time for the caddis hatch and we stopped in at River Ridge again where we drifted the A&W for a bit, but it didn't take long for the caddis to start popping and the fish were on them again!
It was another sparkling afternoon and the fish and caddis cooperated throughout! Some really pretty Eagle Lake fish came in too. Nothing big, but a few close to 12 inches and those are great fun in that heavier water! They can really get their heads down into the rocks if you let them and you'd swear they left your fly up under one and it won't move. Then you feel that head shake and the next run starts... Throw a few jumps in there and now we're having fun!
<<<<< Pretty much tells the story of the day...
As the caddis seemed to wane a bit we headed down to the Little Ledge Pool thinking we might be able to find some in the deeper water... It was very, very quiet, though we did get a couple of strikes with a Long Creek, but no good hook-ups. So we moved back up into the pool and got deep for a few more before Stephanie had to move on... She's going "yakking" on the Ouachita later in the week!
I hope it's a bit warmer...
Lots of fish to throw at - all over the river! But it is March after all... We should have the highest number of fish per mile right now. Fire away!
I may have to get in there for Prime Time today and see what's happening. I suspect a Smidge will be employed...

Back Cast
Busy week! Fishing, fishing, fishing, tennis... Recovery....
On Tuesday, the infamous and old buddy, Steve "Wade Over Here" Dupuy (Shreveport, LA) returned to the river after several years of absence and brought his bud, Joe Strickland (Texarkana, TX) with him! I knew going in it was going to be an interesting and entertaining couple of days!
It was Joe's first try at fly fishing and Steve was just happy to be here! It was really great to see Mr. Big on the river again. A few weeks ago I had a picture of Caleb McClanahan standing "over" me. Well we dare not get any shot of me and Steve next to each other! (Maybe next time... Steve is just a hair over 6'10" !!!)
At any rate, we worked on Joe and got him casting nicely on the first afternoon and broke until Wednesday... they had had a long 36 hours, apparently, just getting the trip started!
<<<<< Steve "Wade Over Here" DuPuy gets a hold of his first fish on the river in close to a decade!!!
Wednesday was just a great day! We had to deal with some winds, but it wasn't anything that un-manageable and we did get into fish on a reasonable pace. Not furious, but steady... Lots of hits and quite a few on, mostly with A & W's as I recall. We were getting a decent hatch, but the winds were making it a little tough to track down the March Browns most of the time. Lots of chop out there! Steve was doing rather well down at the end of The Trough and into Copperhead Crossing! He picked up several on an A&W he had tied - a little bigger and juicier that mine - but it was working in the falling water nicely!
Joe was starting to really get a good groove and getting a grip on most of the little things about casting and fishing - hands, drag, slack, tight lines, etc... that make the whole thing so much easier! It was starting to get fun!
Joe ponders his next move on trying to land his first ever fish on a fly! He had quite a few "Very Short Distance Releases" on the day... >>>>>
Of course it was about that time we decided to move down river and get into the Sycamore Run while the water was still falling a bit. That's when a beginners brain has to remember everything that was up there a minute ago! He did quite well, actually, as being out two days makes a lot of that easier to remember!
We got Joe up into the top of the Run where we had a really good number of fish working. And there were even a bunch still up in the shallows above the Run, but we didn't venture after them. I thought that might have been a bit of a challenge for a first timer... Kind of stuck with the devils we knew! Joe had a bunch of takes and several fish on with the A&W still, but we started getting a really good March Brown hatch going and I said - Why not? Let's go to a dry!
Tacked on an R & A March Brown and Joe continued to have a good time landing several more before we called it an afternoon! We had fished way past lunch and Los Agaves was calling!!! Much like Cheryl's catfish had done the day before... We had as much fun hanging out around there as we did on the river. Good to hang with old friends! Hope to see them back soon!
On Friday, Eric Anderson (Shreveport, LA) decided to get me back out and see if we could find anything interesting! We got up into the Skinny Water pretty quickly on the fall, but were surprised to find very little going on... Actually nothing going on! So we creeped downstream towards the Chute and that area before giving up on the entire Flat and started to head downriver.
Joe lands one of quite a few fish on at the Sycamore Run! >>>>>
After much indecision on my part, first I thought below River Ridge, then Sycamore, then back to River Ridge, but then we started thinking about Old Factory Site and if the high water was borderline there still... Eric said he hadn't been there in a couple of years so we headed there anyway! Figured it wouldn't be too much longer before it was fishable one way or another!
Very good move! While the water was still rolling, it wasn't too much to get into and no one was below the weir where I wanted to get into the shoal anyhow! Marcey and Ashley Berry (one of our "Usual Suspects" who was missing from this year's Fly Fishing Festival) were just getting ready to gear up as we got there, but they were going to stick to Long Pool. Ashley, by the way, is doing well, but about to start a round of chemo and stem cell therapy. Good luck to them!
Eric and I started with a B&B Little Mo' to get down into the white water of the "new" Honey Hole. And with some hard work high sticking with his old South Bend cane - I did it for a few minutes and it started to get to my shoulder I tell ya - we produced quite a bit of action!
<<<<< Eric Anderson with some serious high-stick work in the heavy water at the Old Factory Site shoals!
I have to say, if you plan to do any high-sticking with an older cane, you'd better work out your rotator before you go! Don't worry Eric, I served fine in my matches yesterday! (I just can't walk today...)
Anyway, after a little while of catching fish deep, we started to see the tell-tale signs of fish rising to caddis! This is one of my favorite hatches of the year! These bright, "sparkling" days as I like to call them at this time of year, and well into April for that matter, produce the "Popping and Hopping" caddis hatch in the afternoons for a couple or three hours!
Eric with just one of many on the afternoon! >>>>>
It can be awesome and for that period that's sometimes all the fish in the shoals want to eat! These caddis dance about on the fast water in the shoals, skittering and hopping about and the fish will take them with a very distinguishable "splattering" kind of rise! Highly aggressive and very fast! This is the hatch for which I developed the Unknown Caddis and it didn't take too long to tie one on!
That's when we really got it going and Eric had a blast, I believe, working that little fly in and out of the glides and waves for the rest of the afternoon! We moved down into the "original" Honey Hole after a while and continued to catch fish, literally, left and right on both sides of the current lines. Fish were now taking the fly both on top and just under the surface - didn't really matter at that point!
But as is typical of the "Popping and Hopping", they started to wane off just as fast as they came on! I needed to tie flies anyway so we finished it up. Eric called me on his way home and said he continued to produce after I had headed in said he just had a great afternoon! Great timing and "Location - location - location!" - good combination!
Off for a couple of days to see what I can do around the yard and be back mid week, looks like!

Back Cast
Had a bit of technical problems with the website today - server actually - so things didn't get loaded up like they should so i'm catching up.
Last Saturday afternoon Ed "Pappy" Chadwick brought Thanna Bellamy (Arkadelphia, AR) over for some instruction beyond what he had passed on to her already. Ed had done rather well, actually, and she was doing very well with the casting and got a real good grasp of how that line and rod thing works!
It was kind of a cool and blustery day, but that was fine... For the last several days there's been quite a bit of wind from one direction or another! We didn't mind some breeze, as you well know, that's what the fish like!
Thanna Bellamy deals with her first ever trout on a fly! >>>>>
Once we got Thanna delivering some really nice casts and handling the retrieve we tacked on an A & W and got after those that were hanging around The Trough! The hits were only occasional, but we had enough action for the afternoon! Actually, she did have several fish on and in and her first trout on a fly was a pretty Eagle Lake male starting to get some nice colors! Not real big, but a solid fish with some fins and he gave her everything she could ask for on her first trout!
We continued down through the Trough to Copperhead Crossing picking up hits here and there until the end of the day. Ed posted on the Message Board that the rest of the weekend just got better and better! They caught a bunch of fish on Sunday after the rains cleared out and generally had a real nice trip over!
I wonder if they've made it over to Don Jackson's to get her own rig yet???
Yesterday, with some very cool north winds whipping down the river I met with Jeff McCoy and his son Justin (Dallas, TX) to start their camping trip for the week! They were going to back-pack into the mountains for a couple of days, but they stopped through here first to get a little fishing in and have Justin try fly fishing for the first time.
The effort pays off with a nice little Eagle Lake fish for Thanna's first trout... >>>>>
He did quite well right off - very analytical mind, I think, and it wasn't too long before we had a fly in the water and he had his first fish on. I think it surprised him to get hooked up so quickly! Sorry Justin, I didn't get a picture of you fast enough! But he had quite a few fish on - just didn't land any... Jeff was doing that and skewing the 4:1:1 ratio his way!
We're getting a pretty solid March Brown hatch, now in the early afternoon since the time change, around 1:00 - 2:00 you'll see good numbers on the water. And a lot of fish are already starting to figure out they can eat those things on top! Dry fly fishing is only going to get better! Seen just a few caddis as well. The rest of this week should be great! The weather is calling for sunny, calm winds and highs all in the mid and upper 70's!!! Going to be hard to beat for early March!
We did stop in at Hind's Bluff for a bit before the guys had to head out to get on the trail. I was a little disappointed in a lack of activity at the top of the pool in the riffles... But there were a lot of fish down in the pool and some folks were getting fish on just about every cast down there! Well today I found out that they did in fact stock yesterday before we got out and you can bet those fresh ones were hugging the bottom of the pool after going in on high water!
Location - location - location!
Justin hooked up a few in the fast water and, more importantly, on an R & A March Brown! Nice to get takes in fast water on a dry fly, but they takes were very quiet, sometime almost undetectable! Really have to pay attention and have a good idea of where that fly is in the chop!
<<<<< Jeff McCoy handles one of his fish at the Hind's Bluff access...
As we moved towards the deeper water Jeff was getting some action on a Long Creek and landed a few more before we got out. I'm afraid Justin had opted to stay with shorts in the waders and we got into the 49&deg water just above the knees! Jeff said he knew how to warm him up - a quick hike up and down a few mountains before dark!
Today I met up with Christy Graham (AGFC biologist for the Little Mo') as she collected several district AGFC guys and our new CORPS Lake Greeson Project Manager to see about where to put up the new signs for the regulations and locations. Christy said that with matching grants, the $2,000 that we gave to the AGFC at the Fly Fishing Festival translated in about $8,000!!! Awesome!
They are planning to put up a two sided sign at the Year Round C&R line in the Park that will show where the seasonal and permanent zones are, so that no one will be able to "not" see it. That does frequently happen with where the current sign is located. The signs will also say, specifically, what you cannot throw into a C&R area, seasonal or otherwise.
All the new signs will have the general regulations on them with good pictures of Brown Trout and the seasonal dates. While this won't stop outlaws, the new signs and their new locations should take care of a lot of "mistakes"! I hope see them by the time the seasonal C&R kicks in.
I also spoke with the new Project Manager about extending the trail up to the Skinny Water so that we can get in and out of there more safely in need be. He didn't have a problem with it and that could happen later in the summer when they aren't so involved in getting all the lake areas ready for the busy season.

Back Cast
Very interesting couple of days this week! Met with Kelly Hudson (somewhere on the banks of Lake Claiborne, LA) Tuesday to fight the 30 mph winds - and catch a reasonable amount of fish!
We've finally got some serious water releases this week, not that the one or two hours a day last week wasn't too bad, but this week we're getting five hours every morning to 11:00! That has really moved some fish around nicely as we would normally see them this time of year. And I see that we're scheduled to get the same exact pattern next week too! Great!!!
We got on the water about 11:30 or so and moved all the way up to the Skinny Water as quick as we could. We didn't find as many fish as I would have liked to have seen in there, but there were enough to throw at! We did see a reasonable number of March Browns pop out although the winds made it hard for fish to find them with any regularity.
<<<<< Kelly Hudson works the drifts successfully in the fast water below the Couch Hole!
We did fine with an A & W though. Actually, Kelly had on one of, I suspect Garey Perkins' versions of an A&W. Nice job Garey, Kelly did in fact catch fish on your fly!!!

We kept working down through The Chute as the water fell out, but we headed down river relatively quickly to take advantage of the falling water. Down at River Ridge we got into a whole bunch of fish again in the Couch Hole. We went deeper with a Long Creek to get down to where the fish were coming from. No problem with water clarity this week! It's a spectacular early spring clear! Doesn't quite have that "glacial" look yet, but it looks wonderful compared to what we saw for much of the winter!
And the fish are having no problem tracking down flies in it right now... Even in the fast water where we had Kelly developing some more "western" techniques. I love it when the fish just hammer a fly on a nicely effected drift! Right where they're supposed to be, too! Way too much fun!
I did also see a few small caddis bouncing around the surface over the riffles. That's a nice thing to see too. We could have gone to a caddis and done OK but we just didn't take the time to change of the Long Creek... It seemed to be doing just fine with takes on about three out of five drifts! So suffice it to say there were a lot of fish on. Kelly finished out the day by himself and we planned to return on Wednesday.
Well, yesterday was even better. Substantially less windy and considerably warmer "feeling" at least! Although Kelly said his boots were frozen when he went to deal with them early in the morning! Of course we didn't meet up until 11:00 at the Park to get in the falling water again - much nicer by then!
The end result of a perfect drift! Long straight line and the rod tip right there with it! Productive... >>>>>
We sent a Long Creek into the still substantial flow in the Flat. Kelly got to do a lot of work on mending line and it was rather effective. The fish were very active - a little sooner than I expected! They usually wait a little longer for more water to fall out before they really start to show themselves, but yesterday they were getting after it while the biggest boulders were only just starting to show!
Well that was just fine by us though... We could have stayed around there for a while, but we were trying to get Kelly onto a few more spots in a limited time frame so we ran down to the Sycamore Run while there was still a substantial flow coming though there. More than I usually get in there with, but once again the fish were already just fine with it!
Kelly really got to do some long-line "high sticking", mending, the works and we had plenty of action, including the best fish of the day, I think. Very chunky, solid 12+ incher with probably the most pointed white-tipped fins I've seen this winter! The better fish are coming out of hiding!
On down to Hind's Bluff where there was no one to be found and a lot of water, but getting quite fishable! We headed up into Butt Buster Shoal and this time did some short line high-sticking to fish right in front of us in the fast runs. There's nothing quite like seeing that line stop and raising up to feel the weight of a fish in heavy water! For those of you who don't get to fish falling water during the week, it's almost worth taking the day off!!!
We finished my part of the day in the lower end of the pool getting long line drifts again and producing a number of decent fish. I have noticed that there seems to be almost as many Eagle Lake fish as Erwin and Arlee strains. That's just fine with me. The Eagle Lake fish are just a prettier fish... can't wait to see some of those nicer males in a couple of months or in full spawning colors for that matter!
Maybe I'll get out for some Prime Time fishing later today. Should be awesome!

Back Cast
Always On The Water - Jeff
Home | The Latest | Little Mo Message Board | Friends of the Little Mo | The Skinny Water Project | Stocking Schedule | Fly Tying & Casting Lessons
Ouachita Mountain Flies | Little Mo' Fly Fishing Festival | A Bit About Yours Truly | Prices | How to get here | References and Links | Catch & Release Tips
Custom Rods | The Little Missouri | Around the Area