Little Missouri Fly Fishing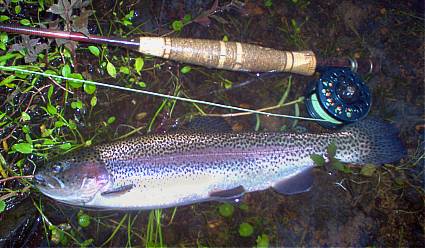 The Latest
Monday - September 12
Thursday - September 1

870-210-3681
Check out the current weather and forecast in Murfreesboro!
Monday - September 12, 2016
Had a great time fishing this weekend with Robert Walker and Bob "Grizz" Billings from Longview, TX!!! We may not have caught a ton of fish, but the guys sure knew how to enjoy themselves - and learn a whlole bunch of stuff too!
Robert Walker gets into the first fish of the day! (Notice we had some decent chop on the water for a change.) >>>>
We started out Saturday monring with the typical casting instruction and "re-structuring" - getting away from what the "books" said do and what really needs to be done... It's almost always a shock to people how fly-casting actually happens! Some people believe it, some don't...
Most people see what they're supposed to be doing and believe it, but getting the brain to believe it and the ensuing muscle movements to occur seem to be another story most days.
Fortunately Grizz and Robert were doing pretty decent, though there remains things to improve... But then, I have that too... The key on this day was getting a fish near a fly!
We were the lucky ones to be able to take advantage of the first real cool front to come through southwest Arkansas this pas Saturday!!! We had decent northerly breezes and broken skies. The fish were liking it enough to play with us quite a bit! They were still hanging around The Flat as we got ready to put some flies on and they were OK with eating some Light Cahill Sliders and A & W's and Light Cahill R & A''s.
<<<< Bob Billings got this fish on and a good bend in the three weight!
We raised a reasonable number of fish through the morning and moved into the Wall Hole after a while and, again, did reasonably well with Long Creeks and even a B & B Little Mo' Wooly! The water was still a bit warm and the fish had gone suspended by then, but here and there the guys pulled one out, including a couple of real chunks up to 14 inches!
All the while the casting was improving, slowing down and becoming more comprehensible for Grizz in particular and to a point for Robert. However, it seemed, as I came to find out, that Robert generally has had better luck getting fish on some of their trips... Seemed to be the case for much of this weekend as well!
Yep, that's what you want to see on your first day on a new stream! >>>>
We headed in for lunch and came back out in the later afternoon to some evening fishing. All monring I had been seeing a really good number of shed nymphal shucks drifting around the river. There was a good Light Cahill hatch in the works throughout the day and we anticipated a decent "Hover" for Prime Time! And while there were more decent fish landed in the early evening with the usual Smidge's, we didn't quite stay in the water right into the middle of Prime Time - not quite long enough I'm afraid...
However, as we were gearing down at the vehicles, we looked across Robert's truck bed cover - which was a shiny, nearly black, top - and it was nearly covered over with dancing Light Cahills! They were mistaking the bed cover for the river surfcace and we had our own little "Hover" happening up in the parking lot!!! Unfortuantely, could not get a decent picture of it, but I dare say there were a couple of hundred mayfllies over the truck bed! Pretty cool...
Sunday morning, after shutting off my fan and getting under my blanket in the Dynamite Hill-ton, we got out to The Trough and found quite a few fish working there! I liked the looks of how things were developing early on.
<<<< Grizz Billings and Robert Walker double up for the first time at The Trough. Both fish were landed too, this time!
We already had some air moving by 9:00 AM and I suspected there were going to be some really excellent winds coming out of the north as the morning progressed. The only drawback was the brigfht sun in a crystal blue sky! Not a cloud to be found...
Which may not have been that big of an issue normally at this time of year, but all week long the generation ahd been cranking up at 10:00 AM and running till dark, so the fish were under deep water all day long and getting used to no bright light all day. It did other them greatly after a while...
Fish of the day! Beefy 14 incher with great color! It's what you come out of the house for... >>>>
But before that happened we managed to raise quite a few on Light Cahill R & A''s up top! There's nothing more fun than watching a dry fly get sucked under! And it's usually your fly that disappears while you're watching someone elses bob around or an Eagle flying by! Those are typically the best hook-ups - when you don't know it happened and can't over react!
But even before mid-day it was clear that all the fish we had been working on had vacated the entire Flat and headed elsewhere! We decided just for fun to go see if we could find anything down river and hiked down to the Big Rock Hole! Afraid all we did there was work on long roll casts and get wet to the waist - well, my waist at least... We took it on in for the afternoon.
<<<< Grizz with a nice September 'Bow! Couldn't hardly beat the conditions either!
I got the report this morning that the guys did go back out yesterday evening and caught a couple on their own, but alas, they still didn't stay out quite long enough to get the full Prime Time effect... They got off the water at about 7:30 again and they needed to stay out there another ten or fifteen minutes! Apparently it was past someone's bed time...
Again, we had a great couple of days of fishing, and caught some fish too! Actually the guys did quite well for this time of year at their experience level. The late summer fish are certainly a challenge!
Bad news for fishng this week though. Running Monday thru Friday from 7:00 AM all the way to 9:00 PM! Man! Nothing for next Saturday or Sunday though. Another significant cool down for the following week by the way!

Back Cast
As many of you have noticed, there was a "fatal error" on The Latest "blog" that I had been using for the last two years. So, I've been working to return to the old style page that I had done from day one! The Word Press Blog, while nice for retaining archives, was just as much labor intensive as this format is, and this, I have complete control of! I'll see if I can recover some of the recent post from this summer and add them here shortly and update all the rest of the site as time permits, but for today I'll make the following report...
Most recently, last Friday, the 26th, first time fly fisher, Pete Taylor met me on the river for instruction and maybe a fish or two! We had decent conditions though there was absolutely no breeze once again! It has been such a bizarre summer! Lots of rain, as almost everyone knows and now dreads, and very few days where there's been any wind at all...
<<<< Pete Taylor gets ready to land his first fish on a fly!
We did raise quite a few fish, however! Not a lot landed, but good action. Of course we were the only ones out there, apart from some bait fishers that needed some regulations explained. On a tip from Mike "Hen" Ingram, I tied up some yellow soft hackles and they did produce for us! We raised some fish on a couple of other things, but Mike's soft hackle was sufficient for most the day.
I suspect some of his success with that of late stems from the mid to late summer Sulphur hatch that can be prevalent and important any given year. We're also seeing more and more Light Cahills coming out in the mid to late mornings. Can't wait for some better temperatures and cooler water to get those really cranked up! That may be starting overnight too. Looking at lows getting into the low 60's on the river finally!
Meanwhile, Pete was getting abetter grip on the casting as his morning progressed and all of a sudden it clicked! He starting straightening out nice clean casts around 20-25 feet over the Wall Hole and the fish obliged with some quick and ferocious takes! A couple of near instant rises to good throws is some great instant gratification!
Pete displays the fruits of his efforts! >>>>
Of course, just about the time Pete really got it going it was getting close to quittin' time... High water last week was coming at 2:00 PM and running into the night. This week had a rather odd start to the schedule, but I see they modified it during the week. They're running today and tomorrow from 2:00 to 7:00 and nothing for the weekend.
It truly is amazing how much of a difference a clean cast makes to the summertime fish. And it's just as amazing that this happens each season with every new crop of fish we get. The summer fish just get so used to people throwing all kinds of stuff over their heads they almost get complacent and blaze' about the whole thing. Pete found that out as every throw got a little better. He also found out just how strong these fish are, and that's at water temps hover in the upper 60's to 70° !
He was rather stunned at the power and speed once he tightened up on a few and ultimately landed that first one! So many people break off those first few fish when hooking up a summer fish is their first experience with fly fishing. The first tendency is to rip the fly right out of the fish's mouth as fast as they can. If the fish happens to have the hook point, it usually means a broken 6X tippet or a straightened out hook.
You can bet that happens to most folks 4 or 5 times before they start to figure it out... There is a significant learning curve to all of this and summertime on the Little Mo' has a very steep curve compared to the relatively gentle slope of the winter and spring.
Pete saw it first hand the other day. So if you're planning on a first time trip to the river before November, be prepared to be humbled and maybe even frustrated! However, if you luck out and get one of those early fall days where we've got a nice north wind blowing consistently down the river, not too many bodies on the water and bit of broken sky - the fish may be much more accommodating and happy to take a Light Cahill dry or Hopper all day long!

Back Cast
Always On The Water - Jeff
Please join in on the Message Board! Email me to register...
Click here to E-mail me at jeffonthelittlemo@gmail.com and say "hi" if you have any questions! Remember, if you do e-mail me, make sure you mention fishing on the subject line and identify yourself. Otherwise, I'm liable not to open the e-mail. That virus thing, you know!