Little Missouri Fly Fishing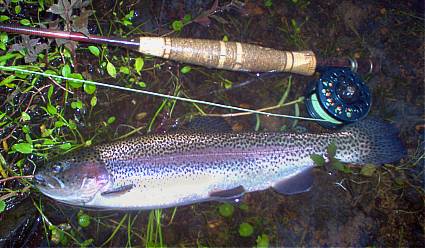 The Latest
Tuesday - April 18
Friday - April 7
Sunday - March 26
Tuesday - March 21
Tuesday - March 14
Sunday - March 5


870-210-3681
Check out the current weather and forecast in Murfreesboro!
Back at it!!! We did indeed take a bit of a vacation last week... OK, a serious vacation! Spent a few days on Perdido Key, FL watching waves, dolphins, Osprey's and Peilcans! Yep, that was about it! My bride tried to spend as much time as possible just sitting on the beach listening to the surf. Spectacular weather and we had the condo wide open so we could hear the heavy surf all night too!
The white sands and quiet water provided a respite of trying to fight the surf! >>>>
Heavy surf indeed! Three to four foot waves at the water's edge, no telling what they were coming into the bars! Tried to throw a couple of times in the surf - pointless... No sooner would I have the fly in the water than the next wave would drag it on in. But one afternoon we drove down the Key to the Johnson Beach National Seashore area and I fished on the "backside" just a few yards off the road!
Very nice little bit of a lagoon there with clear, quiet water, sandy bottom with grass beds close in and some Specks to work with for a while. First fish, whatever it might have been, took off for about a thirty foot run before pulling loose! Had quite a few more takes and another one broken off. Finally successful though, with the first Speck I've landed since probably 1992 or so! Bit of fun and nice evening to boot.
<<<< Something a little different to see on this page! Nice little Floridian Speck!
But after a really long day coming back, and a day of semi-recovery, it was back to the river with James & Chase Robertson (Beaumont, TX) ! Friday morning fishing was quite good with a bunch of fish landed and plenty of action with A & W's and March Brown Sliders. Actually the fishing was closer to excellent! Scads of fish moving around the entire Flat all morning and right up to generation time at 2:00, and they were typically in groups of a dozen to maybe twenty at a time..
James Robertson works a little high sticking magic at Low water Shoal! >>>>
Get the fly into the cruising lane and you're all set! Lots of really nice "resident" fish too. I don't think we got a "fresh" fish all morning. All of them are getting full sets of fins and nice colors. Hard to go wrong right now!
We all came back out for Prime Time following generation shut down at 6:00. What a perfect scenario!
Water was just getting down to the right level as Prime Time commenced! It was at 7:40 last Friday by the way. But the bugs and fish were showing before that, it's just that the bugs really get cranked up at that 45 minutes before full on dark. Be prepared to not know where to throw - too many fish in every direction!
<<<< Sutton Russell leans on a nice one!
Saturday morning I took James down to Low Water where we spent some of the time high sticking an A&W through the fast water which produced a few fish. We also dropped a Long Creek into the deeper water at the turn and that brought up a nice little bass! Bit of a surprise!
We then moved back up to the Cut Bank above the bridge and finished out the morning there! Good Lord, how much that section changes day after day! Still, we had a good amount of activity in there too. Finished out with a couple of really chunky fish.
Aaron Russell with his fish of the day! >>>>
In the afternoon, Sharon Russell brought her whole clan out for a family reunion type set-up with fishing as the focus for the day! I lost track, but I think we had up to six or seven getting in the water eventually one way or another and just about everyone caught some fish!
<<<< Sutton displays the standard for the day. All smiles from this new and un-assuming fly fisher!
It was all A & W's and Sliders again and we had some nice breezes and plenty of fish around again! The chop was just about right all day and that makes the fish quite happy! The stars of the day were Aaron and daughter Sutton! They were fighting it out for most and best!
A good time was had by all, I believe, great way to get three generations together!
Generation is gone weird again! The rest of the week:
Wednesday - 3 to 5 PM only - perfect!
Thursday - 11 AM to 10 PM - bust...
Friday - zeros!
Saturday - 5 PM to 7 PM
Sunday - zeros again.

Back Cast
Well, once again - way behind on my work here!!! There was a bunch of fishing over the past week or so... Going all the way back to March 28 when I met with Gary Woodward (Jonesboro, AR) for his first look at the Little Mo! He's been fishing in a lot of places, but he'd been looking at coming to the Little Mo for a while just to see what it was like. Don't think he was disappointed!
Gary Woodward digs in! >>>>
We spent quite a bit of the day around the Flat turning up a goodly number of fish. The March Brown hatch is really starting to get going and, remember, it won't peak for another month and then keep going well into June! The next month is a great time to be on the river!
And while Gary was developing a nice "drag & roll" - he said he'd never really worked with a roll cast much and most of ya'll know where I come from on the subject - he was working an A & W through fish and picking up the ones he needed to!
But this was also a fact finding tour so we moved downriver...
With a decent amount of water flowing we worked into the bottom of Butt Buster Shoal and went to town as the caddis were still working. Seems like we threw a little more variety in there, but that was last week and I may not remember everything at this point... But I suspect a caddis dry was drifted through and maybe a March Brown R & A dry!
We continued on with plenty of fish for quite a while until Mike "Hen" Ingram showed up to tell us that high water was on the way! Of course the schedule hadn't shown any releases for that day, so once again, who really knows what's going on.
Though I have to say they're still sticking pretty close to what's published each week... It's just really still very odd pattern, or lack of one, that been working the last several weeks. No real rhyme or reason!
Gary shows off one of the better fish of the day! Starting to get some fins... >>>>
Still, we stayed in there catching some decent fish until the water hit and Gary had satisfied his initial curiosity about the river! Excellent afternoon of fishing!
Last Thursday, Chris & Marie Perkins (Alexandria, LA) made the trip for their first time and the beginning of their fly fishing endeavors. It started out quite chilly up there! In fact all the way back down in the 40's that morning and barely around 60° by afternoon with a good bit of breeze! Glad I keep a bunch of layers in the car most of the time!
But we like the wind! Let's you know if your casting is right and the fish like it too. Equally important to me.
Once we had some lines laying on the water it was A & W time again and there were quite a few March Browns popping! It took Marie no time at all to get the first fish in and we were rolling! Quite a few hooked up, the usual percentage landed and a couple of really nice fish.
They are starting to get into really good shape across the board, save for the fish that had just arrived! Some significant red in the belly fins starting to show and the white tips are sharpening...
<<<< Marie Perkins gets her fist fish of the trip on a cool morning!
Been eating well too! Not having to fight big flows half the time is allowing them to wise up to the March Browns maybe faster than usual. In fact we threw some March Brown Sliders and R & A's as well. All were producing about equally.
And there was no competitive element going on with Chris and Marie... Didn't mean anything to anyone that Marie caught more and bigger fish than Chris on the day... He would have to redeem himself the next day!
Which, after a refresher session at The Flat, he very nearly did with some nice fish at Hind's Bluff. We were throwing Sliders again, as well as Grey and Tan Caddis and then the Tiger Midge to boot. Conditions were along the lines of awesome, with nice water, bright sun and decent breezes - everybody was happy! Several doubles were observed and a bunch of nice fish feeding consistently through the day - can't hardly beat it!
Doubled up with Chris and Marie at Hind's Bluff Access... >>>>
And just when Chris had kind of caught up with Marie and even got a couple of 12-13" class fish, Marie had to go on and get a really pretty 13 inch Brown! What a way to top off their first fly fishing to the Little Mo'!
On Saturday Ben Glick (Texarkana) made I think his fourth trip this winter/spring and this time he was fully geared up! He just got his own complete rig, boots, waders, gear bag and important tools! He is ready to solo, but first we had to line up his reel and get everything attached properly.
We had originally planned to fish on Sunday, but the weather was starting to look pretty ominous so we bumped it up a day and that turned out to be a good move... Weather on Sunday was indeed bad as you'll recall. Much better and quiet on Saturday!
<<<< Ben Glick christens his new rod with his best fish to date!
The March Browns were on and we fished dries just about the whole time! That was a load of fun up around the Triangle and Trough. Lighting and breezes were such that we were fishing a little blind part of the time, but the fish wee showing themselves plenty and it wasn't too hard to track them down!
However, for some reason, Ben was getting plenty of takes, quite a few hooked up and part of the way in, but couldn't land any! it was starting to get a little disturbing and hook checks showed no issues. We were a tad befuddled and Ben was getting a little worried that his new rod was jinxed!
Marie Perkins with her nice Brown! What a way to finish your first trip! >>>>
Patience paid off finally! And he landed one of the best fish he's gotten to date! We measured out this really nice fish at 13 1/2 inches, and she seemed even bigger than that though! The rod was a keeper after all!
Well we've got some water scheduled tomorrow (Saturday the 8th) from 3 PM to 7 PM and nothing for Sunday. But then next week goes off!
Monday - 3 PM to 8 PM
Tuesday - 10 AM to 7 PM
Wednesday - none
Thursday - 11 AM to 10 PM
Friday - 2 PM to 6 PM
Saturday - 7 PM to 9 PM
Sunday - 1 PM to 10 PM
What a mess! Fish while you can... Meanwhile, me and Sandy are heading to Perdido Key for a few days!!! Never been around there myself.

Back Cast
Some great days of fishing this past week! And a bunch of fun too!
On Thursday, which started out really quite cool, I met with Bill Morris and Barry Klein (Dallas, TX). Barry and I have been trying to coordinate the calendars since January! We finally got all of us in the same place at the same time and it turned out to be an excellent choice! Despite the chilly start to the day - there was a forty degree temperature swing by the way - we really had great weather for most all of it. And the bright weather and good breezes gave us everything we could ask for!
Barry Klein starts the day off nicely at the top of The Trough. >>>>
We started at the Park, as is the usual, and found few people and a lot of fish! Also quite a few March Browns showing so we were off and running with A & W's for most all the day! We fished the usual spots and produced a bunch of takes as I tweaked a little casting technique here and there...
We got about as many fish from the Trough as we could stand and headed out for more sections! Managed to get in the base of Butt Buster Shoal with no one else to hinder us and proceeded to get into a good number of fish and nice ones there too.
Down and across swings with the A&W's initially, but we also tried both the Tan and Grey Caddis again and both worked almost equally well. However there's been more signs of the Speckled Grey Sedge out there, so I've gone more to my Jeff's Grey Caddis the last couple of days and it's done the bulk of the work during the afternoon hatch!
Barry preferred the Tan caddis, though, as it was a little easier to see on the choppy riffles. You can do two things when it comes to spotting Caddis takes in the bright riffles like that... Watch the end of your fly line closely for even the slightest hesitation, or give a pull anytime there's a splat or hint of a boil anywhere close to where you think your fly is!
I prefer the latter, but those little, sparse, quasi-dries are hard to keep track of sometimes in the broken surface!
The guys had been to the river a couple of times and I found out that they had done a lot of exploring on their own, but the one place they hadn't fished yet was Low Water so we headed down there to finish out the day...
Bill wasn't far behind... >>>>
No one to be seen there! Excellent and there was a nice flow through the shoals to boot! Barry spotted some fish rising on the other side of the main run below the weir and started working on those. Bill stepped in at the middle and started working the far flow line. Fish were rising and showing themselves quite regularly and I think at that point we had switched everyone back to A & W's since it was a little late for the Caddis and I didn't notice any more "popping and hopping"!
<<<< Bill gets into a nice one at the Cut Bank Run at Low Water. We actually turned up quite few nice fish down there!
That run - the cut bank - has changed dramatically over the last season! Many of you will recall that you needed to fish it from the island side and cast back into the main heavy flow that ran under the overhanging "fly eatin' " trees on the access side! Complete opposite now... Well all the fly eatin' trees are gone and most all the flow is down the island bank! Which is actually a good thing. No more blown out knees trying to get to the island!
But going back some thirty-five to forty years and some of you may recall that all of the flow of the river went down the west side of the island! Now that's closer to a trickle... And the shoal below the bridge has shifted sides almost entirely now. Not to mention moving most of the gravel that's been scoured out downstream as well. It's what they call a "living river" after all.
Barry with one of the best fish of the day below the bridge. Nice finish! >>>>
Anyway, the guys had a big time and a few somewhat bigger fish in the cut-bank run, but then we moved down the shoal and Barry got into a couple of really nice fish in the rapids down there! That's a ton of fun when you're dealing with 13 inchers in faster water. You definitely know you are attached to something! It was a great way to finish out the day, although I will say we had quite the good time with "lupper" (that's late lunch, early supper) at Em's! Thanks guys!
Bill contacted me a couple of days later asking me about good "casting" books and I gave him a couple of ideas, but man, that just means I need to actually write mine up and finish it! Who out there would buy it? I need names!!!
Saturday brought Alan Schultz (Dallas, TX as well) to the river and it was well worth coming out despite the weather that threatened to dash our plans! A couple of days before and Alan was pretty worried about the storms. But they moved on through during the night and we had cool windy conditions early in the day - as in needing an extra layer - and, much as earlier in the week, about a thirty-five degree temperature swing by the end of the day!
<<<< Alan Schultz broke the ice with this nice fish at the Wall Hole - he had been working hard for quite a while. Lots of fish hooked up and LDR'd but he found his groove as the day progressed!
Alan was nearly a blank slate, which is great as there's not of old nasty habits in the casting and he took instruction extraordinarily well! Oh - that makes my world so much easier! But I think he was truly enjoying finding out how casting really works, not to mention how efficient the drag and roll is when it comes to working the A&W in particular...
Showing off at the J Ledge in the muddy water! >>>>
He was laying out clean casts for the most part in no time and we sent the A&W into the Triangle initially and started watching for fish. Unfortunately there was quite the crowd out - including several anglers who felt the need to throw Powerbait in the Catch & Release Area... How big and instructional a sign do we have to have??? Anyway, I explained the regs briefly and they were off. Had to do that on Thursday as well... Sheeezzz!
Most of the folks that were spread out along the Flat were naturally standing where the fish wanted to be so that keeps them from cruising their normal patterns and gets the ones that are around pretty skittish. But we still managed to raise a couple anyway! It was interesting that almost as soon as the majority of those folks got out of the water there were no doubt more fish around and more action! Imagine that!!!
<<<< I'd say that look about says it all. Nice fish!
At any rate, we took a little break for a bite and watched Keith Kopp get a bunch of fish in the Wall Hole and joined him for a few minutes to work a Long Creek over the deep water. That produced several hits and one nice fish in hand! But we moved on somewhat quickly to see more of the river and some different situations...
First stop was at River Ridge where there were a bunch of folks around the Couch Hole, but only one guy working the bottom of the shoal area. We moved on downstream to the J Ledge where we found pretty murky water, but a good sample of fish! This was a case once again, of getting the Long Creek landed in the right place to get the right drift. Almost every time Alan made the delivery and a couple of good mends he found a fish! The takes were very solid and aggressive too!
And they were, for the most part, better fish as well. We did measure one at 12.5", but she sure acted like fifteen! Murky water or no, they were finding the fly down deep! We were having fun now!
But I think it actually got better as we hit Hind's Bluff again and worked an A & W around the riffles which were flowing nicely after the rains. Still murky, but quite fishable! And Alan fished it hard!
But you know... That's a pretty nice fish too! >>>>
We did a bit of high-sticking in the fast water and raised one I think, but it was further down as we slowly worked through the riffles, that we found the real concentration! Once Alan got the correct landing spot again, it was a bunch of fish in the path. In fact he did land four fish on four drifts at one point! That made up for the skewed "one out of four out of four" ratio that had not gone his way earlier in the day!
And the more he worked the drifts, the more of the smaller fish he cleared out and the last few fish on were really quite nice, including one solid Eagle Lake 'bow with decent colors despite the murky waters! When the water's muddy the fish go a little pale to blend in...
Alan finished out an excellent day with no idea of how many fish landed. That's a good sign!
Generation for this week? Yep, strange again but not too bad except for tomorrow (Monday)...
Monday - 2 PM to 9 PM
Tuesday - zeros (I'll be there...)
Wednesday - 4 PM to 5 PM
Thursday - zeros (I'll be there...)
Friday - 5 PM to 7 PM (still there...)
Saturday & Sunday - zeros
Enjoy!

Back Cast
Looks like weekend updates are going to end up happening on Tuesdays!!! Amazing how a two year old can occupy a day! Anyway...
This past Saturday the returning Gorham's, Will, and my old high school cohort, Stan made the trip up from the Port! The age is catching up to me... When Will first contacted me about this trip, I immediately envisioned Stan, but with Will's name - and I was still confused until they reminded me that Will was Will and there was only one of each of them! I hope that got ya'll thinking a little bit...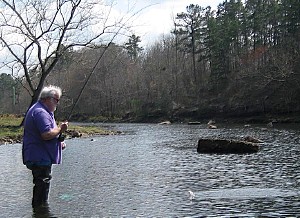 On to more pertinent details... The weather was spectacular after a fairly cold week! It had been in the 30's and 50's all week - right up until Friday! Where did that winter come from? Sunny and getting up around 80 by afternoon - the fish didn't seem to mind although I expected to see a bit more bug activity at mid-day than we had. But, again, what happens on or about this date a year ago, determines to some extent the amount of hatching for this year... If there was high water and bad weather for example, we may not get a great March Brown hatch 365 days later.
<<<< Stan Gorham starts it out at the lower end of The Trough...
But the activity was at least decent and there were some March Browns hatching where we were at The Trough. A very nice swirling, but predominantly south westerly, wind was throwing a pretty decent ripple on the water and A & W's were all we needed to worry with for most of the day!
Some of the fish are starting to really learn about floating March Browns too, so the dries are going to come more and more into play. Keep in mind, the March Browns don't peak until the end of April into early May and we'll continue to see them well into June! We've got a long way to go with these guys!
The guys got their remedial casting worked in and then went to catching fish! There were a lot of hits and the corresponding hook-ups. All average fish on the day, nothing extraordinary, but a couple of solid chunks mixed in. They'll really start adding some weight over the next couple of months - lots of food to be had and, apparently, plenty of time to eat on low water...
Another odd generation schedule this week! Ran yesterday from noon to 10 PM, today noon to 8:00, tomorrow afternoon, all of one hour from 4:00 to 5:00, nothing for Thursday, Friday or Saturday and one hour on Sunday 8:00 PM! Freaky!
Last Saturday we were going to get generation cranked up at 4 PM so we moved down to the Hind's Bluff access where we found nobody standing where I wanted to fish again and a bunch of fish there feeding! I love it!
The guys stepped in with the A&W's initially, but we also tried a Tan Caddis, Tiger Midge and March Brown Sliders. All of them seemed to produce about equally, so I doubt that it mattered a whole lot on this day which they were taking. The location and drift seemed to be more critical.
<<<< And Will works at the upper end of The Trough...
The takes for the most part were pretty light and casual as I could tell. Sometimes almost imperceptible! I've seen that in these quiet riffles on many occasions. There's so much food coming off the shoals above that the fish just seem to sit in the current with their mouths open! You just have to able to tell when they have the fly up against a jaw!
I think it was Will who probably had the fish of the day at the riffles. Again, nothing extraordinary, but good solid fish for the most part. They're always a lot more fun in the shallow, faster water. And that particular fish, somehow out of just inches of water, managed to produce about two feet of air on one jump! Too cool...
Just so you'll know, even two generators gets to Hind's Bluff in 45 minutes... I thought it might be a few minutes slower than all three, but it was with us at 4:45 right on schedule. We fished about as long as we wanted and started up the bank. The guys got a kick out of seeing the water hit! They are some of the lucky few who, to that point, had never seen high water on the Little Mo!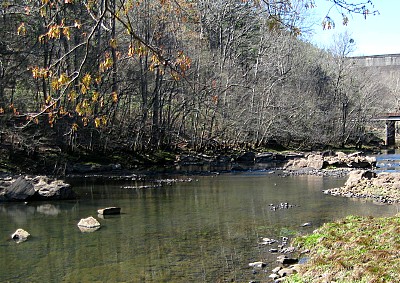 The other day I meant to add that I actually fished for a bit! I made my way up into the Skinny Water and even into Dammit Flat, but didn't find anything happening up in there. I do admit, however, that I enjoy going up into the Skinny Water just to see how the project is working!
The Skinny Water is looking pretty nice after six and a half years! And it has produced some great action and nice - really nice - fish since. >>>>
I threw a few casts around Dammit Flat just to be sure and came down through the channels of the Skinny Water itself, but didn't see any fish until I got below into the old "Chute" section!
The increased flows of the Skinny Water Project help fish feel better about all that shallow water around the Chute and below. I picked up probably eight or ten over the next 45 minutes as I worked my way back down and raised fish everywhere I suspected to! The wind that day, as well, really disguised even the 5X tippet in the shallows and made for some nice fishing.
Everybody caught fish - nobody got hurt - it was a good day!

Back Cast
Good fishing this past weekend! Got some good reports and did some ourselves...
Friday brought Mike Conner (Dallas, TX) and his clan, Rachel and Matthew, to the river. Mike had fished with me quite a few years ago when Rachel and Matthew were probably still in middle school! Great to see another generation on the Little Mo'!
We got the "kids" some casting instruction and refresher for Mike and eventually started to throw some A & W's around The Flat... We were already seeing a bunch of March Browns showing in the mid morning hours and things were looking pretty good on this "sparkeling day" as I like to call these.
<<<< Mike Conner gets the first fish of the day in hand while Rachel , no doubt, was being encouraging!
There were nice breezes throughout the day and that's what I like to see! Really helps with the fish's attitude... But it also really messes with their eyesight - and that I like as well!
Mike was first up with a fish in hand, but it wasn't long before both Matthew and Rachel felt fish on the other end. Didn't quite get those first few fish in, though, but it was going to pay off eventually. They got some quick lessons in how to handle a line!
We were having a decent time, but I thought we might do more downriver and headed out for the Factory Site for a change. The guys were staying the weekend at Old factory Getaway so it would be good to have a clue what to do in that stretch anyway. Pulled up in the AGFC parking area to find not a soul there! Excellent!
Rachel and Matthew double up at the Old Factory Shoals. Couple of chunky fish landed there... >>>>
Set Mike up in the pool above the weir with a Long Creek for the deeper water. We did see him land a few and as we were wrapping up he reported that he had had on a decent Brown out in the open water! That's always good to hear about. Meanwhile, though, I moved Rachel and Matthew down into the shoals.
Right below the weir, we could see a couple of fish rising and some March Browns still showing, but it was the tell-tale splat in the fast water that showed what was just about to occur at the mid-day hour! It's Caddis season!
<<<< Matthew Conner working the fast water at the peak of the caddis hatch!
Spotted a few of the dark tan Caddis "popping and hopping" as I started to switch the A&W's out for some of my "Unknown Caddis" and it was on after that! Barely had time to get them tied on before they were in full swing!
Matthew probably had the prettiest fish of the day! Nice sized male Rainbow with great colors and a bit of a jaw on him... >>>>
This hatch goes on for a few weeks - March into April - and is so predictable you can set your watch. Except now you have to adjust for daylight savings - the bugs don't... For about 2 1/2 to 3 hours each day starting around noon (CDT) the caddis are out and the trout pounce all over them!
Actually, the takes are more of a "splat" as mentioned... I describe it as similar to a splash when skipping rocks. Be on the lookout and have some caddis patterns handy! And this occurs way more in the faster water and shallow shoals than in the pools.
That's not to say you won't see them over the slower waters, but they really gravitate to the riffles. They skiitter across the surface just as fast as they're out, dropping eggs!
Great fun. But just as quick as they show up, they tend to be done for the day and it's back to March Browns!
<<<< Rachel, I suspect, was having a good time!
Rachel and Matthew took full advantage of the caddis hatch in the original Honey Hole! I dare say many an angler has pulled trout out of that little pool... It can certainly be hard to beat! Good way to start Spring Break for the bunch from Dallas!
Saturday morning was a little light tennis, mostly to test out the, possibly, torn calf from a match a couple of weeks ago. It still isn't happy... And then a birthday party for one of the grand-boys, but it was back to the river on Sunday!
I met with Karla Samaripa (Austin, TX) and her son, Paul , to get in their first fly fishing on their Spring Break too! Much the same routine of course, some casting instruction and then load the bullets!
Paul didn't waste too much time getting into his first trout on a fly! >>>>
There were quite a few fish moving around the Flat too although it was hard to see them. We had a cold wind working from just about every direction Sunday - came in with this big storm that won't let us decide if it's spring or still winter... Felt like winter the last couple of days, I know... Still it was a warm sun cutting through the wind so it felt a lot better than the real temperature of 44 to 46 that we actually had!
We raised a few fish in the flat and then went down to Hind's Bluff to check the crowds. We were in luck with the typical lack of people on a Sunday afternoon and took advantage of the caddis hatch going at Butt Buster!
It was some classic swing drifts with the caddis for the rest of the session and we lost count of fish on! Most of the fish were in the 10-11 inch class though we did get one that was at least 12" and a couple that were more along the lines of 7" or 8"! Quite the variety!
<<<< Pretty nice chunk of a fish that the guys undoubtledly enjoyed for supper!
Karla and Paul said they learned a bunch and made use of the information! I got an e-mail yesterday from Karla with the attached shot. They did retain a few to feast upon, but this one, as I told her, was "obviously at least a foot long!"
It's that time of year ya'll! Lots of fish, lots of bugs and lots of people! It's someone's Spring Break every week for at least three weeks... If you have the option avoid it - the fishing is only going to actually be better in mid April and May!!!
The Samaripa's enjoy the caddis action at Butt Buster Shoal on a glorious Sunday afternoon. >>>>
Another odd generation schedule for this week:
Ran 7 to 11 this morning...
Wednesday - 6 AM to 10 AM
Thursday - 7 AM to Noon and again from 4 PM to 8 PM
Friday - none
SATURDAY - 4 PM to 8 PM???
and Sunday - 7 PM to 9 PM
Plan accordingly...

Back Cast
Wow! What a wild, interesting eventful couple of months it's been around here...
Firstly, Sandy is doing much better, for those who have kept track! And Happy Birthday to her this week too! The meds are making her way more functional than she had been over the last two or three months, but doing anything significant still makes her weak, dizzy and out of breath. Major lifestyle changes and great care taken in everyday activities.
For those wondering what's the story, we found out in January that two of her three bypass grafts from 20 years ago had stopped working - essentially non-existent! that was a bit of a shock and almost felt like a death sentence!!! Another by-pass is not really a good option and stints couldn't be done because of location issues. So, new meds to help the blood flow better are definitely doing a lot of good. She almost feels normal until she has to do something with any real exertion... So, we'll just go from here and work to not make any of her blockages any worse. hanging' in there!
Secondly, we had what turned out to be fire-wall issues with our internet here so I was not able to access anything about my website's functionality! That is, I couldn't make any updates to the content whatsoever for the last several weeks. Extraordinarily frustrating, because we had not made any changes to anything and yet, for some reason, the modem and/or Comcast/Xfinity decided to change the fire-wall at our modem!!!
<<<< Fly Fishing Festival 2017 - Johnny McJunkins, Catch Cormier, Dick Waldrep, Gordon Shaw, Mike Ingram and Tom Bullock that I know for sure...
My website host assured me it was not an issue on their end, and as most all of you know, you could certainly get to the website and Message Board, as could I! Xfinity, as you might imagine, was zero help. I knew way more about what was going on than they did! And of course all those guys were doing was reading through their checklist. I can't tell you how many times I said "already did that!" to them...
Finally my genius bride figured it out and got me back in my access! So here I am today! Thanks, baby!
Of course the Fly Fishing Festival went off during this interesting period! I stayed home with Sandy on that Friday, but Texas Jack Isham took care of procuring the hall and getting things ready to go in my absence! Once again, my great thanks to Jack and Kathy for being there to help out and the support he's given to the Festival this year!
Kris Nault and Christy Graham (AFGC) consult with the gathering on Saturday - the annual "State of the Little Mo Address"! >>>>
And thanks to all of you guys who participated and attended! The Usual Suspects were in full force and I can't thank all those folks enough for making this year one of the better Fly Fishing Festivals we've had. Since I was finally able to upload the info on the Festival that was supposed to have been there in January you can see who came to make it a success.
We've got a new Little Mo' AGFC Biologist now in charge of the river. Kris Nault has taken over those duties from Christy Graham who has moved up to take over the Trout Program! Congratulations to Christy - I hope she doesn't forget her first Arkansas trout people! And welcome to Kris. I know he got a thorough tour of the river that week and I think he's got a good grasp of what's happening on our little stream!
We had some excellent presentations, great food, great fun and flying furs and feathers! Not to mention the great weather and fishing we've come to expect.
Now in the meantime there was some fishing going on!
I haven't been all that busy on the river what with sticking close to home for the most part, and as I mentioned, I would have been there yesterday but for the odd generation... Anyway, I did get a few days in on the river, but couldn't post anything anyway. I was back out on a really nice Sunday afternoon after the Festival with the returning Ben Glick as we covered so much more than what he learned that first trip back in January!
<<<< Ben Glick with his fish of the day - pushing 14 inches - from the "J Ledge" pool!
We developed more of the casting and got into some different situations in a few more spots. Ben has since told me that he is a total junkie now... Got his own gear already and we're in the works for another trip soon! We spent quite a few minutes in the parking lot with Ben physically writing down notes. Not many people willing to do that!
That's the kind of thing that pays off in the long run though...
We fished some up in the Park, around the Trough and The Flat - I even had a fish on at one point! Then we moved down to River Ridge just to see what was happening. We got in quite a bit of moving water work, particularly below the weir in the rapidly changing shoal. Ever since that monster White Oak tree came down there, that entire shoal area has taken on a completely different hydraulic action! Much like the shoals below Low Water Bridge, I suspect in ten years we won't recognize this stretch as we learned it!
At any rate, there was only one fish in the "prime" spot - which didn't surprise me for a Sunday afternoon... I'm sure it got hammered for a couple of days! We worked our way down to the "J Ledge" and got some serious fly placement and line control work there. It really paid off with a high flying, deep diving fourteen incher in good shape! Fish had been showing themselves periodically up and down the ledge and it was just a matter of getting the Long Creek where it needed to be and waiting them out!
Yep, that's the kind of thing that will get you motivated! >>>>
We actually raised several fish in that pool. You know, it's the kind of spot that frequently gets overlooked... So that's always fun - getting fish in a spot that was kinda passed by! You learn to throw everywhere at least once! Growing up fishing the small waters taught me that... That and nearly stepping on fish as I eyed the next "most likely" spot!
So considering all that's been going on, a considerable amount of tennis teaching and, yes, even competition (thanks to the nice weather), and a whole slew of fly orders that I've been working on of late I've been pretty busy! Just not so much in front of this computer.
But it is indeed spring, and March, and getting into the busiest time of the year on the river. You should be hearing more from me soon!
By the way, the generation schedule for the coming week - quite odd:
Monday and Tuesday - 3 PM to 5 PM
Wednesday - nothing
Thursday - 3 PM to 7 PM
Friday - 6 PM to 8 PM
SATURDAY - 3 PM to 8 PM???
and Sunday - nothing... Go figure...

Back Cast
Always On The Water - Jeff
Please join in on the Message Board! Email me to register...
Click here to E-mail me at jeffonthelittlemo@gmail.com and say "hi" if you have any questions! Remember, if you do e-mail me, make sure you mention fishing on the subject line and identify yourself. Otherwise, I'm liable not to open the e-mail. That virus thing, you know!