Little Missouri Fly Fishing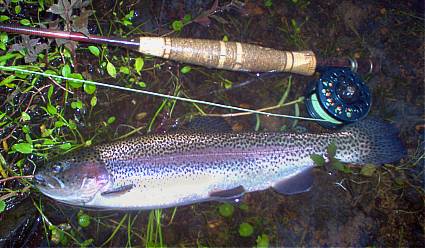 The Latest
Tuesday - January 10
Tuesday - December 6
Wednesday - November 23


870-210-3681
Check out the current weather and forecast in Murfreesboro!
Well, I hope everyone had a great holiday season and we are well into 2017 already! Had a couple of trips squeezed into all of it, but this past Sunday I finally got in a trip with Ben Glick & Jess Rivers (Portland, OR / Texarkana!) that we've been trying to do for a couple of months!
<<<< Ben Glick battles a 'Bow and the elements this past weekend...
Despite the 5&deg that settled in on Saturday morning on the river and a broken pipe here on Saturday night we braved it on Sunday afternoon so Ben and Jess could get their first fly fishing in between traveling back and forth from the northwest. We arrived at Riverside with some cloud cover and temps in the mid to upper 30's and a pretty good amount of wind! It was just about "this close" to one of those "ice-in-the-guides days!
None ever developed, thankfully. The conditions were just bearable enough!
But we prevailed! We fought off the breezes and the low winter sun and got through some initial casting and a little bit of fishing. Both Ben and Jess had a couple or three hits and a couple of hook-ups in the Park and around the Trough! The water has cleared finally to a near typical mid-winter green. The Rivergages website had some glitches over the last couple of weeks and the lake probably was never as high as was at one point indicated. It currently show 543.51' which I believe to be correct now.
With whatever snow-melt might have been trickling in (though I suspect a lot of what did fall up there evaporated) and a slightly more stable lake now, the water is looking decent once again. It's got a bit of that "glacial" look to it once again. Maybe we'l have a quiet winter from here on out, though I don't particularly care for how this week is looking! Warm and muggy moving in...
Ben gives a bit of a smile while girl-friend, Jess Rivers looks to be tightening up on one! >>>>
At any rate, even though there were fish moving about and showing around the Flat in the peak of the day, we just weren't producing a whole lot, so we headed down to Hind's Bluff, where amazingly, we had the place to ourselves! One of the nice things about a Sunday afternoon - and the cold. But fortunately, at Hind's Bluff we had some nice respite from the winds and the conditions didn't seem all that bad at all! After just a couple of days of 30 and cloudy - 40&deg and sunny feels downright decent!!!
At first we had been throwing A & W's starting in the Park and they also raised a few takes at Hind's Bluff, but then we switched to the heavier Long Creeks and they probably did slightly better, getting down deeper quicker.
Again, this time of year it's hard to go wrong with just about anything, but some of the fish have been in long enough that they will recognize things that are closer to their new food! And, personally, those are the fish I'd rather catch anyway! But for a couple of first timers doing this on a 38-40 degree afternoon, we weren't going to be particular...
<<<< Ben shows off his first Little Mo' trout! Hopefully plenty more in his future!
The "one out of four out of four" ratio was holding up for Ben and Jess though. She had her share of hits and a couple of fish bend her rod and Ben did likewise, though he may have had a bit more action on the whole. But who was counting, right guys? Ben did have the last laugh when he landed his first trout on a fly! It was a nice chunk right about 12 inches! Not a bad way to get started.
It was a typical "first timers" kind of day. There seems to be so many things that one has to deal with on that first time out. Basic roll casts are only a small part of everything that folks try to remember. I always try to "simple things up" as much as I can. That's not to say that fly casting is hard - quite the contrary! But what I try to do is to get people to do is just enough to get everything to come together that first time out.
In just one afternoon of fishing, you can come across a number of situations one may have to deal with! Casts, currents, winds, drifts, depths, tangles, trees, criss-crosses, not to mention the minds of trout and their food. Oh, and, location, location LOCATION! Jess said that she hadn't even planned on catching any fish on the day! I guess that's a good mind-set to go into your first time in... But she was seemed certainly happy enough to feel a few on the other end.
Ben may have been slightly happier!
Looking forward to being back up this weekend! And most likely - way better weather conditions!!!

Back Cast
Squeezed one day in last week before all this ugly weather kept us off the river for the rest of the weekend! I met with Scott Austin (Texarkana) last Friday morning for his first attempt with fly fishing. We enjoyed the last of the nice weather at Riverside and some decent fishing for our session!
After learning quite a bit about the casting and a bit about bugs, seasons and gear, we started throwing some flies in with the enticing cruising fish around the Flat at Riverside! There were just enough fish showing and we started with an un-weighted Long Creek initially which only produced one or two looks... Went to a full bodied Long Creek after that and started producing takes!
Scott Austin gets his first fish on a fly where so many have done the same thing - Riverside Flat! >>>>
Scott was doing quite well with casting and the "fishing" throughout and it paid off quickly as he landed the first two fish that hit him!!! The "one out of four out of four" ratio was already being skewed his way! I don't think Scott was too worried about it... I believe he was already pretty well pleased with this new fly fishing thing!
We moved around the flat just a little bit and found that fish were concentrating in only a couple of places on a regular basis. The water, which had been looking a lot better over the last couple of weeks, was pretty murky again, but in a more seasonable manner... Just the regular early winter murky, I'd say! But fish were rising casually around the shallows and we turned up several as the morning progressed.
When all was said and done, Scott had landed not only his first fish on a fly, but his first Brown as well! Wasn't one of the bigger ones, but it was looking pretty good - nice color and well defined spots and carrying a bit of some weight!
As the mid-day passed it seemed the fish were getting much busier with actual surface feeding... So often fresh fish do all kinds of splashing around on the top and everyone thinks there's got to be some kind of hatch and then wonder why they can't raise a thing on a dry. Well, usually they're not feeding, just bouncing around randomly as they were accustomed to doing at the hatchery. No apparent reason!
<<<< Scott also landed his first Brown! Great way to start his fly fishing world...
After Scott headed back for the day, I stayed out for a bit trying to see what I could discern from this "for real" feeding! There were plenty of very casual, quiet, sipping rises all over the Flat, particularly after the clouds had finally started to move in. Sure enough, there was a significant number of tiny midges drifting around on the surface. And I'm talking tiny - probably in the nature of size 26 or 28!!! Black with hyaline wings.
Well I went to a Griffith's Gnat and raised a few, but I had been too lazy to switch to a super fine tippet and I think I was getting quite a few refusals. I also threw a #20 ADL Midge which produced about as well... We're getting into that time of year - midges will be the only thing you'll find on the surface menu. I saw just one Light Cahill floating around the entire day. They're pretty much done, but it won't be but a couple of months before the march Browns start to make their presence known!
Get your fly orders in soon!!!


Back Cast
Busy few days since last Sunday, but here's what was happening then!
It was indeed Sunday that I met with the returning Tolbert Greenwood, his son Sean and Sean's son Nick (Fort Worth, TX) for a three generation day on the Little Mo'! That is so cool to get to do with you folks now and then!
Tolbert Greenwood assumes the position... Actually, that's pretty laid back and relaxed I'd say! >>>>
The last time they came was April of 2015... What a different situation in mid November! We got Nick some first casting instruction and he took it quite well. Tolbert and Sean were listening for the remedial information and it wasn't long before we had flies on, but there just wasn't much happening in the Park - even in the Wall Hole!
We dredged the Wall Hole with Long Creeks for quite a while with only a hint of a couple of hits! It was rather discouraging... Fish were showing here and there, but they weren't really playing nice.
Seems to have been the standard for the Park on a lot of occasions this fall, even with the newer fish! Granted it was the peak of the straight up sun and no clouds with very little wind at the time...
<<<< Nick Greenwood and grandaddy Tolbert double up at Hind's Bluff! Sean was upstream of them at the time - sorry Sean I didn't get any pics of you this time!
At any rate, off we went for the usual attack. Down to Hind's Bluff to find no one else around again - at least for a little while. So we took up the best positions and proceeded to get into plenty enough action with some doubles and nearly a triple at one point!
We stuck with the Long Creeks for a while, but I had tied a few flies the day before that I was determined to throw in there just to see what would happen! That was the "original" Wooly Worm.
I dare say not a lot of "newer" fly fishers are going to be familiar with that one actually! And in fact the guys didn't know what it was on this day! But it was possibly and probably the first fly with which I ever caught a trout!
I just thought it would be kind of cool to throw a classic in there and see what the fish thought. I told the guys, as I was tying the first one on, that I was "going seriously retro" today!
Nick Greenwood gets his first fish / trout on a fly! Already a good day! >>>>
Well, the fish liked it just fine. Obviously, they had probably not seen one yet... They may have eaten just about anything just as readily, but that's not the point! This is one of the first flies I ever saw and it goes back a good 75 years - at least!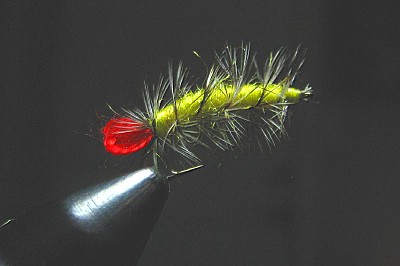 Wonder how many orders I'll get for this one in the next couple of weeks???
Just something fun to do! Next will be a Grizzly King! Ya'll look that one up!
We finished a really awesome day of weather with Bald Eagles flying around and plenty of fish landed! Once again - Everyone caught fish, nobody got hurt, it was a good day!
Monday we had a few hours of generation in the first part of the day and Mark Wiley reported that the stocking truck was there in the afternoon to boot! Should have been a couple of thousand fish spread all over the five stocking sites, some on still "high'ish" water downstream, so that's a good thing! Everyone have a great Thanksgiving holiday and for those who choose to take advantage of the fresh fish - enjoy!

Back Cast
Always On The Water - Jeff
Please join in on the Message Board! Email me to register...
Click here to E-mail me at jeffonthelittlemo@gmail.com and say "hi" if you have any questions! Remember, if you do e-mail me, make sure you mention fishing on the subject line and identify yourself. Otherwise, I'm liable not to open the e-mail. That virus thing, you know!