Please join in on the New Message Board! Easy registration and log in!
Click here to E-mail me at jeff@littlemissouriflyfishing
and say "hi" if you have any questions!
Remember, if you do e-mail me, make sure you mention fishing on the subject line and identify yourself.
Otherwise, I'm liable not to open the e-mail. That virus thing, you know!
Check out the current weather and forecast in Murfreesboro!
Great fishing the last couple of days!!!
While Sunday afternoon was pretty dog-gone hot around here, Prime Time turned out to be really nice for Joe George (Mooringsport, LA)! We met at the park about 5:00 and got in as the shadows started to stretch just a little bit across from the west bank. Fish were quite active all up and down the Flat despite the bright sun and hot temps!
First fish of the trip for Joe George - a beautiful little Brown! >>>>>
We didn't raise a whole lot initially, but as the evening progressed we started to see more and more movement and nice action. We started out with a Light Cahill Slider and produced some good interest and a couple of fish on! First fish of the afternoon turned out to be a nice little Brown about 10 inches! Really happy to see that! We just don't run into that many after all!
After that the takes started coming more and more frequently as we got closer and closer to Prime Time! Joe turned up quite a few before he broke off one more fly (Just a little heavy on the strikes... Eh, Joe?) as it got too dark to see to tie on another one and it had been a warm evening. Mosquitoes were cranking up, as were the Whipporwhills, and Prime Time was peaked...
Still, between learning some new casting concepts and producing quite a few fish it was a really nice evening! Joe talked himself into going out again Monday morning!
We took our time getting out in the morning, counting on the wind to crank up on schedule. And high water wasn't going to be a problem - they're not generating this week until 4 PM and only for a couple of hours...
Well, no sooner had we gotten the boots on the wind did indeed get going! Perfectly from the north and north-east for the most part and about 15 MPH's. Just right, and it stayed pretty consistent until we gave it up at mid-afternoon. Excellent conditions and the fish were quite happy!
Just about perfect conditions on Monday! At least before the storms hit later in the day! >>>>>
We started out with a Griffith's Gnat and that brought quite a few takes for much of the morning. We also threw an R & A Light Cahill for a few minutes when I saw some of those hatching, but it wasn't enough of a hatch yet to get a lot of interest, particularly if the wind lied down too much.
But more than those, the good ole ADL Midge did most of the consistent damage. We started out around the Trough and produced a whole bunch of action mostly less than 20 feet from us. There were a lot of fish on the move throughout the morning and we were keeping the flies in the middle of their cruising lane. Once you were into the small flies you had to really watch for how the fish moved when they were close to the fly... Just the slightest hint of a take sometimes.
<<<<< Just one of the several nice fish on Monday!
We also got into the Triangle where there was a group of fish frequenting the little depression between the grass beds. They were a tad more spooky and though we did get a couple out of there, they got kind of wise to what was going on. Still, it took a little while for them to really get disdainful about what we were doing... Some nice fish moving around those shallows!
It turned into a very productive couple of days for Joe with lots of new casting techniques and some nice fish in hand! Can't beat it for the middle of July!!!
Now for those who haven't seen it, take a look at the Jeff's Secret Flies Sale on the Message Board! This may never happen again and I'm pretty dubious about doing this, but I thought I'd give it a try and see what ya'll think!
Through next Monday the 21st and no more after that, I'm letting some of my flies that, as many of you know, you don't get to see unless you're fishing with me. Only for this week you will be able to order the ADL, Killer Cahill, the Unknown Caddis, the Slider and the Tiger & Grizzly Midges!!!!

If you order any, I've got to get the order in before midnight next Monday! Anything after that is not going to happen! This is most unprecedented and I've got to draw serious lines. I'm not publicizing this beyond the web-site so only you regular visitors are going to know about it! I've already delivered some of these today! Someone out there on the river is making use of some of these as I write!
Hope you get in on these! I'll get them out as quick as I can!

Back Cast
Hey! Remember me??? Still here...
Yeah, seems like there hasn't been much happening, but the fact is there's been too much! I just haven't stopped to do any updates for a while! There has been some fishing going on in recent weeks and it's been feast and famine as far as the fish were concerned!
I gotta go back to middle of June where we had a lot of high water and confusing releases. We ended up having high water all the way from Monday the 9th through that weekend - the 15th! Jeff Sinnot (Aledo, TX) was the last ones on the river that week on that Monday and the fishing was a little tough. Through early June the fish had been surprisingly spooky, but we weren't getting a lot of help from the weather anyway! In fact we got run off the river, after just stepping in, by heavy rains and a lot of mud coming in - not to mention the lightning!
Caleb McClanahan shows off on of the nice ones produced in the difficult conditions! >>>>>
Lake got up and it took the CORPS all week to get it back to down to a comfortable level and a bunch of folks had to cancel trips to the river! Well it's been kind of dry ever since with a few showers here and there and the lake is actually a little low for this time of year! Probably prompted the cut-back this week on the number of hours we've been getting of generation. We had been seeing a 1 PM to 7 PM pattern since that week, but this week they went to just 4 PM to 7 PM!
Next chance I got to get in the water was with Mac, and son Caleb, McClanahan (Hot Springs, AR) on the evening of the 19th! (Seems like a long time ago already!!!) We got in on the falling water and had pretty decent action with my new Prime Time pattern, the Slider. I do like the way it's fishing and we did nicely with it this week too!
Got back out with Caleb the next morning and had some somewhat challenging, but steady action. We threw an assortment of things once again including ADL's, AenW's and R & A's. The 6X and even 7X fluorocarbon is getting to be a necessity, but with a slick surface, the casting "cleanliness" and approach can be even more important.
<<<<< Brent Chustz takes advantage of the falling water Monday evening...
Last Friday, Brian & Ginny Homza (Shreveport, LA) made it up! They went to school with my brother and I went to school with Brian's brother! Smallish world once again! We did OK on the day, but once again the fish were very spooky and hard to get strikes out of! The wind was non-existent so no help there... We did have a few on though, none the less! The fish you do get this time of year, though, are usually quite a surprise to those who haven't dealt with them before! Speed and power and a lot of fish get broken off! most folks just aren't ready for them!
I'm afraid that was the case this week, at least initially, for Brent & Donna Chustz (Baton Rouge, LA). Let's just say we went through quite a few flies on Monday evening and a few more on yesterday morning before they both got a better idea of what to expect from these fish!!!
Donna gets one under control near Copperhead Crossing! >>>>>
Monday night we had a nice Prime Time with the Sliders and got quite a few fish on before I couldn't even tie on another fly! It was the best Prime Time we've seen in a while and conditions were just about perfect! And fish all over the place!
Yesterday morning we finally got some serious wind to help us out and the fish were the happiest I've seen them since early May!!! We threw ADL's and Light Cahill R & A's again, but it was the AenW's that did the most work! Lots of action on that.
Just one of the "average" fish on the day! >>>>>
Most of the fish were in the 11 to 13 inch class. Only got a couple that were from the latest stocking - most of them had been there a while and in really nice shape! Part of the reason why there were a "few" break-offs for Brent and Donna over the course of the sessions. As I mentioned though, they had plenty of chances to figure out just what kind of touch is needed to keep fish on and be ready for the runs and surges! Big time speed from these guys!
They landed a lot more fish the second half of the day! Got to the point where i have no idea how many fish were landed! That was a good day! The wind was really up and coming from behind us most of the time, making the conditions about everything you could ask for under the mid summer sun! In fact it was one of the better days we've had all summer!
<<<<< Brent with a quick release of a really nice fish! Great colors. Actually he did get it in hand, I was just slow with the camera, but I think it was a nice shot none the less... Check out the red in those belly fins!
So now that we're past the summer solstice and the days are getting shorter, I hope we see typical weather conditions with the mid-morning breeze cranking up about 10:00 - 10:30, on schedule! Makes a huge difference for the psyche of the fish, which certainly helps with ours too! It'd be nice to have that later generation crank-up time too... Maybe we can get through the rest of the summer with that 4:00 to 7:00 PM schedule! Just about perfect!
By the way, I had a real nice time last Saturday in Longview, TX for what Mike Hawkins calls their "Guide Tie"! Fun bunch of folks and a lot of tying and "secrets" shared! Not unlike one of my Workshops of days past... Have to find another way of going about having those once the "move" back to the Port has happened...

Back Cast
Jeeez-a-mighty!!! Where did that month go???

No, I have not made any kind of real move yet. Still a bunch of work to do on the office! Still going to be a while...
Amongst all the construction projects back in The Port, there has been a decent amount of fishing going on! Plenty of folks out enjoying the good water conditions, great weather (up until this week), plenty of really nice fish up to their usual early summer antics! They are starting to get a little more particular about what and how things are being thrown at them lately though...
Carson Lansdowne seems pleased with his first Little Mo' trout! >>>>>
Way back in the middle of May, Paul Lansdowne brought his son, Carson, to the river and we did have some really nice fishing. The fish weren't quite as difficult yet as they've seemed to be this week!
It was some really nice weather that week with lows in the 40's and 50's still and the water was pretty doggone cool as well! Hence, the extra layers we had to apply on the morning! But it was that chilly rain that week that is going to leave us some really nice water the rest of the summer!
AenW's continue to be productive, but we are starting to get quite a bit of action with ADL's, a Smudge here and there, Griffith's Gnats, Grizzly Midge and my newest pattern that, I think, we may call the "Slider". It's been doing well so far, but I still haven't had a chance to test it at Prime Time yet... Maybe tomorrow...
At any rate, Paul and Carson got to see a slew of fish and had their share of them on. And, man! The fish are getting strong and healthy! Hard pullin', runnin' and jumpin'! Great fun on just about every fish and some really big ones running around, lurking in the deep and even roaming about The Flat!
Paul Lansdowne shows off one of the nice ones on the day! >>>>>
AGFC brought a load of fish to the river in the middle of may and there were some more hawgs on the truck! Here's a little evidence of that... Yes, plan on seeing some really nice fish this summer!!!
Starting to see those white-tipped, red belly fins and some tails really starting to clean up. Once they have those square tails, be prepared to not be able to stop any of them! Not to mention the fact that we're already starting to see refusals on 6X fluorocarbon tippets!!! Don't let them see your line, but that's hard to do since they're coming at you from just about every direction!
A week ago Wednesday, Tedde Blunck brought his wife, Pauly, in for some instruction and fish catching! After getting a bead on the casting it was time to try to track down some fish.
Pauly was working hard for some action under some slightly more summer-like conditions... Not a lot of breeze, high sun now and slick water. Makes things a little tougher!
<<<<< Pauly Blunck, as so many folks do on the Little Mo', brings in her first trout on a fly!
On the other hand, that lets one see just how many fish are cruising around just a few feet off your rod tip! And I'm talking about groups of 15, 20, 25 at a time! It's like those blackbird flocks in the winter where they just seem to keep coming! Most folks are a little shocked! But it sure is fun to be able to see fish grab a hold of the fly just 15 feet away sometimes in the very, very clear water!
Even though the March Brown hatch is winding down, we've had some decent dry fly fishing on occasion. Starting to see some Light Cahills already and don't be surprised if a Sulphur shows up here and there soon too. The best action is still in the late morning to early afternoon as far as bug activity and that's also the time of day that the fish are staging for the afternoon's high water! By mid-week, they pretty much know what time of day it is and starting getting cranked up in anticipation of the generation for the day!
Pauly worked hard for her fish, but was successful in the end! >>>>>
There's a lot of fly inspection and outright disdain for a lot of flies already! But I think it's more a matter of leader and visible fly lines. The fish have had a lot of pressure in the shallows and clear water already and they are pretty spooky when they see a line or people standing around!
Pray for a lot of breeze when you're out there! We're gonna need all the help we can get. I may be switching folks out to some 7X fluorocarbon stealth tippets!
But if you get lucky and run into one of the fish the likes of what river regular, Mike "Hen" Ingram ran into the other day you will have your hands quite full for about 10 or 15 minutes!!! Just check out this chunk that I managed to get to him fast enough to get this shot!
<<<<< Mike Ingram with one of the better fish of the season last week! Any time you can hold a trout with two hands it's getting really serious! Mike was tired and quit for the day after that one!
Fourteen inchers are not that uncommon right now. I've seen a bunch of them mixed in, running around in the packs of the 11 and 12 inchers! But when you feel a 16 + on the other end, there's no doubt about what's down there!
This week, Tom Parker (New Iberia, LA) set up some fishing for his bride, Joann, and grandson, Regan Hovey (Joaquin, TX). What a fun bunch!!! Just having an all around good time hanging around the river and visiting.
Had a reasonably thorough casting session initially, but we had two days to get it all together this time! And it was a good thing, because the word around the river, both Wednesday and Thursday, was how difficult the fish were being...
<<<<< Joann Parker did indeed get her first trout on a fly this week, too!
But eventually we loaded the bullets, an ADL and a Griffith's and there were scads of "swim-by's", numerous follows, outright refusals and just enough takes to keep the focus up on what was going on.
But just about every time either Regan or Joann made a really nice cast in the right place at the right time, there was a hit! Weren't a lot of fish landed, but there was quite a bit of action.
Regan was doing particularly well, though, and getting some nice casts laid out. In fact, his first fish on was an instant take when he landed his Griffith's cleanly right on a fish!
That's just too cool when it happens!
<<<<< Regan Hovey gets a serious bend in the rod at Copperhead Crossing! One of several nice fish on the day!
We had a decent breeze most of the day on both days and even on Thursday it was almost stout from the north for much of the day! And it paid off with several nice fish on and in. And even though the fish were quite discerning, both Regan and Joann got in on the action with much more consistency on the second day!
We even did some full on dry fly fishing with a Light Cahill R & A and that produced some good response in the chop. Just have to be really patient and wait them out until the right fish comes along and gulps the fly in! They seem to do that when you least expect it too, so have those hands ready and rod tip down!
We also did OK with a Long Creek Light fished rather quietly, until you get some interest, and then you have to try to get them to chase it. Very interesting fishing!
Joann finished her trip rather well! Last fish of the day... >>>>>
I gotta tell ya, the water is feeling really nice, now that we're seeing temperatures starting to get to normal June-like conditions. Pretty muggy out there - not my favorite month of the year, but the fishing can be a lot of fun, though challenging. Poor Regan was about to get out there with neoprene waders the first day! Fortunately he had some shoes he could get in the water with and I brought him some boots on day two...
Waders really aren't necessary already, even though it seems like it was just a couple of weeks ago that the water was still in the 40's!!! Guess it just depends on how cool you like your feet. Joann opted to stay out of hers on day two as well.
<<<<< Regan shows off a nice healthy Bow, about 12 inches!
The fish are difficult, but at least consistent. It's not going to be fast and furious like it was two months ago, but that's just summer fishing here. Clean casting is going to be a premium commodity till next winter, but it pays off! And get the little stuff out, too. Like #18 ants and Griffith's. We should be seeing that Cinnamon Ant hatch soon, assuming weather conditions are timed right. We usually see them about the second, third weeks of June. The muggy afternoons get the shortlived hatches cranked up, but only for a few hours.
I just hope it happens for just a little while before high water so the fish don't eat too many of them all at once! we don't need to see any of these nice fish die off because of eating too many ants again. But, man when that hatch happens, it's pretty awesome!

Back Cast
A simple "Hey Mom!!!" (Just the typical Guerin style...)
And a Happy Mother's Day to my bride and all the other moms out there!
But getting back to filling in the gap from last week... On Friday (May 2) Mark Emery stopped in with daughter, Jessica, on the return trip bringing her back from school in Nashville, TN to East Texas! It was perfect timing! Absolutely spectacular weather again and perfect conditions!
<<<<< "Before" - Jessica Emery October 2006
And the fishing was pretty much what you would expect on a bright, cool, breezy day! Very close to obscene again. With the generation patterns firmly established for the week (although they cranked at 3:00 instead of 2:00 that day...), the fish knew when to crank it up, and the further into the morning we went the better the fishing got!
We quickly lost count of how many fish came in and quite a few of them were solid 12 inchers and maybe even a little better!
"Today" Jessica - college student!!! >>>>>
We got fish, mostly on A & W's as usual... But I believe we did do a little dry work with R & A March Brown's all up in the Trough area of the Flat! There have been so many fish on the move in the shallows lately that you just have to lay in wait for the next dozen or so to come by! It's quite the sight and gets most everyone's heart rate up a bit!
They are, however, getting more and more edgy in the clear water. It's that time of year when they really begin to get educated! They've discovered what real food is and what people standing around mean as well!
It doesn't seem to bother them in that they'll get within 10 feet of you before bolting, but they do get a little more discerning about what, and how, you're throwing to them! Getting more refusals than takes much of the time. And fish will swish back and forth behind your fly four, five or six times before deciding not to take it!
But with the wind blowing and a bright sun, they are much more reckless and we had plenty of action through the day! Good bug activity, though the water was still pretty chilly at near 50&deg! It's finally starting to warm up a bit...
<<<<< Mark Emery draws a nice one out of Copperhead Crossing! Yep, that's where Copperhead Crossing is!
It is one of the best times of the year to be fishing here! Lots of bug activity - quite the assortment, March Browns, Mahogony Slate Wings, Caddis, Yellow Sally Stones, the occasional Light Cahill even! And a lot of the fish have learned that bugs actually on the surface are food as well. Not just the emergers!
Gives you plenty of options. We even threw a Parachute hopper in there just out of curiosity and got one solid hit, but they just weren't so interested in that - yet!
We fished through the mid day with non-stop activity until it was time for dad and daughter to get back on the road. Hopefully it won't be another eight years before Jessica comes through again!!!
Last Wednesday - May 7 - Gordon Spencer (now Fayetteville, AR) returned from a bit of an absence from the river! He's had a busy fall and winter - congrats for one of his girls getting married!
But he also picked a good time to hit the river! Cool morning and a warm afternoon! Nice breezes later in the day made for some excellent fishing again! The daily generation pattern has been near perfect (as it will be this coming week too - 2 PM to 6 PM only...) and the fish really like the pattern!
Gordon Spencer - leading contender in the Ernest Hemingway Look-a-like competition - plays one of the better fish on The Flat! >>>>>
Gordon was having great fun working with his 4 weight cane - seriously slow rod that had quite a few serious bends put into it on the trip! Some really nice fish have been running around the shallow water, which really makes for some fun fishing! The fish are in really great shape already - eating well and getting so strong!
Most of the fish have gotten a nearly full set of fins already with a few of them possessing nice square tails to boot! Once they have that tail grown in, it's really hard to stop them! Too much leverage!
Water was quite cool once again - low 50's - and I think this is the latest into a spring that I've not debated on whether or not to don waders! In fact, yesterday was the first day that I seriously thought about taking them off in the afternoon! Just didn't bother...
At any rate, Gordon had quite the morning session and just about wore himself out catching fish! He was pacing himself too, since we were planning to do Prime Time that evening and fish again on Thursday morning!
We got to the river about 6:30 that evening as the water was falling out and fish were just starting to show! Fishing was good, but not quite as furious as I expected it to be... Prime Time isn't until nearly 8 PM already! I think I heard the Whipporwhill about 8:30 which usually signals past peak for the mayflies on the day!
Gordon, who is in fact, a big guy and dwarfs me, did not dwarf this nice fish! Notice the afore mentioned "square tail"! This one fooled me badly - I estimated 14-15 inches until we actually measured! It was "just" 12.5"! The tail and the well fed belly fooled me! "Fly Fisher's Rule" - take 30% off of whatever they tell you! >>>>>
We did get a Prime Time Smidge working and that's going to be the scenario the rest of the summer! Although, after a decade of throwing a Smidge at them for Prime Time, I'm currently "hatching" in my mind a more accurate fly for Prime Time... We'll see how that goes if I can get all my current fly orders done!
In the meantime, the evenings are only going to get better over the next six weeks or so - assuming we don't get high water into the evenings. 6 PM shut down is pretty nice! Fishing falling water into the evening is going to be a near perfect situation! Mac "Irish" MacClanahan was out Wednesday evening to and he was having quite the action upstream from us a well!
Thursday morning the weather was starting to make the change... Going unstable on us and the fish acted accordingly. We did have some action, but nothing like the day before.
Gordon wanted to see if we could pull up a bass on his big rig and we worked our way down into the Wall Hole where the bass and pickerel are usually hanging around the grass beds and boulders in front of the Wall. Unfortunately, not on this day! With the heavy cloud cover, the water was quite cool - 50'ish - and there were no bass or pickerel to be seen!!!
Gordon diligently kept at it with divers and rabbit strip streamers, but the fact was that there were no fish in sight to throw at. even the trout were getting pretty quiet with the weather change! Bad news, Gordon, yesterday, in the warmer weather and warmer water - the bass and pickerel were all over the same zone you were working over so hard! Next time you're here will likely be a different story!
Saturday, Mona Hayden (Monroe, LA) returned after several years away from the river! A few of you may recall that the first time Mona saw the river, she fished hard all day with lots of action and a bunch of fish on, but with not a one landed... Until the absolute last few casts of the day before she absolutely had to leave.
I remember telling her on that occasion in November of 2008, that she may never see another fish like that again! Well the trout gods remembered her getting that fish as well...

This was the result of the last cast of the day! >>>>>

They're still making her pay for that fish being her first trout! Mona had so many takes and fish on yesterday afternoon, once again, but not a one landed!!! It was just one of those days! We did quite well with a lot of takes on the R&A March Brown as well as A&W's - just could not get one all the way to hand! She couldn't believe it - I couldn't believe it even more! She was way past the odds on the 4:1:1 Ratio, but it didn't seem to matter!

Of course the best fish of the day took the R&A and headed for the Wall Hole a hundred yards away as fast as it could! Way too fast for me to get the words out to let Mona know to let go of the line... Lots of action - just no fish released on purpose... As my grandmother used to say: "Oh well, whatcha' gonna do?"

Unfortunately on this day, Mona didn't get to duplicate her feat of 2008. But, that's why they call it fishing.

Yep... It's been quite the week...

You know, I've been waiting for years for the A&W lawyers to drop me a cease and desist order for copyright infringement... I may start referring to it as the "Aen-W" or maybe just "ANW"... What do ya'll think??? I think I like the "Aen-W"...

Back Cast
Yep! May 1! Catch & Release Season is in effect at Riverside! And there were several folks out to enjoy it!
David Watson and Doug Greenwood (both Little Rock, AR) came over to escape all the water that's being run on the Little Red and check out the Little Mo' for the first time! We arrived at Riverside at 8:00 AM only to find the river full with three generators going! That wasn't on the schedule yesterday. And all we could figure is that someone in east Texas thought it was chilly this morning and turned on a heater!
A quick trip up to the CORPS field office brought the news that they were supposed to shut down at 9:00 which made all involved much happier! So we visited for a while and got ready to get in at 9:00.
<<<<< Doug Greenwood lands a nice one for his first fish on the Little Mo' and his new rod!!
It was worth the wait on this near perfect day. Maybe "perfect" is an understatement! It was a rather spectacular day actually! Bright and cool with northerly breezes most all the day. And the fish were fast at it just about the time we got into The Trough. Fish were more than happy to get after a couple of A & W's worked quickly in the clear water. The guys had plenty of action with Doug christening a brand new unused rod on the day! First fish of the day was a nice chunky fish about 12"! Nice start...
Fishing in the Park was pretty furious while the water was still falling and it slacked off only slightly once the river got close to minimum. There were lots of March Browns, a couple of Mahogony Slate Wings, and a few Light Cahills fluttering about. We also had Caddis and Yellow Sally Stones in the air through the day too!
David Watson gets into his first fish of the day on the falling water at The Trough! >>>>>
Man! It's just a great time of year for hatches! Take your pick - or more importantly - pick the most important to the fish!
Since this trip was a bit of a discovery mission as well as catching some fish we tried to get around the river a bit, although it was really difficult to leave the busy and numerous fish at the Park! We managed to pull ourselves out somehow, though... We headed down to River Ridge to see what was happening down there.
Not really a whole lot, though we didn't actually fish up in the Couch Hole... We hit the shoal where David found at least one in the fast water and we saw only a handful of fish as we worked our way down to the Big Rock Hole. I suspect there were probably a lot more fish to be had up in the pool, but the day was getting away quickly. We did see some at the "J Ledge" and signs of just one at the Big Rock. I was a little disappointed in that, but the guys got to work on some slightly different types of casts and drifts. Somewhat educational at least!.
Well, that's a nice one too, eh David?! >>>>>
Finished the afternoon at the Hind's Bluff Access - which we surprisingly had all to ourselves! Well, there were fish there too, but no people! So we threw for a little bit in the lower half of the pool and raised a few with Long Creeks, but getting a couple of Unknown Caddis into the riffles was the ultimate goal here.
We moved up to the base of Butt Buster and immediately found fish in the fast water where Doug raised one there. David, being left handed, worked down one side of the riffles and Doug stayed in the middle section.
Once the guys found the lines where the fly needed to go the strikes were pretty frequent! Nothing extraordinary, but a bunch of happy healthy fish. They've just been getting plenty of opportunity this year to feed on just about everything they can. The lake has been so stable an the generation reasonably consistent and moderate. We haven't had an extended period of high water at any point this year! Rather unusual... But still, it is just the first day of May... That could change in heartbeat this time of year! So far so good, despite the bad weather the other day! Just didn't get a lot of rain out of that after all!
<<<<< David takes advantage of the lack of folks at Hind's Bluff...
At any rate, we did find that the fish on this day seemed to be a little happier taking the caddis fished dry. Doug layed out one cast and the fly landed high and dry, and was promptly hammered! We both remarked that that was fun! But that was towards the end of the session and it wasn't too much longer before we could hear the sounds of white water at the top of the shoal. Time to go!
While we didn't get into any big fish on the day (though Doug did have on a nice one at one point!), we did get a bunch of healthy hard fighters! And the colors are really starting to show now. Looking forward to a really nice summer! And I suspect David and Doug will be coming back!

Back Cast
Bit of a break back at the Port, but yesterday I got on the river with the returning Mike Grinnell (Tyler, TX) who brought several of his brothers and dad to the river for a bit of a gathering! It was dad, Alan (Olive Branch, MS) and brother Chris (Dallas, TX) who got into the river and tried some fly fishing for the first time!
Alan and Chris "double up" while Mike tried hard to make it a triple at the Trough! Not quite... >>>>>
To say we were having some fun was a bit of an understatement!
We did get out Wednesday evening for a little while and got some casting instruction going so we wouldn't have to do that with the precious little time we had available in the morning! Schedule this week called for crank up at 10 AM! Not to mention running a solid 12 hours the rest of the day! We made the best of what we had though!
On Thursday morning, we got the guys into the water around The Trough and waited for the action to get started. The fish were a little quiet initially, but by mid morning we were starting to get a little breeze and the fish were staging for the high water! All of a sudden there were squadrons of 15-20, sometimes more toodling through in front of us, around us, in between us and behind us! in short - all over the place!
<<<<< Looking over Alan Grinnell's shoulder as he gets a nice bend in the 3 wgt from the fish of the day!
So after a quiet hour or so, we had all kinds of action for the next hour before the water ran us out! It was all with A & W's at this point and there were certainly a reasonable number of March Browns about, but there were also a few Light Cahills, some Rusty's and even a few Caddis! Quite the smorgasbord for a while!
Once the fish had decided to get on the feed, they had at it. Lots of strikes and quite a few fish on. Alan and Chris were getting all the fish in, leaving poor Mike to deal with the short end of the "One, Out of Four, Out of Four" ratio! Just couldn't seem to keep a fish on all the way in! I knew he'd make up for it eventually...
Chris having a bit of fun with one of the many hanging around The Through by mid morning! >>>>>
But we were happy to have Alan and Chris get their first trout on a fly in hand on the day! Alan finished the morning with the best fish of the day just before we were going to get ready to move!
So we moved down to Low Water Bridge to get in as much fishing on the day as we could! For those who are not aware, it takes 2:15 for high water to get to Low Water from crank-up time... So scurry down there and get in what you can! Unfortunately, most of the fishing down there is just about done for the season. That's not to say you won't find fish - we didn't even try up in the pool - but it was a little quiet in the shoals.
We did raise some fish, though, doing some high-sticking and other fast water work. It was the kind of fishing that really makes you concentrate on the few you do know are there! Just didn't produce a whole lot...
Chris does a little "high sticking" in the Low Water Shoals. He did raise a hard hit there, but couldn't get it to come back out! >>>>>
But as it was getting closer to mid-day the storm lines that were coming out of Oklahoma started getting a little too close and we decided not to be BBQ on the day. It wasn't five minutes after we got back to the vehicles that you could hear the water arrive anyway! And not a drop of rain despite how threatening it was. But that was fine, the lake is at a "happy" 547.04' this afternoon! And by the way, the water yesterday morning was 50&deg !!! Chilly!
Today Mike and Chris got back to the Park at 8:00 AM and we tried for just a little while on The Flat. It was kind of quiet again, with cool water and very few fish showing themselves. Once again, it's just not necessary to get out at the break of day to get in the best fishing!
<<<<< I think that's a "thumbs up" from Chris at the base of Butt Buster Shoal! just one of those "sparkling" caddis kind of days!
They don't get really busy until mid morning anyway! Not to say that you won't catch fish, particularly in the depths of the Wall Hole, but the bugs will crank up later in the morning into the middle of the afternoon, typically, and the fish will be right there with them.
Today, though, we didn't stick around real long and headed down to Butt Buster Shoal where we kind of had a field day! Initially, there was some spotty March Brown activity, but before too long the Caddis really started showing and the fish were getting after them! We switched out to Unknown Caddis and spent the rest of the morning bordering on the "obscene"!
Mike made up for the lack of "landed" fish on Thursday with plenty of action today! All nice healthy chunks! >>>>>
That is, it wasn't too long before the guys had lost reasonable track of how many fish were landed! What was about as much fun was watching fish feed and moving about the riffles. Mike tried for a few minutes up in the faster runs in the shoal while Chris got into the fish on the edge of the main flow lanes. Water needed to be just a couple of inches higher for the faster water to really be worthwhile - though as the high water hit later we noticed numerous fish running out of the light rapids heading for the deeper water! most of those nearly through Mike's legs!
Once we got both guys into the prime approach stations and getting the necessary drifts, it was a bump or two on nearly every drift! Sticking fish was another story, though there were certainly plenty landed! Chris topped the trip with the fish of the day, about 13 inches! And just about every fish was in really good shape, fat, well colored with the white tipped, red belly fins and starting to get some significant tails on them! And they were definitely using those tails to their advantage. Lots of aerials on the day!
<<<<< Chris releases a really nice 13 incher - fat and colorful (though you wouldn't know it here)...
At one point, Mike asked if he was "imagining things" or was he hearing the water. I told him he was imagining things at the time... It was only about 10:15... High water wouldn't be there until 10:45... And it was right on schedule!
You can definitely hear the water coming over the top of Butt Buster and it takes about five minutes to run you off the river there! Cause, about the time you creep your way out of the "butt busting" rocks, the water has gotten there and 30 seconds later it's about ready to knock you down if you're in the wrong place!
It was just about a perfect morning, mid 40's here early, bright sun and a northerly breeze! One of those Bluebird April days that the fish love! Just wish we had more of it, but tomorrow should be just about as nice! I've got the morning free! Anyone want to get in on it???

Mike gets one of the last fish in on the day - just about perfect!!! >>>>>
Got the generation schedule for next week this afternoon! Looks good! Monday's a bit of a bust again with 10:00 AM to 10:00 PM releases again, but the rest of the week is crank-up not until 2:00 PM and running into the night (9:00)... Not bad! And nice water down river, where the Caddis are going to be cranked up through the mid afternoon!!!
Next Saturday, though, I'm going to be heading back to Natchitoches to tie at the Second Natchitoches Fishing Expo hosted by the Cane Country Fly Fishers! Last year was a blast and there's all kinds of stuff going on! Tying, casting, places to fish and how to do it! Looking forward to seeing people that I may only get to see once or twice a year! Ya'll head that way, Saturday the 3rd, all day at Prather Coliseum!

Back Cast
Yep! It's "obscene" time!!!! Oh, yeah, and that taxes thing...
It's about now that you'll see the most fish in the river since the AGFC is wrapping up the major stockings. Rumors are that they dropped 4,000 fish at Riverside alone last week!!! And with the fish we were seeing the last few days, that wouldn't surprise me a bit if it's accurate!
Friday before they opened up the gates at Noon, I went out for a while up into the Skinny Water and down into the Flat and found all kinds of things happening! There was probably the single most massive midge hatch I think I've ever seen and it was very concentrated in the riffle areas of the Skinny Water only! Particularly on the west side of the little island in the little rapid there. Tens of thousands of midges hovering low over the water and the fish that were hanging around up there were having a field day with them!
Bill Stewart with his first fish on a fly! >>>>>
I plopped myself down on one of the big boulders and just watched, then tied on a Grizzly Midge and tried to pick out fish to throw to. After watching for a while I was able to spot two or three fish that were sticking to their spots and only moving to feed. Otherwise, you'd have never known they were there until you stepped on them! They were just another stone unless you saw a swish of a tail or a mouth open up! For me that's some of the most enjoyable fishing I can do!
I tried to capture the midge hatch with a flash and the camera low over the water, but they're just too small to show up. All I got were some nice water level shots of the rapid flowing by... Interesting, but not exactly noteworthy. Need a better camera for that!
Eventually, I started my way down the Flat and really started seeing just how many fish were around! Squadrons of 20 - 30 cruising all over! It was simply a matter of having a fly, just about any fly, in front of them with a hint of movement to produce a take! I still had on the Grizzly Midge and it was doing just fine. It was, indeed, one of those "fish released every two minutes" kind of days... Of course the days to follow were pretty much the same story!
<<<<< Alan Carter gets one under control at The Trough!
Just as the sirens started off at Noon I did get one really nice fish, possibly one of last year's residents, about 15" and beautifully colored with full fins! It always seems to happen to me when the sirens go off! I nearly got in trouble on the White once with a 24 incher up in the Bull Shoals C&R Area and a similar occasion on the Norfork too! But I was able to get this one in and off, and get myself out, in plenty of time! An excellent couple of hours of fishing!
Though, I did see signs downstream that ole' bud, Fred Duffer, had had his issues with getting out of the river at the Meat Hole... Those guys went to the Factory Site and then up to Albert Pike for the rest of the afternoon and reported some really nice fishing at both as well. Then they forced me eat Los Agaves to drink some award winning Community Beer operated by a son of one of the guys! Appreciate the brew - quite unique and tasty!
Saturday brought Bill Stewart and Alan Carter (Shreveport, LA) to the river for their first ever fly fishing excursion. They were mostly wanting to learn the "how's", but I suspected we weren't going to have too much of a problem getting a few fish on...
We had just enough wind to make proper casting a bit of a necessity and I always like that. Makes it so much more obvious when the casting is correct and you can't get away with any "squirrelyness"... It really helps the beginners understand why "thinking vertical" makes a difference! By the end of the session the casting was starting to click for the guys and when really nice casts were made there was almost an immediate pay-off! Of course, these fish weren't overly concerned when the casts weren't so good either...
<<<<< A little swirl (or big one) and it was gone!
But it's this time of year that really gets us spoiled on the river. We no sooner had A & W's in the water that there were fish on! The wind really made it difficult to see fish, but then, they can't see so well either and that really makes for a lot of action! Hits were frequent and the guys were having trouble focusing on the casting for all the hits!
What a shame!
After they took off I stayed out and had a little more fun with dries back up in The Trough until it was past lunch time! It was really kind of ridiculous! That's when I visited with John Davis and his daughter, Millicent, for a while. Just about the time that she got that 15+ incher! She was only slightly excited!
On Sunday, Bill and Alan returned for a little bit more and to remember what they had learned the previous day! It's always so much better for beginners to get out two days in a row like that. It really sets in some muscle memory and by the end of the day they were starting to nail more casts than not! And the fish were even more appreciative of the good casting! Despite the cloudy, quieter weather conditions, the fish were still in a nice mood and much more cooperative than they might have been. There was a lot less wind and even a drip or two every now and then. The storms were still on their way in from Texas and Oklahoma!
The guys were in so much more control of the casting and handling of fish on than the day before that I'm sure they were having even more of a good time than day one. I believe they got what they wanted out of the weekend! They were already pondering the return trip!
I headed down to the Hind's Bluff Access just out of curiosity and there was no one at the base of Butt Buster so I got in and had a field day in the fast water and even up into the shoal itself! Lots of Caddis, the little nearly black ones as well as some of the lighter grays! The Unknown Caddis got hammered for about an hour and a half before the weather started to get a little more iffy! I certainly had my fun for the day as well!
<<<<< That's how you do it!
The storms did come eventually and we had some serious water out there - nearly four inches from Sunday through Monday morning! The lake has come up a little more than a foot and a half so far, up to 548.84', but it could be worse! Seen it come up a lot more than that in a couple of days before! It does look like they're running the water according to schedule still, despite the flood pool level, but with no rain forecast for a while, they may be confident that they'll be able to get it back down with regular generation rather than letting a bunch of water go.
They may also be holding back a little right now because of how high the water is down around I-30! If the river gets up around 16' at the Boughton (US 67 gauge) they may hold water for a bit until that begins to fall. It got up to 17.31' this morning at 9:00, but it's already on the fall. Anticipate the generation schedule for the week to hold true... That is, running water 6 AM until 4 PM and then being shut down until 9:00. Good Prime Time fishing this week! And you'll be able to fish Factory Site and Low Water till dark - and then some if you want to!

Back Cast
What a week! headed down to the Port the first of the week to do some construction and we were going along fine until Sandy suddenly wound up with some acute colitis! Off to the emergency room Tuesday morning and an overnight stay in the hospital! Fortunately it went no further, but now she's dealing with the side effects of the heavy antibiotics used to knock it out! About as bad as the cure once again...

I did get back up here Friday and Saturday, Robert Hughes (LA) returned and brought his sister, Judy McIllwain (Russellville, AR) to give the Little Mo' a try! She's had some experience, but we did have a little "restructuring" to do on some casting, but it wasn't too long before we had an A & W working the cruising fish of The Flat!
Judy McIllwain gets it going on The Flat at Riverside! >>>>>
And I'm talking a lot of cruising fish! On several occasions we'd spot 15, 20, maybe two dozen at a time go sliding by us in either direction, not mention the more frequent 5 or 6 at a time! It's that time of year... And even though the water has been very cold, still - it was 48&deg Saturday under the cold winds and cloud cover - the fish have been very active in recent days.
The CORPS did finish their trash rack work mid week and got back to normal generation and normal flows. The minimum flow was back up, but we did get the report that they ran water Friday night much longer than scheduled. Guess that was one of the 5% of the days that they didn't stick to the schedule! I suspect they wanted to get just a little more water off of the lake before the expected rain moves in!
In the meantime, once Judy started hitting the cruising lane the strikes were pretty frequent. And some of the fish we saw were quite nice! In fact I spotted a couple cruising around, all be it, with some pace, that were probably more in the 15-16 inch class! I think they had some place else to be...
And the fish were getting bigger as the day progressed! >>>>>
However, Judy started out kind of small with the first fish in, but I think every ensuing fish was bigger than the last! Finished out the session with one a solid 12 incher and the last fish in hand probably closer to 14!!!
We might could have thrown something else for the sake of argument, but the A&W seemed to be doing just fine. There were still quite a few March Browns on the move throughout the morning, despite the cold water and dubious weather. And we're still a month or more from the peak of the March Brown hatch! But it's not like that shuts off in May - they'll still be around well into June. Some of the best dry fly fishing of the year still to come!
Judy held true to the Guerin 1:4:4 ratio, sticking and landing the fish she should have through the day. Actually might have bested the ratio just a little bit towards the end! Or maybe the odds just evened out at the end for her. Either way the last few fish on were worth waiting for!
After she and Robert headed in, I stuck around for just a little while and moved up to The Triangle and Trough just out of curiosity and hook up a few myself for a change. Everyone probably thinks I fish all the time, but I don't really. But I just had to take a look up in the C&R Area to see where all the fish were going. Man, they were up there in those shallows like you wouldn't believe! Hundreds, on this day at least!!!
<<<<< Until Judy finished with the best for last...
I fished for maybe 45 minutes or so and I have no idea of how many fish I released! Still with an A & W and, honestly, it was a hit on almost every retrieve! Just the way it can be here on some days! It was, indeed, "obscene"! But my feet were cold, the wind chill was significant, and it was way past lunch time! I had seen what I wanted to see!
Not to mention it was getting close to Final Four time. Florida losing was a surprise, Kentucky winning, not so much! Those Freshmen are more scary, I think, than the Michigan Fab Five!!! Love to see them stick together for a couple of years!
The lake is still hovering just under that 548' level. Hopefully we don't get a lot of rain in the next couple of days to where they have to run more than a normal generation schedule, but I still haven't seen a schedule for the coming week. The CORPS really likes to keep the lake close to full without getting into serious trouble (like 2009) and it's a real tight rope walk at this time of year!
Poor guys have a hard time deciding which way to go with releases. They don't want to let water off if they don't have to, but at the same time they are at the mercy of the weather just like the rest of us. A real guessing game they have to do! I think it was 2004 that they stuck to a regular pattern going into the spring and then the last time it rained was in April! It was later that November I believe, I think was the lowest I have ever seen the lake. Drought started in April and didn't really have any rain until the next January!
A real guessing game!

Back Cast
Well, I skipped yesterday on the river, tied flies and tended to our tennis courts! I got my exercise on Saturday, that's for certain. I know there was a lot of folks around though, I saw them rattling through town all afternoon!!!
Will Gorham gets started with his first fish on a fly! Wasn't big, but you got start somewhere and appeasing the Trout Gods pays off in the long run! >>>>>
Anyway, I could stand not being out in that really nice weather yesterday because I knew today was going to be even better! And, apart from the really low clear water, you could barely ask for a nicer day on the river. And old high school class mate Stan Gorham (Shreveport, LA - Byrd class of '75) brought his son, Will, up to get a first taste of the Little Mo' and fly fishing!
After the initial casting instruction and technique study, we tacked on some A & W's and had at them! The action started out pretty hot at late morning and it didn't take very long for Will to get his first trout and fish on a fly hooked up! The water, while down about 6-7 inches, is still quite cool - even under the bright sun - and the fish were really enjoying themselves!
Lots and lots of March Browns fluttering around, and a few Caddis, and there were steady rises all over The Flat! Today it was a matter of having a fly where the fish were. A good cast sure didn't hurt, but we were getting pretty steady action throughout the session and the guys had plenty of fish hooked up, and got to watch a few follows and takes in close quarters! Too much fun!
<<<<< Best fish of the day to end things up with! Literally, the last cast and a beatifully healthy fish!
Stan said he had caught a Brown earlier in his life, but these were his first Rainbows! But both were quite surprised by what it actually takes to throw a fly line and, I think, found it a little fascinating, actually. They seemed to be as interested in casting technique as hooking up some fish. Makes it fun and the days go by so fast when you're getting just enough action on to keep you on your toes!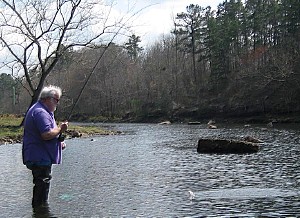 Stan and Will were keeping count on fish, but Will got one more punch in after the bell! Stan had cranked in for the day when Will made that "one more cast" and it was a good one that paid off! A few moments later Will had the best fish of the day in hand at a solid 12 inches, seriously fat, with really nice colors!
Stan Gorham had his share of fish and father and son stayed dead even, I believe... until the last cast! >>>>>
The Flat is crawling with fish right now as they are learning that the shallows is where the food is! I can't believe we are now just a month away from the opening (or "closing" depending on how you look at it) of the Summer Catch & Release Season for the Park! So glad Spring Break is over and the pressure is going to get off the fish a little more. Now we are going into my favorite part of the year! You'll know it's here when you start seeing me wading wet!
The lake is still hovering right at flood pool tonight, 548.04', though it doesn't appear that they plan to let any water go tonight... They didn't last night either. I guess they won't worry about it until we get some more rain, so expect the flows to be lower than normal minimum this week. If they let any water go this week, it will still be at night while the trash rack work continues. When we see a regular generation pattern crank back up, we'll know the work is done and we're back to normal!
Maybe by next weekend! In the meantime, enjoy the March Brown and Caddis hatches!!!!

Back Cast
Always On The Water - Jeff
Home | The Latest | Little Mo Message Board | Friends of the Little Mo | The Skinny Water Project | Stocking Schedule | Fly Tying & Casting Lessons
Ouachita Mountain Flies | Little Mo' Fly Fishing Festival | A Bit About Yours Truly | Prices | How to get here | References and Links | Catch & Release Tips
Custom Rods | The Little Missouri | Around the Area