Little Missouri Fly Fishing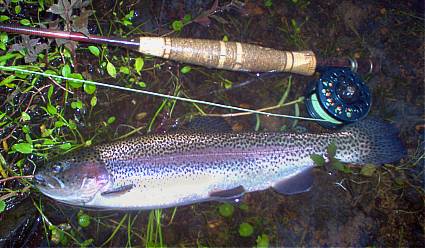 The Latest
Thursday - March 1, 2018
Wednesday - February 7, 2018
Monday - December 18, 2017
Wednesday - December 5, 2017


870-210-3681
Check out the current weather and forecast in Murfreesboro!
First things first!
This year's Fly Fishing Festival was quite nice! Excellent crowd and a ton of fun! I counted right at 65 folks in attendance and a whole bunch of those made it in Friday early to get things started. I want to thanks everyone who helped make this year another enjoyable time for all. While it's gotten to where, as I like to say, this thing kind of runs itself, it doesn't happen without all the support of The Usual Suspects!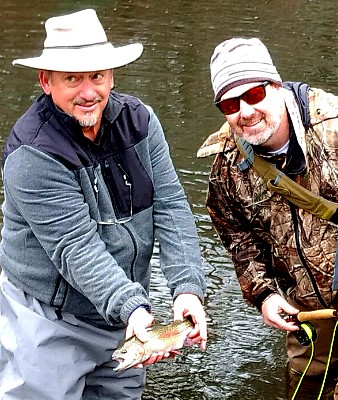 I was quite pleased to get a hold of this really nice resident fish that Breck Myers landed just a few minutes after we kind of wrapped up the Can You Take It casting Clinic! Sometime the Karma is right!!! >>>>
Oh yeah, it was still kind of chilly!
I want to thank (hopefully I'll remember all):

David Chin - Johnny McJunkins - Dick Waldrep
Don Lawler - Rex White - Eddie Driskill - Larry Offner
Bob & Sue Spangler - Tom Bullock - Glen Catch Cormier
Don Jackson Ouachita Outdoor Outfitters
Jake Faulkner - Scott Irwin - Ashley Berry - Jim Simpson
Paul Lawler - Gordon Shaw - Texas Jack Isham
Kris Nault - AGFC Trout Biologist
And the Murfreesboro Chamber of Commerce

And all the folks who brought all the goodies to feed just about everyone and then some, of course!
And if I've left someone off it's only because I've slept since then!!!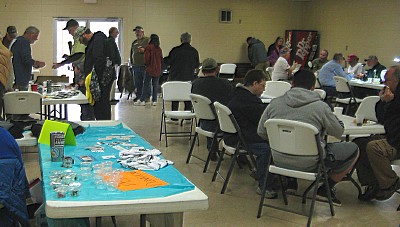 I trust everyone who attended came away with some new flies, new information, new stuff and new knowledge! The weather was decent enough for everyone to get in at least a little fishing too, I know... Even I did on Sunday afternoon!
<<<< Some of the nice crowd at this year's Fly Fishing Festival!
Hate that I missed the midge hatch during the Casting Clinic, but I made up for it up around the Skinny Water later. Several nice Rainbows and a couple of pretty Browns to finish off the weekend! All on a Tiger Midge! They were still obliged to take it even though the hatch was pretty much over.
I know we had some "good" to "excellent" reports since then but, they were from the last to get on the river before the rains kicked in and the gates opened up! So, it's going to be a while before we have any "fishing'" reports I fear! But since I'm going to Mobile to play a in Sectionals tennis tournament next week (our team won State!!!), I wasn't going to be missing much on the river anyway!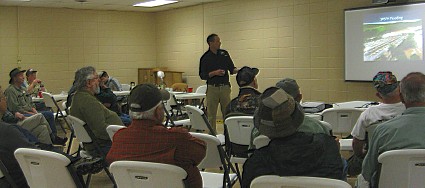 So here's where we are on the river situation! At 4:00 PM today (March 1) the lake is at 562.29' and still rising. FYI all, flood pool is 548' and the spillway crest is 563'... We're nearly there.
AGFC's Kris Nault did a nice job with his general presentation on everything that's been going on with the Trout Program, the Spring River Hatchery issues and good news about the twice as many as usual Browns stocked in February! >>>>
As mentioned in the High Water thread on the Message Board, this is the highest we've seen since May 2009. The record high was in 1968 at 564.60'. It's staggering that it was 41 years apart that the spillway has been topped - it's only happened those two times - and just a few years later we could see it again!
In 2009 we had four solid weeks of 24/7 releases, including much of that with the Bunger Valves open in addition to the regular generators. The CORPS can draw the lake down twice as fast with the Bungers open, but the only drawback to that is that it pulls cold water out of the lake. But with the winter we had, the water from top to bottom of the lake may be colder than we've seen in years. We'll know in June, I guess!
We'll be watching RiverGauges.com very closely, so keep an eye here and particularly on the Message Board. As we get closer to some kind of normal, we can start getting excited to see all the fish that are being stocked on this high water and what kind of scary good shape they are going to be in once we get to see them again!

Back Cast
As Matthew McConaughey is noted for saying: All right, all right, all right!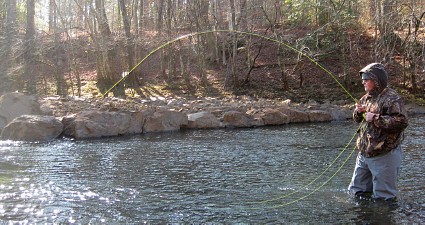 Maybe one of the longest periods in my updates history without an update. Chalk it off to numerous things... Weather, sick, weather, not many people looking to go to the river at that time of year. At any rate, there's been a bunch going on.
Dean Butler battles a nice Bow in the fast water up in the Skinny Water Project. The fish, generally were hitting quite aggressively! >>>>
Got an assortment of information to dispense. Firstly, the CORPS is doing some work on the main transformer in the yard. Hence the excellent flow coming through the power house! If you have not been to the river since late fall or haven't been looking, they are letting about 10 extra inches of water through around the clock. To my knowledge there's been no actual generation in months.
I suspect they (the CORPS) are keeping their own power on at the dam. We've seen this on occasion in the past. They run their own lights. Word is that this project is supposed to last into May 2018! Which means we will likely have this great minimum flow all spring. The lake is currently at 539.63' - ten feet below danger - so maybe we'll get lucky and we won't have to open Bungers or anything like that...
So, the flows are going to be excellent for quite a while. Make for some really nice fishing all up and down the river!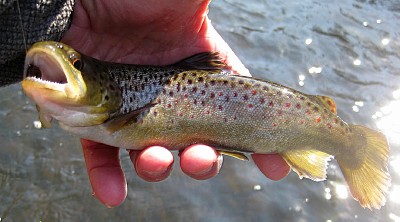 Secondly, and AGFC Biologist Kris Nault will likely give us way more information at the Fly Fishing Festival (NEXT WEEK), the AGFC had quite the flood a year ago at the Spring River Hatchery. It devastated the fish stocks at the time. We did not get the regular summertime stocking we usually do and numbers are going to be down at all the Arkansas trout fisheries for 2018!
<<<< One of Dean's Browns on the day! That little guy looks like he'd just as soon bite your hand off with those teeth!
However, the size for the average fish will be bigger than has been in the last few years. I guess when there's lots of room in the pens the fish can grow larger! January and February numbers will be down about 20% and about 12% for the whole year. Fewer but bigger - not a bad trade!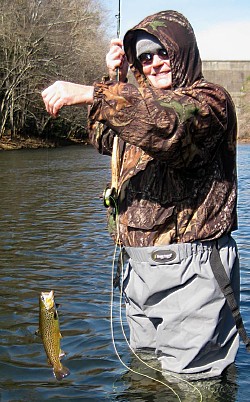 And this past Monday I did make it to the river once again to find that we got a nice load of Browns at Riverside at least. We caught Browns three to one over Bows!!!
And speaking of the fishing, I met with Dean Butler (Hope, AR) Monday on what turned out to be a rather chilly afternoon after all! Fortunately the sun stayed with us until we literally stepped out of the water. It was low to mid 40's all day with just enough breeze to make you stop here an there and warm up the hands.
Dean 's first fish on a fly, a nicely colored Brown - while you could still feel your fingers and toes!!! >>>>
As it was Dean's first fly casting we worked on that for a bit - all the while there were fish chasing Tiger Midges as they hatched and scooted across the surface in the breeze! Once we got through the preliminary casting I went with a Cahill Slider as I thought trying to fish a size 18 Tiger Midge in the chop might have been a little much for Dean's first day.
As we got started Dean asked if we might get a big Brown on the day. Not being aware at the moment of the recent load of fish, I told him it was most unlikely we'd see any Browns! Well a few minutes later he had his first fish on a fly and it was a nice 11 inch Brown! Very nice colors, but still, no doubt, a fresh fish. so it was safe to say that AGFC brought some Browns in last week!
The Slider worked fine, as did a Long Creek in the faster flows up in the Skinny Water and an A & W the rest of the time. The midge hatch lasted from about 11:00 to 1:00 or so and we did see a few March Browns popping out occasionally.
The first Rainbow Dean landed was a very nice fish with deep red belly fins, but not entirely white tipped yet and a tail that was nearing clean. really good shape for this time of year, so be ready for some healthy fish. The lack of high water, but a decent flow all the time is going to have them in excellent condition faster than usual I bet!
There hasn't been much need to update the Generation Schedule on the Message Board as there's nothing different to expect any time soon. We may well have one of the best springs ever! The only thing that worries me however, is the reddish silt that has settled at the Park... I didn't make it down the river Monday so i don't know how much has settled only in the upper reaches and not further down. A little hit of high water probably wouldn't hurt. Hey Keith Kopp, how did it look at hind's Bluff???
Enjoy! Enjoy! Enjoy!!!

Back Cast
From good days, to bad days, to decent days!!! No real explanation...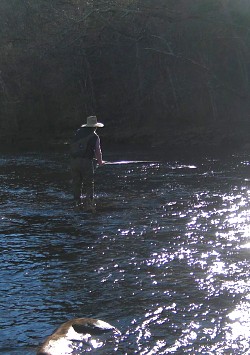 Last week (Sunday), Breck Myers and his bud, David Haas (Shreveport, LA) came up to the river in anticipation of some more good fishing like we had the last couple of weeks! Baaannnhhh!!! "Thanks for playing!"
Man! We had everything going for us that we could have asked for! Nice weather, great water, small crowds... But the fish had other plans. They barely gave us the time of day no matter how hard we worked! It was almost as though they were simply ticked off! I guess people had been at them enough to get the ones that survived the initial onslaught of anglers in a foul mood.
<<<< Breck Myers barely visible in the bright sun at the Skinny Water... Fish were barely visible on the day as well!
And it really seemed like there were already noticeably fewer fish in the river than the week before. With only so many fish having gone in the river to that point, I guess it doesn't take long to make a dent in that population... Coupled with the extra water flowing, some of those may have made it to safer areas already, as well. Whatever the case, we just weren't raising a whole lot of fish!
Neither in the Skinny Water which had been fishing so well, or around River Ridge where we only saw a couple, or the Hind's Bluff Access where there was at least a better concentration of fish, but they all had closed mouth syndrome. It was to say the least a brutal day! We did find out that everyone who was around that day was pretty much experiencing the same thing!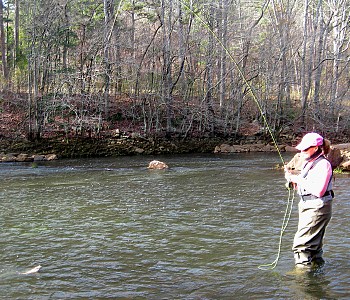 One of the guys from the Lake Charles fly fishing club told us that Friday had been OK, but Saturday was quiet and Sunday had been bad. Three of their guys had been skunked! Of course, to me, truly skunked is when you don't even raise a fish... At least we weren't quite there, but it was close!!! We wrapped up the day with our tails tucked for a change...
This past Saturday (the 16th) Norman LaFargue and Stacey Marks (Shreveport) met me at Riverside to see what we could do! What a difference a few days makes... The water is no longer crystal clear as it has been for some time. It has a dingy color to it and there is a bunch of reddish silt filtering through the dam right now!
Stacey Marks gets into a nice resident fish in the faster water! >>>>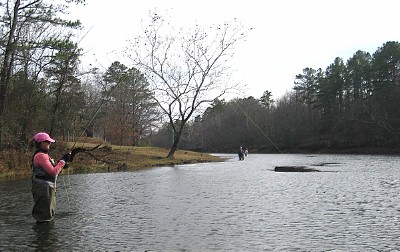 I suspect the lake is turning over and the low levels - 535.44' - is moving some pretty yucky water through the gates.
There may be some oxygen depletion going on with that sediment filled water coming through. Obviously not lethal, but we may have some low energy fish around before it clears up or the lake get flushed with some good rains.
<<<< Stacey finished up with one at The Trough too.
But at least we did get into some fish on a reasonably regular basis on the day. It was only Stacey's second time to try some fishing on the river and we worked on casting for a bit before we started seriously looking for fish. She also got the first one. We had been watching one come up consistently just in reach and once we put on an A & W it wasn't real long before Stacey was able to raise that one!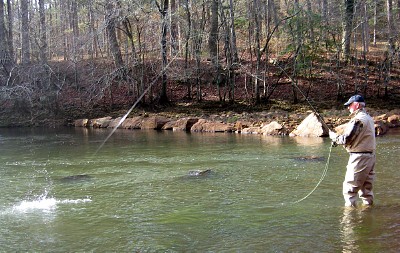 But that was out in The Flat where they were spread out pretty thin... Word came through the Message Board! that we did indeed get more loads of fish during the week so I assumed there were some fish moved back up into the Skinny Water. There were just enough!
Norman LaFargue ties into one with quite the ruckuss! Notice the off color of the water here... >>>>
It gave Stacey and Norman plenty to do for a while, lots of high sticking in the moving water, swing drifts, foam lines and seam fishing. It also produced a couple of really nice fish with another resident in the fast water, a nice Eagle Lake male with some teeth and a full set of fins!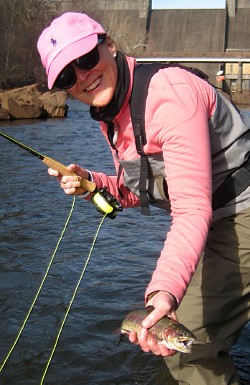 You have to work this kind of water very thoroughly! Norman found that out a bit by accident on one fish. He had made a good cast to the far side of the run which raised a fish immediately, but numerous good drifts through the same zone failed to produce... Fish will frequently take a while to get back to their spot once they show themselves, but this took way too long for that to happen.
<<<< Stacey shows off a nice resident fish with really great colors!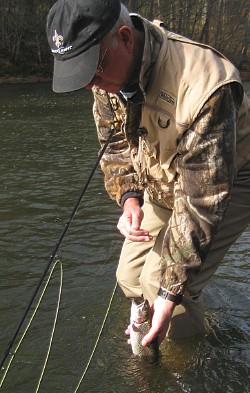 However as Norman "trolled" his Long Creek while we repositioned by just a few few feet, a fish came out from the boulders on the near side of the run to take the fly! Of course, we have no idea if it was the same fish or not, but it was in a spot we had kind of ignored working the other side of the foam line...
So, be thorough in the fast water! I know when I was "coming up" fishing at Albert Pike there were numerous times that I nearly stepped on fish in spots that I just didn't even think might hold one! Tailwaters and free flowing streams have their differences, naturally, but you have to assume!
Norman got in on the healthy fish too! >>>>
All in all we had a decent session and enjoyed some nice weather, a tad cool, but not too bad before yesterday's rains moved in on everybody! After what seems to have been months with no rain, we are finally getting into some normal rains. And cold ones at that. That's a good sign for next summer as long as we don't have any seriously high water in the spring where the CORPS has to open the Bunger Valves and draw off that cold water.
Expect more stocking through the end of the month and then we'll have to see if we get the usual big loads in January, February and March! Looking for a nice winter season! We'll see how the fishing is this weekend in the meantime though!

Back Cast
Some very nice fishing of late!!!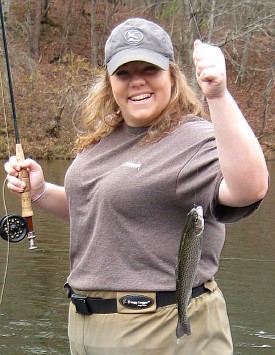 As you may have seen on the Message Board - strange doings at the power house on the dam... Still don't know exactly what's going on in there - obviously some serious equipment being redone undoubtedly - but the upshot is that a small percentage of gate #3 has been open for about a week, at least, now!!! That's putting about 8-10 extra inches of water into the river around the clock.
Elizabeth Hazen starts the day off nicely with her first trout on a fly! >>>>
We've seen this scenario periodically over the years and I can only suspect that they are "running their own lights" while the work is being done - however long that's going to be!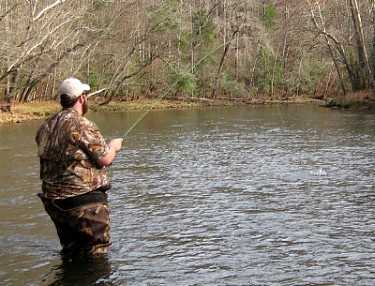 So if you can take advantage of the extra minimum flow, I would highly recommend it while you still can. Maybe we can get some word as to how long to expect said work to take...
<<<< Matt Brown gets in to quite a few later in the day at the Hind's Bluff Access...
Saturday (Dec 2nd) Elizabeth Hazen brought Matt Brown up from Texarkana for a seriously covert birthday present! She had this trip in the works for months and he just got the word over Thanksgiving that they were going to the river! Well done Elizabeth!!!
These two excellent students took to the casting in a heartbeat (relatively speaking) and we had flies in the water in no time!
The extra water allowed us to fish Long Creeks easily in The Flat. Unfortunately there just wasn't a lot happening around the Park, and we did raise a few fish, but after some work it was Elizabeth who the first to score!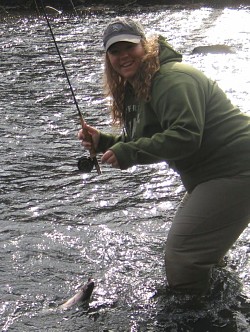 There was no lack of smack either with her being the first to get one in hand!
We took a look in at River Ridge after that, but it was a little crowded... We fished just a little while in the shoal below the weir where we raised a couple more in the fast water. Elizabeth and Matt were getting a lot of education on how a trout stream works, where to find fish and how to reach them. It was already an enjoyable day!
Elizabeth with certainly one of the better fish on the day! >>>>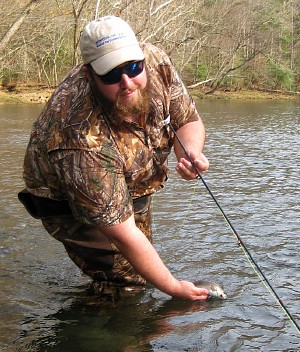 But, once again, it was the Hind's Bluff access that held in store the most fun. We tried the bottom of the pool initially and that produced some fish, but with the flow as it was, fishing the bottom of Butt Buster Shoal was just an excellent situation!
We tried swinging both Long Creeks and A & W's around the fast water. Savage hits in the riffles and happy fish in the high oxygen levels below the shoal!
<<<< I think this was probably Matt's first one... He made up for the early slow start towrds the end of the day!
It was certainly a fine day. And some really nice fish caught. These early loads of freshies have indeed had some decent fish on them!
Yesterday (Monday, Dec 4) David Cooksey (Shreveport) returned after several years away from the Little Mo'! Enough to where we couldn't be sure how far back it was... That's too long, ya know!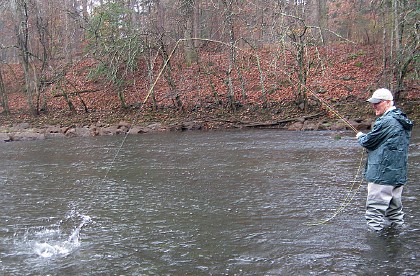 But what a time to make the trip. We had most all the river to ourselves! By the way, Saturday afternoon I scouted a bit... David and I headed right up into the Skinny Water.
David Cooksey hangs on to a nice one, displacing some water, in the Skinny Water! >>>>
There were plenty of fish hanging around in there with the extra flows and it made for some really nice fishing again! I dare say that's only going to get better as long as this keeps up!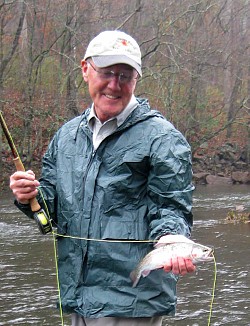 There were fish in almost every little spot they should have been and we worked the stretch over quite thoroughly! I told David that I personally could probably fish that 50-60 yards for a solid four hours and be happy!
<<<< Yep, that's pretty nice to start out with!
There's so many "situations" in there to work with! We "dead-drifted", "high-sticked", and "down & acrossed" with mending, finger bumps, and lift techniques for a couple of hours!!! The whole time getting fish right where they were supposed to be!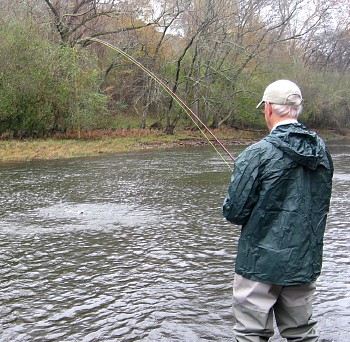 Even got at least a couple of resident fish in great shape in the fast water! Wasn't sure there were any left... I was certainly enjoying it. Even the fish from the first load are getting in pretty decent shape already too.
Over the shoulder view with David. Kind of makes you want to go fishing, eh? >>>>
We moved out of the Skinny Water eventually and were going to head downriver, but several fish kept showing in one of my favorite little pockets in the shallow end of the Flat! I couldn't stand to let them go unscathed...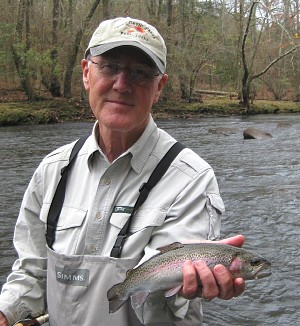 I switched David to an A & W for the slightly slower, shallow water and we started creeping towards the spot... But before we could even get into the prime zone, David got absolutely hammered by a chunky fish on the move. And that "move" was at high speed! What a hit!!!
<<<< Just one of numerous nice fish on Monday! I'd probably say David landed a half dozen like this and several others of a "slightly lesser" standard...
Turned out (several minutes later) to be a freshie, but fat and about 12 inches! Even gave David a couple of knuckle busters! After one more fish there we moved out and finished the day at Butt Buster!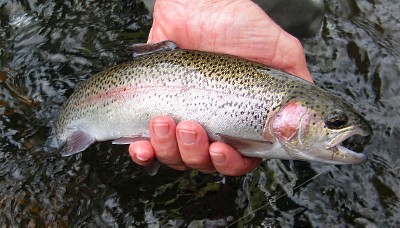 There it essentially was more of what Elizabeth and Matt had experienced on Saturday! Only David had the whole place and all the fish to himself!!!
Yep, that's starting to get there in this new season! >>>>
Again, even the fish that were stocked in the first loads are already starting to show nice condition. Some of these were in the 12 inch class, but hefty and strong. Even displayed some nice aerials for us!
The weather even cooperated and held off with only a few minutes of the slightest drizzle. That changed up there overnight though and the lake finally got some nice cool rain coming in. So far I really like the way the winter is going!

Back Cast
Always On The Water - Jeff
Please join in on the Message Board! Email me to register...
Click here to E-mail me at jeffonthelittlemo@gmail.com and say "hi" if you have any questions! Remember, if you do e-mail me, make sure you mention fishing on the subject line and identify yourself. Otherwise, I'm liable not to open the e-mail. That virus thing, you know!