Please join in on the New Message Board! Easy registration and log in!
Click here to E-mail me at jeff@littlemissouriflyfishing
and say "hi" if you have any questions!
Remember, if you do e-mail me, make sure you mention fishing on the subject line and identify yourself.
Otherwise, I'm liable not to open the e-mail. That virus thing, you know!
Check out the current weather and forecast in Murfreesboro!
Yep! It's "obscene" time!!!! Oh, yeah, and that taxes thing...
It's about now that you'll see the most fish in the river since the AGFC is wrapping up the major stockings. Rumors are that they dropped 4,000 fish at Riverside alone last week!!! And with the fish we were seeing the last few days, that wouldn't surprise me a bit if it's accurate!
Friday before they opened up the gates at Noon, I went out for a while up into the Skinny Water and down into the Flat and found all kinds of things happening! There was probably the single most massive midge hatch I think I've ever seen and it was very concentrated in the riffle areas of the Skinny Water only! Particularly on the west side of the little island in the little rapid there. Tens of thousands of midges hovering low over the water and the fish that were hanging around up there were having a field day with them!
Bill Stewart with his first fish on a fly! >>>>>
I plopped myself down on one of the big boulders and just watched, then tied on a Grizzly Midge and tried to pick out fish to throw to. After watching for a while I was able to spot two or three fish that were sticking to their spots and only moving to feed. Otherwise, you'd have never known they were there until you stepped on them! They were just another stone unless you saw a swish of a tail or a mouth open up! For me that's some of the most enjoyable fishing I can do!
I tried to capture the midge hatch with a flash and the camera low over the water, but they're just too small to show up. All I got were some nice water level shots of the rapid flowing by... Interesting, but not exactly noteworthy. Need a better camera for that!
Eventually, I started my way down the Flat and really started seeing just how many fish were around! Squadrons of 20 - 30 cruising all over! It was simply a matter of having a fly, just about any fly, in front of them with a hint of movement to produce a take! I still had on the Grizzly Midge and it was doing just fine. It was, indeed, one of those "fish released every two minutes" kind of days... Of course the days to follow were pretty much the same story!
<<<<< Alan Carter gets one under control at The Trough!
Just as the sirens started off at Noon I did get one really nice fish, possibly one of last year's residents, about 15" and beautifully colored with full fins! It always seems to happen to me when the sirens go off! I nearly got in trouble on the White once with a 24 incher up in the Bull Shoals C&R Area and a similar occasion on the Norfork too! But I was able to get this one in and off, and get myself out, in plenty of time! An excellent couple of hours of fishing!
Though, I did see signs downstream that ole' bud, Fred Duffer, had had his issues with getting out of the river at the Meat Hole... Those guys went to the Factory Site and then up to Albert Pike for the rest of the afternoon and reported some really nice fishing at both as well. Then they forced me eat Los Agaves to drink some award winning Community Beer operated by a son of one of the guys! Appreciate the brew - quite unique and tasty!
Saturday brought Bill Stewart and Alan Carter (Shreveport, LA) to the river for their first ever fly fishing excursion. They were mostly wanting to learn the "how's", but I suspected we weren't going to have too much of a problem getting a few fish on...
We had just enough wind to make proper casting a bit of a necessity and I always like that. Makes it so much more obvious when the casting is correct and you can't get away with any "squirrelyness"... It really helps the beginners understand why "thinking vertical" makes a difference! By the end of the session the casting was starting to click for the guys and when really nice casts were made there was almost an immediate pay-off! Of course, these fish weren't overly concerned when the casts weren't so good either...
<<<<< A little swirl (or big one) and it was gone!
But it's this time of year that really gets us spoiled on the river. We no sooner had A & W's in the water that there were fish on! The wind really made it difficult to see fish, but then, they can't see so well either and that really makes for a lot of action! Hits were frequent and the guys were having trouble focusing on the casting for all the hits!
What a shame!
After they took off I stayed out and had a little more fun with dries back up in The Trough until it was past lunch time! It was really kind of ridiculous! That's when I visited with John Davis and his daughter, Millicent, for a while. Just about the time that she got that 15+ incher! She was only slightly excited!
On Sunday, Bill and Alan returned for a little bit more and to remember what they had learned the previous day! It's always so much better for beginners to get out two days in a row like that. It really sets in some muscle memory and by the end of the day they were starting to nail more casts than not! And the fish were even more appreciative of the good casting! Despite the cloudy, quieter weather conditions, the fish were still in a nice mood and much more cooperative than they might have been. There was a lot less wind and even a drip or two every now and then. The storms were still on their way in from Texas and Oklahoma!
The guys were in so much more control of the casting and handling of fish on than the day before that I'm sure they were having even more of a good time than day one. I believe they got what they wanted out of the weekend! They were already pondering the return trip!
I headed down to the Hind's Bluff Access just out of curiosity and there was no one at the base of Butt Buster so I got in and had a field day in the fast water and even up into the shoal itself! Lots of Caddis, the little nearly black ones as well as some of the lighter grays! The Unknown Caddis got hammered for about an hour and a half before the weather started to get a little more iffy! I certainly had my fun for the day as well!
<<<<< That's how you do it!
The storms did come eventually and we had some serious water out there - nearly four inches from Sunday through Monday morning! The lake has come up a little more than a foot and a half so far, up to 548.84', but it could be worse! Seen it come up a lot more than that in a couple of days before! It does look like they're running the water according to schedule still, despite the flood pool level, but with no rain forecast for a while, they may be confident that they'll be able to get it back down with regular generation rather than letting a bunch of water go.
They may also be holding back a little right now because of how high the water is down around I-30! If the river gets up around 16' at the Boughton (US 67 gauge) they may hold water for a bit until that begins to fall. It got up to 17.31' this morning at 9:00, but it's already on the fall. Anticipate the generation schedule for the week to hold true... That is, running water 6 AM until 4 PM and then being shut down until 9:00. Good Prime Time fishing this week! And you'll be able to fish Factory Site and Low Water till dark - and then some if you want to!

Back Cast
What a week! headed down to the Port the first of the week to do some construction and we were going along fine until Sandy suddenly wound up with some acute colitis! Off to the emergency room Tuesday morning and an overnight stay in the hospital! Fortunately it went no further, but now she's dealing with the side effects of the heavy antibiotics used to knock it out! About as bad as the cure once again...

I did get back up here Friday and Saturday, Robert Hughes (LA) returned and brought his sister, Judy McIllwain (Russellville, AR) to give the Little Mo' a try! She's had some experience, but we did have a little "restructuring" to do on some casting, but it wasn't too long before we had an A & W working the cruising fish of The Flat!
Judy McIllwain gets it going on The Flat at Riverside! >>>>>
And I'm talking a lot of cruising fish! On several occasions we'd spot 15, 20, maybe two dozen at a time go sliding by us in either direction, not mention the more frequent 5 or 6 at a time! It's that time of year... And even though the water has been very cold, still - it was 48&deg Saturday under the cold winds and cloud cover - the fish have been very active in recent days.
The CORPS did finish their trash rack work mid week and got back to normal generation and normal flows. The minimum flow was back up, but we did get the report that they ran water Friday night much longer than scheduled. Guess that was one of the 5% of the days that they didn't stick to the schedule! I suspect they wanted to get just a little more water off of the lake before the expected rain moves in!
In the meantime, once Judy started hitting the cruising lane the strikes were pretty frequent. And some of the fish we saw were quite nice! In fact I spotted a couple cruising around, all be it, with some pace, that were probably more in the 15-16 inch class! I think they had some place else to be...
And the fish were getting bigger as the day progressed! >>>>>
However, Judy started out kind of small with the first fish in, but I think every ensuing fish was bigger than the last! Finished out the session with one a solid 12 incher and the last fish in hand probably closer to 14!!!
We might could have thrown something else for the sake of argument, but the A&W seemed to be doing just fine. There were still quite a few March Browns on the move throughout the morning, despite the cold water and dubious weather. And we're still a month or more from the peak of the March Brown hatch! But it's not like that shuts off in May - they'll still be around well into June. Some of the best dry fly fishing of the year still to come!
Judy held true to the Guerin 1:4:4 ratio, sticking and landing the fish she should have through the day. Actually might have bested the ratio just a little bit towards the end! Or maybe the odds just evened out at the end for her. Either way the last few fish on were worth waiting for!
After she and Robert headed in, I stuck around for just a little while and moved up to The Triangle and Trough just out of curiosity and hook up a few myself for a change. Everyone probably thinks I fish all the time, but I don't really. But I just had to take a look up in the C&R Area to see where all the fish were going. Man, they were up there in those shallows like you wouldn't believe! Hundreds, on this day at least!!!
<<<<< Until Judy finished with the best for last...
I fished for maybe 45 minutes or so and I have no idea of how many fish I released! Still with an A & W and, honestly, it was a hit on almost every retrieve! Just the way it can be here on some days! It was, indeed, "obscene"! But my feet were cold, the wind chill was significant, and it was way past lunch time! I had seen what I wanted to see!
Not to mention it was getting close to Final Four time. Florida losing was a surprise, Kentucky winning, not so much! Those Freshmen are more scary, I think, than the Michigan Fab Five!!! Love to see them stick together for a couple of years!
The lake is still hovering just under that 548' level. Hopefully we don't get a lot of rain in the next couple of days to where they have to run more than a normal generation schedule, but I still haven't seen a schedule for the coming week. The CORPS really likes to keep the lake close to full without getting into serious trouble (like 2009) and it's a real tight rope walk at this time of year!
Poor guys have a hard time deciding which way to go with releases. They don't want to let water off if they don't have to, but at the same time they are at the mercy of the weather just like the rest of us. A real guessing game they have to do! I think it was 2004 that they stuck to a regular pattern going into the spring and then the last time it rained was in April! It was later that November I believe, I think was the lowest I have ever seen the lake. Drought started in April and didn't really have any rain until the next January!
A real guessing game!

Back Cast
Well, I skipped yesterday on the river, tied flies and tended to our tennis courts! I got my exercise on Saturday, that's for certain. I know there was a lot of folks around though, I saw them rattling through town all afternoon!!!
Will Gorham gets started with his first fish on a fly! Wasn't big, but you got start somewhere and appeasing the Trout Gods pays off in the long run! >>>>>
Anyway, I could stand not being out in that really nice weather yesterday because I knew today was going to be even better! And, apart from the really low clear water, you could barely ask for a nicer day on the river. And old high school class mate Stan Gorham (Shreveport, LA - Byrd class of '75) brought his son, Will, up to get a first taste of the Little Mo' and fly fishing!
After the initial casting instruction and technique study, we tacked on some A & W's and had at them! The action started out pretty hot at late morning and it didn't take very long for Will to get his first trout and fish on a fly hooked up! The water, while down about 6-7 inches, is still quite cool - even under the bright sun - and the fish were really enjoying themselves!
Lots and lots of March Browns fluttering around, and a few Caddis, and there were steady rises all over The Flat! Today it was a matter of having a fly where the fish were. A good cast sure didn't hurt, but we were getting pretty steady action throughout the session and the guys had plenty of fish hooked up, and got to watch a few follows and takes in close quarters! Too much fun!
<<<<< Best fish of the day to end things up with! Literally, the last cast and a beatifully healthy fish!
Stan said he had caught a Brown earlier in his life, but these were his first Rainbows! But both were quite surprised by what it actually takes to throw a fly line and, I think, found it a little fascinating, actually. They seemed to be as interested in casting technique as hooking up some fish. Makes it fun and the days go by so fast when you're getting just enough action on to keep you on your toes!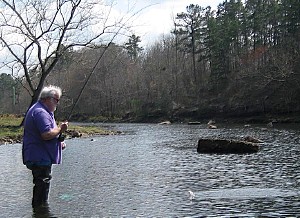 Stan and Will were keeping count on fish, but Will got one more punch in after the bell! Stan had cranked in for the day when Will made that "one more cast" and it was a good one that paid off! A few moments later Will had the best fish of the day in hand at a solid 12 inches, seriously fat, with really nice colors!
Stan Gorham had his share of fish and father and son stayed dead even, I believe... until the last cast! >>>>>
The Flat is crawling with fish right now as they are learning that the shallows is where the food is! I can't believe we are now just a month away from the opening (or "closing" depending on how you look at it) of the Summer Catch & Release Season for the Park! So glad Spring Break is over and the pressure is going to get off the fish a little more. Now we are going into my favorite part of the year! You'll know it's here when you start seeing me wading wet!
The lake is still hovering right at flood pool tonight, 548.04', though it doesn't appear that they plan to let any water go tonight... They didn't last night either. I guess they won't worry about it until we get some more rain, so expect the flows to be lower than normal minimum this week. If they let any water go this week, it will still be at night while the trash rack work continues. When we see a regular generation pattern crank back up, we'll know the work is done and we're back to normal!
Maybe by next weekend! In the meantime, enjoy the March Brown and Caddis hatches!!!!

Back Cast
Hey! It's actually finally started raining with full fledged thunder and lightning... So let me catch up for the week!
Well, after a quick turn-around to the Port for a burial service on Monday, for one of Sandy's best friends, Donna Dunn (our thoughts are with Forrest Dunn this week...), I was back on the river...
Tuesday with Tom Mee (Shreveport, LA)! It turned out to be an awesome afternoon on the falling water.
As anticipated, the CORPS is dealing with a dicey situation on the lake. With the divers not quite ready to get into the lake on Monday, the CORPS was trying desperately to keep the lake close to flood pool so we saw the Bungers Valves blowing and going till 1:00 on Tuesday afternoon! But just as quick as we could we got into the water at the Park and had fish all over the place.
<<<<< Tom Mee gets one in at the Trough... Just a little breezy out there!
It turned in to a perfect afternoon for fishing with cool, dry winds out of the north and bright sun! Just the way the bugs and fish like it! Which kind of means we like it too... And we've seen about all kinds of weather we need to see this week already! We'll have to see what happens in the next 24 hours, though... Much prefer what we had on Tuesday and Wednesday morning!
At any rate, the falling water made for some nice fishing the rest of Tuesday afternoon and Tom took full advantage of it! We spent plenty of time up in the park throwing an A & W with plenty of action. The wind did make things a little interesting every now and then, but I'll take that over dead calm any time!
Tom works a long "high-stick" in the falling water at the Old Factory Site weir... Lots of fish in there! >>>>>
We didn't get into anything extraordinary, but a few nice fish none the less. I will say that there are a lot of fish up in the Park cruising around confidently... Pretty decent number of March Browns on the move too. Nice hatches getting going right now. March Browns and Caddis both!
We tried to give the water enough time to drop downriver and headed for the Old Factory Site to see if it might be fishable yet. It was running pretty strong still, but just getting fishable by the time we got in.
We got Tom working some "high-sticking" with a relatively long line which is one of the more difficult things you might have to do, but he was pulling it off enough to reach the main line where the fish were concentrated. Once he got the Little Mo' Wooly into the zone, it was hits on just about every other drift! And some nice, strong fish in there too!
Chunky and strong in the heavy water too! >>>>>
The only real problem with fishing where we were at that time of day was looking into the sun! ANd the cold feet this week. Water coming out of the Bungers is very cold! 46&deg on Tuesday! It was 44&deg today under the rain and clouds!
I suspect Tom's right shoulder needed some Advil once he got back into the cabin when we were done. That was a lot of high rod work! Good day of fishing!
Wednesday was kind of interesting... The first half of the day I spent with Fred Church (Little Rock, AR) with some really nice weather, but extra low water since they shut the Bungers down at 7:00 AM and they just aren't letting much of any kind of flow come through that dam! But there were still a lot of fish roaming around the Flat though we were having a bit of a challenge raising them with consistency.
Fred had brought his Tenkara rod and it was actually the first time I've handled and worked with one on the river. It does have place here and there, but I have to be honest, it has more limitations than pros for my particular taste...
Fred gets into a nice one during the Caddis hatch at Butt Buster Shoal!!! >>>>>
We did get some fish on with it using an A & W and an R & A March Brown as well! I could see using the Tenkara quite effectively in some high sticking applications, but it wasn't real handy for the type of fishing needed for the Flat and the still waters with the wind. Just my opinion...
We moved down to the Hind's Bluff Access which wasn't crowded at all and we had a great Caddis hatch coming off Butt Buster Shoal by the time we got there! Honest to God, it seemed like there was about 200 fish rising every half second in the riffles to Caddis! So did we have some action? A bit...
Of course, we had to break out the Unknown caddis again for that...

I could see some of Fred's Tenkara habits come into play as he was dealing with fish though. He was accustomed to having to reach for fish from a little far away when landing them as you might can glean from the pictures here.
Needed to bring in a little more line there, eh Fred?

Following a break and one visit to Los Agaves with Fred (thanks Fred!), I hooked up with Randy Hornbeck (Hot Springs, AR) as the clouds started to move in from the southwest making the afternoon session entirely different from the morning one!
But it still was pretty decent as we had plenty of fish to work with on some short casts in the clear shallow water of the Park. Randy had come to get some initial casting instruction mostly and maybe a little fishing. I think he got plenty of both!
After getting a good grasp of the casting we went to work on fish and dealt with the slick quiet waters and increasing over cast as best we could. Really made Randy focus on getting some clean casts delivered. But the nice casts paid off with fish, or at least interest from fish, more often than not! It was really fun fishing!
Randy gets a taste of the "trout between the feet" ploy! >>>>>
We also switched out to an R & A just to do something different and have a little more fun! Once again, there's nothing quite like watching fish come up under a dry and seeing the take! I do believe Randy was having about as much fun as I was! Unfortunately that was cut short by the siren going off at 6 PM and a wall of water coming through the Bunger valves!
As I've mentioned elsewhere, there's a big difference between water coming, with about a five minute stagger between gate openings, through the turbines and ALL of it coming through the Bungers at once!!! Quite the wave coming through the Skinny Water!
We saw the CORPS divers at Los Agaves that evening (thanks also, Randy, for supper!!!) and they did confirm that we wouldn't see any high water while they were in the water - which appears to be from about 7 AM to 6 PM... He also told us that they would probably get the job done in just a few days, assuming they don't run into any problems. I don't know if heavy weather will keep them from diving or not... We may see some tomorrow, so I guess we'll see if that's an issue.
<<<<< But Randy won out in the end...
The lake is just above flood pool and running the Bungers this evening is only keeping it steady right now. That is, they're getting off only as much water as is coming in. "Stalemate" in other words, and that's not really a good thing, but it's way better than a big rise into flood pool! In which case, we'd be seeing non-stop high water in the immediate future!
Hopefully, the divers will have to continue working through the weekend. Otherwise, the CORPS may have to let some water go until they get the lake back below 548'. Fortunately, it's currently only at 548.04' and now falling. We also got lucky today in that while we had some showers, we had no major rain up in the lake's drainage and the upper river only came up a thousandth of a foot or so tonight!
So, with the Bungers flowing they should be able to get the lake back below 548' over night and maybe we'll get lucky again and not get much rain on Friday... It'll certainly be nice to get the flows back to normal!
Thursday brought Chris Young (Hot Springs, AR) and daughter, Meg, over for some education and a bit of fishing! First time casting for Meg and some revelations for Chris! They did quite well and it didn't take too long to get some flies in the water.
Meg Young gets her first trout on a fly at the base of Butt Buster Shoal in the drizzle and occasional rain while dad looks on! >>>>>
We stayed around the Park for a while and moved a few fish, but we went ahead and moved down to Hind's Bluff Access since I hadn't noticed any cars there on my way up to meet them. Well sure enough, it was one of the rare occasions that we were the only ones there for quite a while!!! I assume the weather, which was throwing some big drops on us here and there, and the chilly weather was keeping folks away for much of the day. Fine by me!
There was still a decent flow from the overnight water releases and lots of fish feeding even though the water was even cooler than the day before at 44&deg !!!! Man, that's some cold water coming out of the Bungers. I hope we don't have to pull a whole lot more out of there.
<<<<< Chris gets in one of quite a few Eagle Lake Rainbows that we saw this week! I really like seeing that many Eagle Lake fish in the river at this point. Holds promise for a great summer!
At any rate, we still had quite a bit of action in the cold flows. I had Meg drifting a Long Creek Light over the deeper part of the runs while Chris was swinging a Smidge in keeping with the Hopping & Popping Caddis that were out, but not as much as if the weather had been more to their liking... Most of the takes were a little more subtle on the day than typical. 44&deg will make you do that!
But despite Meg's frozen feet, we had plenty of fun and a good number of fish pulling on lines! But it wasn't a few minutes after they headed home that the rain really moved in. I was done for the day!
And today, Keith Sherrill brought his wife, Theresa (Shreveport, LA), to the river for a birthday present casting lesson and a little bit of fishing. Theresa found the casting quite fun, but the fish weren't being very nice in the low clear waters of the Flat on this day.
A lot of looks and follows with an R & A but only a couple of fish that really got a hold of it enough for Theresa to feel them on the other end. But! Not a complete skunking on her first try! Unfortunately they had to catch up with the rest of their clan before we could get Theresa a fish in hand. We had to get out for a few minutes in there too, due to a strong thunder cell that moved just to the south of us.
I got in to the Trough for a few minutes and of course, right after Keith and Theresa left, the wind cranked up from the north and the sun came out and the Flat was crawling with happy fish!!! Hate to tell them that, but they should have been here... an hour later! But that didn't last real long as the serious storms moved in with significant rain and a bunch of thunder and lightning that's still around! Hopefully, we're about done for today and the lake stays under control. I see they're cranked back up today at 6 PM!
Look for more of the same tomorrow...

Back Cast
Busiest week of the year going on! Spring Breakers all over the place! And weird water to go with it!
They did NOT shut down Friday afternoon which put a little damper on the fishing with Carlton Townsend and Dan Fromme who had come up from Alexandria / Bunkie, LA to get started on a long weekend of fishing! The one generator made the river un-wadeable, but not entirely un-fishable! After a bit of casting we did get some Olive Little Mo' Woolies down just enough to reach a few fish!
Dan Fromme wades one generator at Riverside on Friday evening - successfully! >>>>>
Actually we raised quite a few more than I would have expected, but I guess the fish were getting used to the flows of recent weeks and realized it's OK to feed up through the flows of one generator!
<<<<< Dan's first trout on a fly!
The only problem is that one generator is just enough water to make almost everywhere impossible to get into! riverside was about the only place you can do anything with any kind of consistency.
But the guys did get enough fish in hand to make throwing a fly in there worthwhile. We spent the rest of the evening scouting out places for them to fish on Saturday!
Saturday I spent with Lindsey Pennington and Matt Clavenna (Shreveport - LSU Med) for their first time on the Little Mo'! We got down to the river's edge and realized that we are missing about 8 inches of water this weekend!
Apparently the CORPS has the powerhouse completely shut down and all we're getting for minimum flow is true "leakage' as it's called. If you think the minimum flow is pretty minimal, you should see it right now...
<<<<< Lindsey with one of the fish from The Trough!
However, it did not deter the fish from being fairly active under the over-cast skies and we had quite a bit of action, actually - just not a lot of fish landed. It was Matthew's first time to ever throw a fly line and Lindsey's first ever fly fishing on foot! So with casting instruction throughout the day, the guys got substantial interest on A & W's for the most part and even a little dry fly action with the Royal & Ancient March Brown! Seems though, that every time Lindsey looked away from the dry for an instant - that's when she got hit! Uncanny! But still managed to get a couple on with the R&A's!
To me, there's not a whole lot more fun than fishing a dry 15 feet from in the shallow crystal clear water of the Flat! Particularly when the fish are getting after the March Browns pretty confidently! While it was over cast, we did have some significant periods of breeze and the action really picked up when that was going on! Just enough wind to get the fish reckless, even in the quiet waters.
Matthew Clavenna gets his first fish on a fly where so many others have done the same! Right in the infamous Copperhead Crossing! Notice the water olines on the boulder - about 6-8 inches below normal... >>>>>
Today, I got back out with Carlton Townsend and Dan Fromme expecting some pretty muddy waters after the rains of yesterday afternoon and night! They were wanting to get around the river some more so we hit the Sycamore Run which produced a some nice fish on dries for Carlton and the Long Creek for Dan!
<<<<< Dan shows off one of the better fish of the day at the Sycamore. Starting to get some serious fins on this one - notice the white-tipped belly fins!
Saw some better than average fish and they were very happy with the conditions of the day! It was turning into one of those March "sparkling caddis" days that we can anticipate right now!
We thought we'd go down to Low Water after wearing out the fish at the Sycamore and see just how bad the run-off might be...
Carlton brings one in at the shoals below Low Water! High-sticking a Long Creek! >>>>>
Much to my surprise the water was nearly perfect and clear. No signs of mud at all!!! We moved down into the shoals hoping to find some numbers of fish, but alas, only raised one. There was a fellow up in the "cut bank" though, tearing them up! Plenty of fish in there apparently, but not further down. the guys got to do a little high-sticking preparation and Carlton did get one fish out of the fast water.
The more critical thing was that, right on schedule, the caddis started "popping and hopping" about mid-day as anticipated! Once we had exhausted the shoals we decided to go ahead and try the Factory Site since the water was much nicer than I had thought it would be.
<<<<< Carlton really got into a bunch of nice fish in the shoals at the Factory Site - Hopping and Popping Caddis time!
That turned into a really good move! Nobody there and scads of fish in Long Pools and the shoal ripping up the hatching caddis!!! And, of course, I had to break out the "Unknown Caddis" for the first time this season... It was takes and boils on nearly every drift! We finished out the day with a bunch of fish bending rods in the heavier water. Carlton's three weight got a serious workout!
Pretty much, about as much fun as the shallow water March Brown fishing! Maybe even a little more!!!
We're supposed to have one generator running all day tomorrow, but then completely shut down the rest of the week. With the March Brown and Caddis hatches unfettered by any high water it should be some pretty awesome fishing all week!!! I suspect I'll be back with more on Tuesday!

Back Cast
Holy Cow!!! A month with no "Latest"??? Sorry 'bout that...
So what's been going on? Certainly some fishing here and there! Spent one of those weeks in Houston... Much of this past month getting started on building the office in the Port. One weekend at Mardis Gras for a change! Quite a few casting lessons at least and scads and scads of flies tied!!! Like in the nature of 500 to 600!!! Which, by the way, means there's flies at SWAHA and Pawn Kings if you need some and you don't get them directly from me - which many people have in the last three weeks!
I did get out for some short sessions with a few folks in the midst of all that and met with Chad and Michelle Goodwin and her dad Leron for some casting and just a little bit of fishing. The water was still very cold, clear and running (more on water situations in a minute...) and we raised just a few takes up in the Park. Got the report from Mike "Hen" Ingram that he hadn't done much of anything down at the Factory Site too... We tried the deep pool right at the Old Factory Site cabin where the Goodwin's were staying and much to my dismay, didn't raise a thing! A little disconcerting... Unfortunately we didn't have a lot of time that afternoon to hunt down fish.
Last week, I worked with John Jordan and Hollis Venable on Thursday for a bit, mostly getting Hollis some casting instruction since it was his first fly fishing experience. I did get the report that they indeed had had some good fishing the rest of the weekend. Tore 'em up at Hind's Bluff, but that's not surprising!
On Friday, Ken Angell (Gurdon, AR - Henderson State) came over for his first fly fishing and he had some immediate casting control and did quite well very quickly! Not only that, but we also had quite a bit of action in just a couple of hours and he did, indeed, land his first fish on a fly!!! Had several more on, and all with an A & W! It is definitely getting to be that time after all! Seems like the early season March Browns that have been hatching lately are behemoths compared to what we see most of the spring. Either that or all I've seen are the larger females! But either way they are starting to show with much more regularity and numbers.
Ken Angell, as so many have done on the Little Mo', gets ready to land his first trout on a fly! >>>>>
With the weather finally (after yesterday and Sunday) starting to really act like March, expect to see good hatches. Unfortunately we're going to have high water (one generator though) all day this week, save for two hours at 4 PM to 6 PM.... I'm afraid one full generator is just enough to make really good fishing nearly impossible. However...
Don't expect any water next week at all... Here's the scoop.
Parts of the dam's trash rack on #1 did fall off about three weeks ago - which is why they've only been running water through #3 lately. The trash racks keep debris like logs and abandoned boats from getting sucked into the turbines! The large metal grids and the plating on them simply finally corroded enough to break up. Apparently the parts fell to the lake side of the racks harmlessly because the cameras show no signs that anything went into the pocket where the penstock intake is, which had that happened while they were pulling water would have been a major disaster!
At any rate, the CORPS is getting divers in there starting this Monday (the 24th) to assess and repair. I just checked with the CORPS folks and we anticipate that they will not be letting any water go while the divers are in the water, surely! That's good and bad in a way. We might have plenty of low water to fish next week, but not only will that be really low, they will also not be able to get any water off of the lake without opening up the Bunger Valves in case there's a big rain! And opening the Bungers tends to pull deep cold water off the lake that we would like to have in there for the summer! We've been very fortunate that the lake had been very stable and didn't even come up that much the last couple of days. It is close to that flood pool mark of 548' though...
It was 546.96' at 10:00 this morning with only a .04' rise in the last 24 hours and falling water on the Upper River. That's all very good news! The next 10 days are supposed to be pretty dry. We don't need any big rains any time soon!
So, low water, nice weather and tons of fish in the river getting to see March Browns and Caddis all day long? Sounds like some excellent fishing about to happen - after this week of course...
In the meantime, back to working on the office here in the Port! Maybe it's warmed up enough out there by now! Might even get in a little tennis this evening!

Back Cast
Recovering... Tying more and more flies... And on the water today!
The 2014 Fly Fishing Festival was great fun! As I mentioned on the Message Board, I laugh more in those couple of days than any others of the year! And for that, I thank you all!
With one of his Blue Birds looking on behind him, "Trout Commander" David Chin works on some of his macro photo's of the flies he gathered from the other tiers! >>>>>
It started with the absolutely awesome weather after weeks on end of frozen lines, guides and "guides"! I've never had so many days with frozen feet in an eight week stretch! Just brutal, my toes still hurt! Oh yeah, I was out today and the water is still in the 40's despite the 74&deg we had for a high today!!!
Anyway, there was all you typically expect at the Little Mo' Fly Fishing Festival! Great fly tying of course with (going around the room)David Chin, Dick Waldrep, Johnny McJunkins, Rex White, Gordon Shaw, John Scarborough, Ashley Berry, Don Lawler, Paul Lawler, Jim Simpson, Larry Offner, Bill Heugel and Wes Traister (thanks again for the book Wes...)! I think that was everyone...
<<<<< Dick Waldrep (left) and "Trout Professor" Johnny McJunkins...
Bill Heugel presented his Fish Senses program and the AGFC's Christy Graham gave us her annual State of the River address and Gordon Shaw took a few minutes to help me collect some bugs at Low Water for our River Critters study. Don Jackson put a dent in his fly fishing section at Ouachita Outdoor Outfitters and brought it over for everyone to pick through.
Who did I miss??? I know I did.
Everyone who brought food really out did themselves this time! That is so appreciated by myself, firstly, and I know by everyone who enjoys it all. The effort you guys put out getting food to the hall is above and beyond - but it wouldn't be the same without ya'll! Thanks so much!
Oh! Those guys - "need constant supervision"!!! Don Lawler and Paul Lawler (right)... >>>>>
The late addition of the Little Mo' Flies Fantasy Draft went over rather nicely I thought! For those who missed that Saturday night, everyone who wanted in brought six of their favorite Little Mo' flies and we went through the hat twice with each contributor getting two shots to pick out three flies each round. You know what, I think next year we'll do three rounds at two flies each time. I like that better...
At any rate, it was quite entertaining! Maybe not so much for Paul Lawler who's name didn't get into the hat at first. Sorry about that Paul, but I think we made up for it as fast as we could and had fun with you and Don and ya'lls "yielding to the gentleman from Loos-y-ana"!
<<<<< My "Better 3/4's" caught red handed! Glad she made it, but she forgot the dog's meds and had to head back to the Port early...
Everyone had decent to awesome fishing with the tremendous weather. The "Can You Take It" casting clinic was useful to those who took part once again. I really do enjoy getting folks to understand how a cast actually works. I see the light going on every time!
And we had quite a few first timer attendees again this year. just shows that Fly Fishing continues to touch a lot of folks. Look for it all to happen again next year - February 13-14-15!
As for the fishing the last couple of days - Sunday was interesting. I hung around the Flat for a little while after the casting clinic and only saw a couple of fish cruise up to the shallower water. And they were really hard to raise. Of course, the people down in the Wall Hole were inudated with fish and there was a lot of sloshing down there. After not being able to do much i got curious and headed down to the Hind's Bluff Access.
Grizzly Bill Heugel (right) gives Larry Offner the "OMG - he might be serious" look! >>>>>
That's where folks were having another field day. Namely John Davis and daughter Millicent among others. After observing for a while I got a Griffith's Gnat to the feeding fish in the shallow riffle below Butt Buster. Raised a number of fish on a dead drift and did all I wanted to do, as far as fishing goes!
Texas Jack and Kathy showed up after a while, intending to hit the road, but he couldn't stand watching all those fish rise and he and Kathy proceeded to land a handful more before giving it up for the day! it was just a nice, nice day to be out.
By the way, thanks Dick Waldrep, for taking some pictures since I didn't stop to get a single one and David has some more posted on his website: Trout Commander! When I get a chance I'll put some of those on the Message Board.
Today, I got out with Fred Meyers (Bismark, AR) today to get into the falling water at 11:00! Fish were reasonably busy while the water was still high, but we headed up to the Skinny Water to see if any of the big boys had been hanging around in there on the high water.
They weren't...
Fred Meyers gets one of the better fish close to hand on just a beautiful February day! >>>>>
I think the water is still too cold for them to be fighting the flows that much and they're sticking to the deeper slower waters. So after a little casting work and half-hearted fishing we were about to head down river, but stopped in the Flat, again, almost out of curiosity. The timing was perfect after all...
We spotted a couple of fish rising on the mid-stream ridge and headed that way. They weren't real interested in a Long Creek, not much at all in an A&W, but were getting after midges more and more frequently and confidently. I went to box and started to pull out a regular Griffith's Gnat and then opted for a Wood Duck Griffith's instead. After a couple of casts Fred was hit promptly and solidly! I think it scared Fred!!!
We proceeded to clean up the casting and getting better and better deliveries and producing more and more takes from better fish. Two that were in great shape, nice colors, white tipped fins, about 13 inches and definitely not right off the truck!
And all of this action was less than 20 feet from us! Several of the takes were only about 12 or 15 feet away and we could watch the fish come up and take the size 18 dry! Fred said that the first fish to hook up on the little fly was worth the admission and made his day - particularly since he got kind of skunked the last time he came out!
Flies? You want them, when??? >>>>>
Even with the cold water, the action is really heating up! If real winter is actually over and the weather is going to continue to act like this for a while, get ready for the March Browns to get cranked up and maybe even some early caddis! I'd better start tying some "Unknown Caddis" pretty soon!
Lots of fly orders in right now, so if you want to get some flies in the works you need to get on the list as quick as you can!!! Let me know. Looks like it's going to be a busy spring!

Back Cast
Wow! Where do I start? Where do I finish???
Always seems like such a long time between reports on here. Glad some of you were getting updates on the Message Board! Just been a brutal winter, and I know that's always a relative statement, but it's just plain cold everywhere - just a matter of to what degree... Or "degrees"!
<<<<< Signs of the icing that we had on Wednesday morning! Lost power here for just a little bit, but some folks have been out for two days, still! In all this cold! Hope they had some kind of fire going!
This past couple or three weeks has been some of the consistently coldest I can remember! Day after day of lows in the teens and 20's and highs hovering in the 20's and only up to freezing. Water temperature today was 39&deg ! As mentioned on the message Board this morning.... "Sheeesh!" Actual snow covered ground as I write tonight!
But, yes, there are people crazy enough to be out in it! I'm not one, but I do have to go out with these people! Two of them, this week, were Jim Gamble (of S'port Bass Pro) and Rodney Nelson (Shreveport, LA) who, we believe, was at Broadmoor Jr High at the same time I was! We won't say what year...
Quite a few branches and even some whole trees down! And this wasn't all that bad, but it was about time for a little ice storm woods clearing... >>>>>
We got out for a bit on Tuesday afternoon to get Jim some serious casting instruction. It was his first time to really have any instruction and once again, as it is with most folks, there were some real revelations! In the meantime Rodney worked a bit in the Wall Hole and produced a few fish. They did say they had caught a decent number on Monday afternoon. That was the last time we saw any real sun and temperatures in the 40's!
What I would give right now to see a blue sky and a high of 40&deg ! Going to feel like I'll need a Corona! Average high over the last four days was 33.75&deg - that's officially. My thermometer wasn't that high any of those days! 29&deg to 31&deg is what I was seeing on my hip each day! Average low since the first of January: 24.9&deg ! And that's with a couple of 9&deg 's, 10&deg 's and 12&deg 's thrown in! Just for fun I looked it up, average low for January here is 28&deg , record low is -1&deg . We're a little too close to all time records and too far below average...
<<<<< Decent action for Rodney Nelson at a still fully flowing Sycamore Run.
What's it all mean, apart from being freakin' cold and wet? That we're going to have a very cold lake this summer - unless they have to run a lot of water through the Bunger Valves at some point this spring! I can deal with that! Lake is right at 545' right now too. Nice level for this time of year.
This week, though, the fish were surprisingly active - and there's a lot of them in there. As mentioned, Jim and Rodney did have good action on Monday, and we turned up some fish on Tuesday and Wednesday. We've had high water only in the mornings and I think that may have a little to do with the fish feeling a little better about things than they have in recent weeks.
There's a bunch of fish going into the river and that helps with the frequency of looks, certainly, but the fish have also been much more active, despite the very cold water. We've also been seeing some March Browns popping up, even saw one or two today! All they need is a little incentive to hatch out. A bit of sun here and there and you'll see a few...
<<<<< Jim Gamble did well at the top of the Sycamore - had quite a few on - while Rodney worked the deep end!
On Wednesday we tried to get out of the wind chill that was probably in the mid teens all day and hit the Sycamore Run as soon as the falling water really allowed. Got into quite a few fish there and had a good time, but the wind was still kicking us in the face no matter which way we looked. I thought the section below River Ridge might be worthwhile.
Well, Rodney only turned up one in the fast water below the weir and then we headed down to the "J Ledge". Jim was first in and made it count. After several flashes and a bump or two on the Long Creek we were throwing over the ledge, Jim hooked into a really nice fish. Heavy, Eagle Lake male with good fins and a bit of a hooked jaw! it was obviously a nice fish from the first look!
Jim didn't panic and shortly had in hand a chunky 15+ incher - fully tailed might have put it at 17!!! It was one of those fish that makes a whole trip sometimes. Totally unexpected and just a pretty fish! Made you forget that you couldn't feel your finger tips...
Jim gets a hold of that nice one in the "J Ledge" pool! How's that for timing on the pic? >>>>>
I just don't know how people up north - real north - do it! They can have it...
I talked to Jim just a little while ago and he said they bugged out on Thursday. Their boots and waders were too frozen to warrant trying to get back into them! They had a good trip though, none the less!
Today, another crazy arrived in the personage of Todd Sherwin (West Monroe, LA) for his first real effort at fly fishing and first time to be around trout! It was 24&deg when I left the apartment by the way...
<<<<< Wish I had gotten a better pic of Jim's fish at the "J Ledge" but you get the idea...
We got his casting cranked up and Todd seems to be a natural casting student! Really got a good grasp of how it truly works real quick! Just about the time we tied on an A & W I heard a familiar sound up on the highway! Yep, stocking time again. Huge number of fish went in at Riverside, at least, and looked like River Ridge had been hit as well as best I could tell later!
Of course within just a few minutes Todd and I were surrounded by hundreds of fish, none of which, naturally, knew anything about what had just happened to them and they barely even sniffed at a fly! Just a bump and a follow. We moved down to the Wall Hole to see if we could turn up some of those that had been in the river for a while.
There's a bunch of fish in there, I've got to tell ya'll! It is time to load in the numbers this month, after all. And that's going to be the case for the next six weeks. And it was here that, after dealing with the infamous Guerin 1, out of 4, out of 4 ratio, Todd did stick his fourth fish and landed his very first fish on a fly and very first trout! Just one of countless who can say they did that on the Little Mo'!!!
Todd was here for the education and we did a few more things until he was ready to warm up and get a late lunch. He called me on his way out of town this afternoon to tell me that he had landed fourteen up at the Park after he came back out! If he wasn't spoiled early on, he probably is now!
<<<<< Todd Sherwin and his first fish on a fly!
It is that time of year to get spoiled by the Little Mo' - if you can pick a good day to be out there! Right now they're saying a high of 47&deg tomorrow with some sun!!!! And sunny with 50's on Sunday!!! I'll believe it when I see it. But the extended forecast for the Fly Fishing Festival weekend, after some cold rain early in the week, is currently looking pretty good! Let's hope!
I've been swamped with fly tying lately, so I haven't had a whole lot to say other than I've been breathing Long Creek and A&W dubbing! Fly Fishing Festival is taking shape despite my lack of attention and promotion. Of course, after twelve years, it's one of those things that kind of has a life of its own now...
Count on most all of the Usual Suspects being here, with the regular fly tying demos, Don Jackson and his goods from Ouachita Outdoor Outfitters, "real" bug I.D. and Christy Graham of the AGFC Trout Program and her annual "State of the River Address". Oh, and there just might be a bunch of food to munch on too! Keep an eye on the Message Board this week for the final details!
<<<<< Probably not his best fish of the day, but it was a start!!!
And lastly, since the word is starting to get around... I will be changing my "living" situation later this spring! Now that Sandy is retired and we can spend more time together, as well as a bunch of logistical aspects, we will be creating a studio / office at the house for me and I will be making my residence back in the Port before too long!
Nothing really is going to change as far as my getting to the river, guiding, instructing and tying flies! I've been driving back and forth every week for 15 years now, anyway, and the only real difference is that I'll be in the Port more often than not, rather than vice versa. I just don't spend enough days actually on the river each year to warrant keeping a residence here and all it's overhead. And those of you who know my bride will certainly understand wanting to spend as much time with her as possible!
So, had I not mentioned it, most folks wouldn't even know the difference! The web-site and Message Board will continue normal operations and I'll be getting on the river just as much as usual! I'll just be back in the Port playing a lot more tennis - watch out Erik Dilts, I'm just about finished recouperating from the eye surgeries!!! Erik and I hit a light workout the other day - he hits a nice ball!
Anyway, that's the news from the Boro! Maybe I can do some of the Bass Pro Thursday night tying with the NLFF again! But really looking forward to being around the house on a regular basis. I know the wife is too! It's a big change and a little change at the same time!
Any carpenters want to do some consulting soon?

Back Cast
Always On The Water - Jeff
Home | The Latest | Little Mo Message Board | Friends of the Little Mo | The Skinny Water Project | Stocking Schedule | Fly Tying & Casting Lessons
Ouachita Mountain Flies | Little Mo' Fly Fishing Festival | A Bit About Yours Truly | Prices | How to get here | References and Links | Catch & Release Tips
Custom Rods | The Little Missouri | Around the Area