Little Missouri Fly Fishing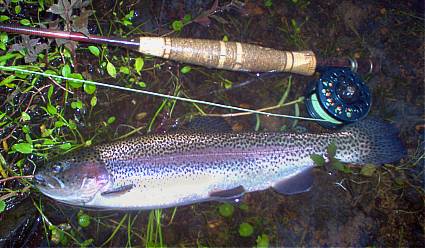 The Latest
Tuesday - April 30, 2019
Thursday - April 4, 2019
Monday - April 1, 2019
Wednesday - February 20, 2019

And we've got a new Message Board set up!
870-210-3681
Good news!!!
I got around to setting up a new Message Board! Whooo Hooo!
And the bad news is that the first thing I had to report on it was that there will be high water all day every day this week until the weekend! At least Saturday and Sunday we'll have the first half of the day to get in the water.
So you guys get back on and let us know if there's been any fishing going on! We'll all have to re-learn how to navigate around this one, but it is actually a little simpler, newer and will be much less cumbersome to administrate and host.
Go forth and re-populate!!!

Back Cast
Just an update on the SWEPCO Generation Schedule for next week - not good news, I fear. Similar to this week...
Monday 8th - 7 AM to 6 PM
Tuesday 9th - 7 AM to 6 PM
Wednesday 10th - 7 AM to 6 PM
Thursday 11th - 8 AM to 7 PM (Don't ask me why the difference!)
Friday 12th - 7 AM to 6 PM
Saturday and Sunday - no generation scheduled.
So not much reason to be around during the week, I'm afraid. All good for the weekend though! Ya'll hang in there.

Back Cast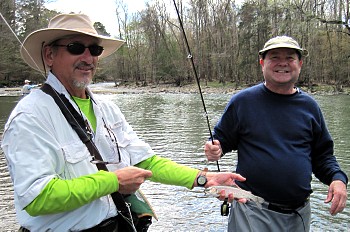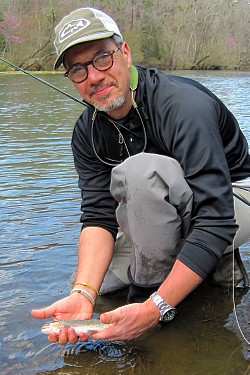 Well, it's taken a week but I'm getting back to the computer to do some updating finally! The first thing most all of you have noticed is that the Message Board has been corrupted once again and I've been trying for a couple of days to recover it!
You've doubtless also noticed that's failed...
<<<< Yours truly with David Laxner!
So, I guess we'll get to start all over and I'll see if I can come up with something more stable!
Todd Montalbano and one of his first ever Arkansas trout! >>>>
Elsewhere - I did get back to the river after numerous failed attempts at that too! More of the same irregular water patterns and high water issues over the last month, but it now seems we're getting into a more consistent patterns! Unfortunately, this week, that pattern is two generators from 7:00 AM to 6:00 PM each weekday, but nothing slated for Saturday and Sunday at least!
Last week, I met with Todd Montalbano and his father in law, David Laxner from northern Illinois - Chicago burbs actually! That's quite the drive, but they timed their trip rather well. We had storms during the overnight, but they had cleared out by the time we hooked up and we had really nice conditions for the rest of the day.
We found that the "powers" were back to releasing that "extra minimum" again and we tried to take advantage of it after we got David some basic casting developed. We ran some A & W Emergers around the Flat initially. That turned up a few bumps, but there wasn't a lot of activity fish wise... However the March Browns were starting to show pretty steadily. That was nice to see!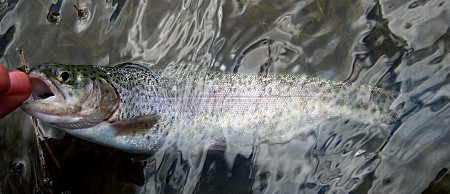 We moved up into the Skinny Water to fish the extra flows through the project. We found just a couple of fish in the usual spots, but there wasn't much going on there either.
<<<< Man, it was nice to do that again!
So we headed on downriver. In the meantime, AGFC showed up with a stocking truck and sent a couple of thousand fish into the Park, not to mention the Factory Site and Low Water. They were pretty shocky initially, but by the time we had gotten back down they were all feeling much better and spreading out around the Flat and into the Wall Hole.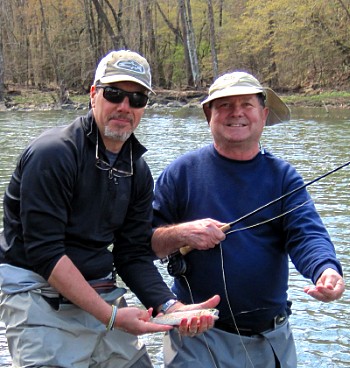 We pulled in at River Ridge to fish the shoal and found nothing going on there. And nothing happening at Hind's Bluff either! Turns out that they hadn't stocked at either site in a long time.
The lock on the River Ridge chute, according to Mike Ingram, hadn't been moved for weeks and the chute at Hind's Bluff had separated, so they hadn't used that one either!!! Only saw a couple of fish show at Hind's Bluff, but none in the faster water where they should have been feeding on the Caddisflies that were right on schedule at mid-day!
Todd displays one of David fish at the Factory Site! >>>>
Down at the Factory Site it got ridiculous, though! Fish, as mentioned, had just been stocked but there were plenty of fish hanging in the deeper water too, and they were quite happy to take the Long Creeks we had switched to. We had plenty of action for the rest of the afternoon!
Great weather, lots of freshies going in and dozens of fish hit! All kind of average fish, but as the guys said, it sure was way better than the current alternative in Chicago!
Promises to be a decent spring if you can get on the river. Again that looks like a weekend only event this week - unless you happen to be around and can get in the last hour of daylight at Riverside. Which may well be worth it since these next eight weeks are going to bring the busiest bug action of the year! March Browns by the thousands and the afore mentioned Caddis on the bright days. It's going to be fun, if we can get some decent generation patterns that will give the fish some time to key in on the hatches each day!

Back Cast
What's this??? An update to The Latest after all these years??? Well, certainly seems like years!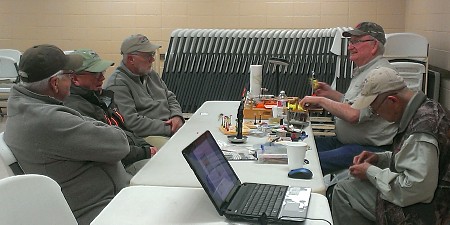 What a winter! Simply put, I haven't made a trip to the river since October - had quite a few planned, but all washed away by high water or bad weather... Mostly high water and excessive water patterns. The generation patterns for most of the last three months have been irregular and plentiful. Just too many hours out of the day under high water and not enough windows of low water at the right times to make a trip worthwhile!
"Usual Suspects" Johnny McJunkins and David Chin demonstrate some tying and yucking it up with some of the Kisatchie gang! >>>>
It's been brutal for fishing, but fortunately I've been teaching a lot of tennis instead! That, and our new diet around the house, has really helped me physically, as many of you might have noticed at the Fly Fishing Festival last weekend... Yep, been quite a winter!
So we have finally gotten to where there has been some fishing to be had, and for the most part I've been getting nice reports of really healthy fish. Many in the nature of 12-14 inches! But that's what a lot of high water will do for them. There's been a lot of fish loaded into the river all on high water. We're going to find them quite spread out.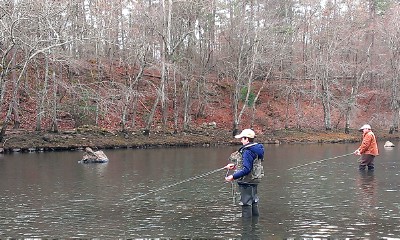 The fishing windows have been small - not the normal wintertime patterns. One day they might run eight hours, the next six hours in the morning with a three hour shut down then the rest of the night. The next day all day long... The next only a few in the morning... And the weekends have had lots of water throughout as well. Just no real consistent patterns at all. Except for the this week where we're seeing all day every day until Saturday and Sunday which you'll get to fish all day for a change!
Nathan and Andrew Gann working hard to produce some action - successfully eventually! >>>>
Meanwhile, we were going to have the Little Mo' Fly Fishing Festival no matter what! That's just a fun time with some education and lots of food! Always President's Day weekend in The Boro... Despite the weather, despite the water, despite things all over the fly fishing calendar every week, we still had a very nice crowd! I counted the room at its peak and there were 44 folks in at the time. Some coming and some going on either side of that. So, that was actually good attendance! And there were several folks I had never met before as well. A little disappointed to see a lack of ladies and kids though... Not sure I like what that tells...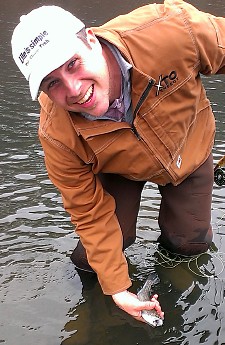 Never the less, I want to thank all of you who came out and the cast of Usual Suspects, not to mention Gordon Shaw and his presentation on fiberglass rods, and Larry Offner and his "Musings of a Fly Shop Owner". And especially all those who brought food and forced me to go off my wagon for a couple of days!!!
The fishing for the weekend turned out not to be so great. Thursday produced good reports, but the weather was also rather stable then... Friday was changing, which the fish don't like, and Saturday was worse - rather cold and wet the whole time. Not conducive to some of the great fishing we've been treated to over the years. Sunday was supposed to be a little nicer, but the sleet that aroused me while I "restsed my eyes" in the car said otherwise!
<<<< Nathan gets his first Little Mo' Bow and his first fish on a fly. Good start!
At 1:00 Allyson Gann had set up husband Nathan and son Andrew (Gilmer, TX) for some first time fly fishing! It would also be my first time to put on waders and boots since the fall. Being out of the habit of the ride I naturally left my rods in their cubby of the office back in The Port! Many thanks to Larry Offner and Catch Cormier for grabbing them on their way up for the weekend!!!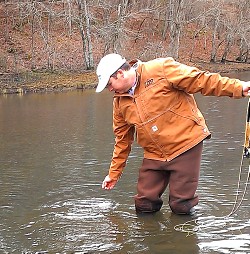 At any rate, just as we started to get some serious casting working with Nathan and Andrew some sun finally peeked through the overcast! And when it did, the March Browns got going. While not in significant numbers this early, there were enough to get a few fish interested. That was such a great sight to see! I had March Brown Sliders on both rigs and they did produce a reasonable number of takes. Certainly not furious, but sufficient enough to keep the guys attention in the nasty wind chill for most of the afternoon at least!
Nathan gets another one in later. Notice the minimum flow is back to "normal" minimum by the way! >>>>
Young Andrew had the best fish on, if only but for a few seconds. It got up into the air enough to get a good look at it and be exciting! Nathan managed to bring a couple to hand before the wet wind chill got the digits non-functional! Real temperature was 38-39 after all with gusts up around 15 to 20 here and there. Couple that with very little to no sun and it kind of takes the fun out of things. I have to tell you, in my advancing age, there were quite a few days this winter that I was okay with not standing in the river! Tennis inside was a much better option!
Anyhow, by the end of the afternoon, the guys had produced quite a few takes, several fish hooked up and a couple to hand. Not bad for a couple of first timers, sluggish fish and near brutal conditions! All in all, not a bad weekend...
Now for the good news - bad news for those wanting to fish this week. The weekdays are a bust! Running water all day long Thursday and Friday, but no generation on Saturday or Sunday until dark! That's nice for a change! And as mentioned previously - the minimum flow is back down to it's traditional "normal" minimum! That "easy" fishing of the last year is gone and it's back to the challenge of shallow water fishing... In other words, the way things used to be for most of us!

Back Cast
Always On The Water - Jeff
Click here to E-mail me at jeffonthelittlemo@gmail.com and say "hi" if you have any questions! Remember, if you do e-mail me, make sure you mention fishing on the subject line and identify yourself. Otherwise, I'm liable not to open the e-mail. That virus thing, you know!