Little Missouri Fly Fishing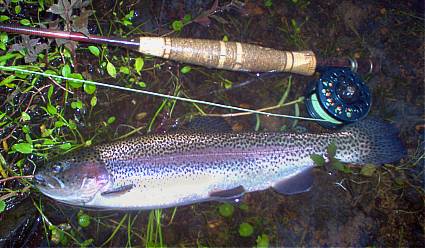 The Latest
Monday - September 10, 2018
Friday - August 24, 2018
Tuesday - July 17, 2018
Friday - May 18, 2018
Saturday - April 7, 2018


870-210-3681
Check out the current weather and forecast in Murfreesboro!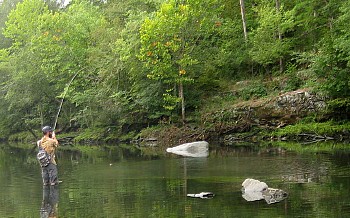 Managed to get in another trip this past Friday with the returning Ben Glick and his brother Adam (Texarkana). It was Adam's first trip to the Little Mo' and as usual, this is a trying time of year for first timers, but he did rather well when all was said and done!
<<<< Ben was first up while Adam was in the midst of getting his casting indoctrination.
Of course there was some casting to get under control for Adam - not an outright beginner, but in a little need none the less! We took care of that and got into some fishing pretty quickly. We only had till noon before high water after all.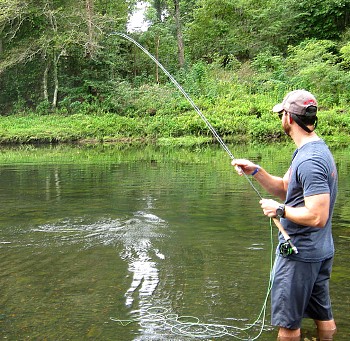 And for early September we had decent conditions as well! It wasn't dry and windy as we would like and expect at this time of year, but it was pretty heavy over-cast and a hint of breeze here and there as the morning progressed. The fish were certainly moving and showing themselves in the usual cruising lanes. I've mentioned in the past how interesting, to me at least, that every year a new crop of fish develop the same patterns with very few variations!
Adam got his first Little Mo' Bow at the Trough in beautiful late summer water, and fashion. >>>>
In that respect, trout certainly seem to be a rather predictable sort, but then there's always that day when nothing holds consistent! At least we usually feel like we have the upper hand until we're thoroughly humbled.
At any rate, it wasn't long after getting flies on that the guys were starting to see some action. Ben, with a little more experience on this river, raised the first fish and it ran all over the Flat for a couple of minutes! However, that skewed the "one out of four out of four" ratio against Adam and he had to go through a bunch of hits and fish on before he had his first one in...
Ben started out with a Light Cahill dry he had and once Adam was fishing we tried a Cahill Slider and then a Griffith's Gnat and they had the fish intrigued at least and produced some takes, but they seemed almost a little half-hearted. Still fish were caught on both. But when I switched to the ADL (All Day Long midge) the takes were definitely more frequent
<<<< Ben with another healthy fish, literally, in hand.
I think the ADL accounted for most of the fish on the day. There were only a few Light Cahills flying around so I can understand that the interest just isn't quite there yet. We are still getting generation too early in the day and too far into the evening for the fish to get really keyed in on those.
But they certainly do see midges throughout the day, every day! And particularly even more so on days that are over-cast and even a bit drizzly! In fact at one point, what prompted going to the midge to begin with, was a sudden flurry of activity and numerous rises with nothing in sight! In other words - midge time! The midges are virtually impossible to see so you have to really stay in contact with where you believe the fly to be and keep a nice tight line to the fly!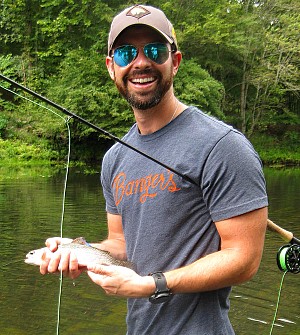 If you can stay focused and properly prepared, you can stick a lot of fish once you know what you're looking for... So much of the success in midge fishing is looking for the tell tale signs of a take. A swish of a tail, a twitch in the tippet, or best of all, the open white mouth of a trout that has your fly!
Adam matched Ben and the matching smiles pretty much say it all on the day! >>>>
The longer the guys stared into the water the better they got at spotting such occurrences and they had a rather decent morning for September! These are getting to be the toughest fish some of you will ever fish over! They are wily and educated and they also know what to do when hooked up! In short, an all around challenge!!!
And you can expect them to get tougher over the next few weeks until the fresh stockers start to arrive in mid October. To my knowledge as yet, there's probably no major changes in the stocking schedule, though the overall numbers for 2018-19 might be down slightly due to last year's flooding at the Spring River Hatchery. i doubt we'll even really notice!
Generation the rest of this week:
Tuesday, Thursday and Friday cranking up at Noon again and running till 7:00 PM.
Wednesday, Saturday and Sunday running from 1:00 PM to 7:00 PM.

Back Cast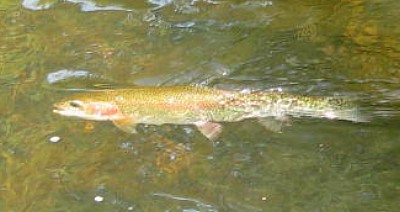 Wow! A bunch of catching up to do!!! Been a brutal summer to be anywhere except for fishing! Those days that I was on the river were rather nice, even with the rains a couple of weeks ago!
Back towards the end of July I met with Janet & Robert Shope from south Louisiana! They'd done a lot of salt fishing but never any fly fishing, much less stream fishing for trout! So they had a bit to work on initially, but that's never a problem.
One of the pay-offs for the Shope's! Nice hefty fish in great shape! >>>>
They had their challenges, not the least of which were the hot conditions and spooky fish, but they did manage to get a few on. This was one of those bucket list type trips that so many people tend to make. It was a really nice add on for their travels into Arkansas.
The water was finally starting to get back to normal clarity after the very wet spring and early summer. The fish were starting to get into their typical summer time patterns too while still enjoying the extra minimum flows.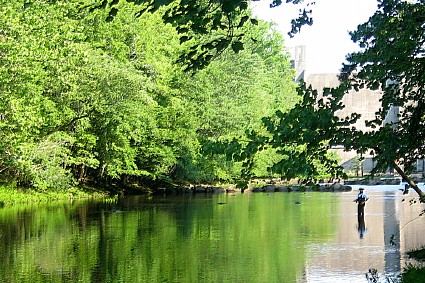 The next week brought Jim Goforth (Rusk, TX) for his first trip to the Little Mo'... We met early on that Thursday morning and at the time we still had that nice flow going. He was one of the last to enjoy that as the CORPS finally wrapped up the work that was creating the extra minimum shortly thereafter.
They got everything back on-line at the end of July and, with the exception of last weekend we've been on a regular summer generation schedule since!
Jim Goforth gets his cover shot. I was that far away because I went back to the car to get a regular leader for Jim. He had come out with a full fluorocarbon leader which sinks from one end to the other. This was getting Jim down into the rocks in the shallows way too fast. Just a small bit of advice for those thinking along those lines. Fluoro tippets only, unless you want to get to the bottom! >>>>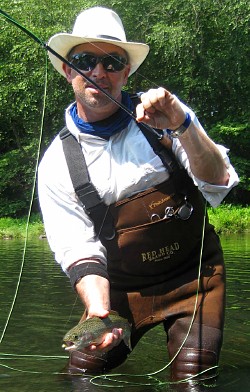 So, with some absolutely great weather and nice hatches going we took full advantage of the situation. There were caddis and Cahills in the works and I believe we fished Sliders for the most part. I know we also threw a Long Creek in there as well and all had good results.
An ADL was also employed again with some good action. Those little sub-surface midges are a bear to keep track of though. The takes are either very subtle or savage - doesn't seem to be any in between!
<<<< Jim and one of his chunky, deeply toned fish on the day.
The water was back to a nice "normal" clear, the bottom was dark, and the grasses were bright greens again! With the normal summer conditions the fish were showing their colors and fight! We moved up and down the Flat finding fish in all the usual hang-outs... Seemed like we could hardly go wrong.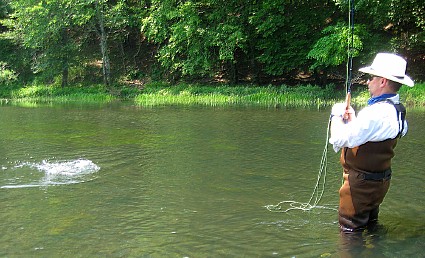 We easily lost track of how many fish were hooked up. That's always a good sign! And for the most part they were all chunky and averaging 12 inches or so with a couple noticeably larger - more like close to 14's.
No matter how large - or smallish - though they are all feisty as they can be! That's doubtlessly continued to be the case with daily generation ever since.
Having fun now! >>>>
A couple of weeks back Marty Newman came up from Dallas. He spent the night at Dynamite Hill through those vicious thunderstorms that plagued the area for several days. And I traveled into some pretty ominous stuff just to get there that morning!
I understand that while we were actually on the river, Murfreesboro got nearly eight inches of rain!!! It had just started as I arrived and apparently rained cats and cats and dogs and dogs the whole time - in the Boro!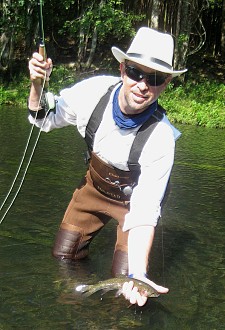 Not so much on us, even though the rain was quite significant... But there was one period mid morning when a torrent, which probably doubled the flow of the river - came crashing down Dynamite Hill and through the grass just upstream of the stocking ramp at Riverside. I've never seen that much water coming down that hill! It dumped so much debris off the hill and banks that we couldn't get a fly into the water where we were! We had to move above the raft of leaves, sticks and branches that covered the Flat for a while!
<<<< Another gorgeous fish for Jim...
Lucky, for us however, we sat out the worst of the downpours and lightning under the pavilion and got in the water when we felt safe. As you can see, the rain did not deter us from our fishing, just made us pause a few times... One of the nice things about Riverside - I've sat out many a storm, winds, lightning and hail under the pavilion! Pushed the envelope a few times in younger days, not so inclined to do that anymore!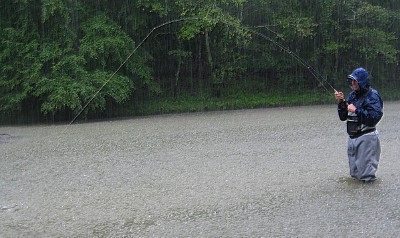 And while the rain was sometimes at its worst we had some of the best fishing. But it also appeared that after that quasi flash flood and the real storming was done for the day, so were the fish.
Marty Newman battles the elements and fish during what turned out to be some excellent fishing - when we could! >>>>
I don't know if they didn't like the new pH of the river, or the rains warmed it up a bit, or they didn't like the change in the stability, or the cafe' au lait coloring, but they nearly disappeared!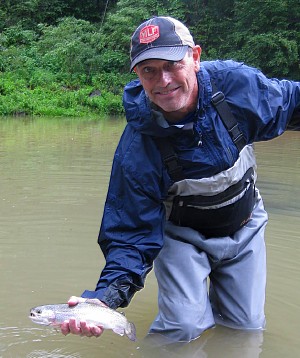 Never the less we had excellent fishing when we could! And some really nice fish on this day. The big boys came out in the open with the weather and heavy cloud cover.
I'd say the average fish on this day was closer to 13' and seems they're still growing! It's going to be a very nice late summer and September... The daily generation of late should be keeping the fish in great shape!
<<<< Marty shows off a chunk! You can see what the rains did to the water clarity around us. Also even looks like a swollen river at that moment - hell - because it was!!! The fish even lose their color when the water is muddied up. Interesting bit of chameleon like behavior they have...
Speaking of which, we've got generation today, Saturday and Sunday from Noon to 8:00 PM scheduled this week. Next week - the 27th through September 2nd - we've got generation from 1:00 PM to 7:00 PM with the exception of Friday till 8:00 PM and Sunday from 4:00 PM to 7:00 PM only!
Late summer - early autumn fish will be the most contentious of the year, unless you have perfect conditions! The fish are tremendous athletes, but very wily. It is not a good time for beginners unless you're just looking for the challenge. The payoffs are great though! Be looking for over cast with westerly to north westerly winds. that's going to be your best days. Of course those still look to be a little ways off but September is almost upon us after all!!!

Back Cast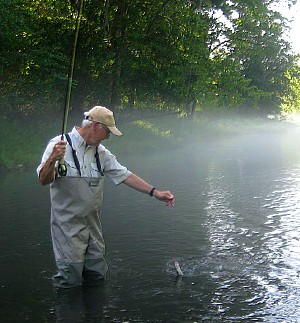 Gotta get a report in before I forget what happened!
For one set of reason or another, I actually have not been to the river since May! A few trips got cancelled in there, but I did get back last Friday with David Cooksey and Jim Allen (Shreveport, LA) to enjoy what turned out to be a very nice day of fishing for everyone!
There were only a few other folks out despite it being a Friday. We moved up to the high end of The Flat at Riverside and observed several caddis fluttering about at water's edge and quite a few fish rising in concentrated places! I liked the odds.
<<<< David Cooksey took, shall we say, "no time" to get into the first fish of the day!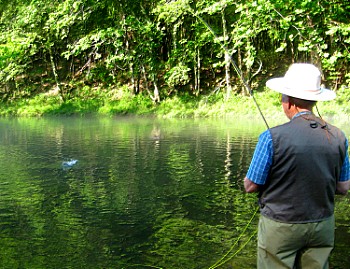 I had been a little afraid of what to expect since the last word that i had gotten from the CORPS is that the extra flow was supposedly to come to an end the day before. Didn't happen... In fact, it almost looked like the was a little more flow than what we've seen all year to date! And, as Gordon Shaw had reported from the prior week, the water was nice and clear, and the river bottom had cleaned up considerably since the actual high water from two weeks ago!
Jim was working a little harder for his fish, but in the game! >>>>
As we stepped into the water I dug into the box and tied one of my Unknown Caddis in the grey on to David's tippet and said to drop it just a few feet away from us, as we had just seen a boil in a hint of a wave. I then went back to he box to pull out another one for Jim... About that time we heard a gulp and sloshing! I have to think that was a record from "tie on to quickest take and fish on" in history!!! I mean, maybe eight seconds!!! I hadn't even opened my fly box up yet!
We kind of knew everything was going to be okay!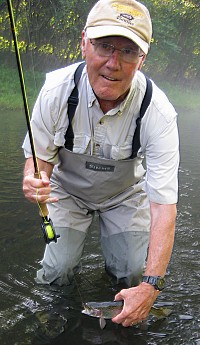 We had lots of action through the morning and into the early afternoon. the caddis activity was consistent for a couple more hours and then we went to Cahill Sliders which produced decently. But after that as the sun got a little more straight up the smarter fish started hugging the bottom. We then went to Long Creeks and that worked quite well the rest of the session!
<<<< David has just one of many in hand. I really have no idea how many fish we landed on the day. It was certainly sufficient to qualify for a good day!
We found fish in all the usual places around the Upper Flat as we made our way down through The Trough, Copperhead Crossing and into the main park area. And even at the peak of the day, with the very cool water flowing so nicely, the fish remained very active throughout. You just had to have the fly in front of them. They didn't really want to look up into the sun all that much.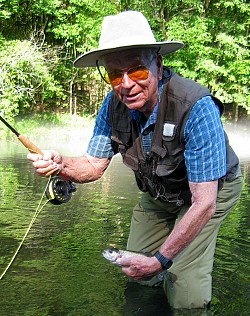 We were also blessed with a dry northerly breeze which made it quite comfortable the entire time - not bad at all for mid July! I wouldn't have called it a cool front by any means, but it was way drier there than it has been in the Port the last couple of weeks. That can happen north of I-30 sometimes. The prevailing winds come off the plains rather than the Gulf up there for much of the summer. And you can bet those "mountain" breezes will crank up, right on schedule, usually about 10:30 AM!
Jim made his contributions to the total. >>>>
David and Jim headed back and I stuck around for a little impromptu casting session and then some actually fishing myself for a change! I took my poor old Sage up into the Skinny Water which was looking so nice at the time and it hadn't appeared anyone had been up in there all morning. There were still a few light caddis around, but some Light Cahills had been showing throughout the day as well, so I put on a Cahill Slider and worked over he fast water.
That produced a couple of decent fish which felt like a ton in the waves! Hard hitting, hard running! I eased down through the runs picking up a hit here and there, even one in a totally unexpected niche. As I got closer to where I had started the day with Jim and David I could see that fish were staying the shallows virtually form one side of the river to the other! It was really quite awesome to see so many fish - compared to this time last summer when we hardly had what seemed like a handful!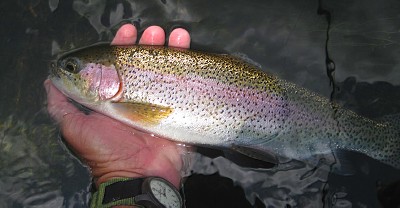 I finished up my time with one truly nice fish, about 14 inches, who really didn't want her picture taken! Took me several tries to get her still just long enough... Gorgeous! All of the fish were in great shape, which is actually pretty typical for this time of year, but the extra flows have made them extra strong, I think. I didn't even get into the Wall Hole to see what was lurking about in the deep, or anywhere else on this trip for that matter. By the time I got to that last big one,a s you can see on my watch it was already 3:00 and it had been an early morning!
<<<< "The Lord has blessed us all today... It's just that he has been particularly good to me." - A River Runs Through It
Currently planning to be back up this weekend, but I'll have to get back early for my folk's 65th Anniversary!!! So I may not have much different information at that point, but hopefully some good pics at least! For now, the water releases appear to have remained the same this week. There's nothing on the actual generation schedule and nothing's changed on the Rivergages.com flow rates. Still hovering around 1.74 to 1.78 feet at HWY 27... That means the extra flows are still going.

Back Cast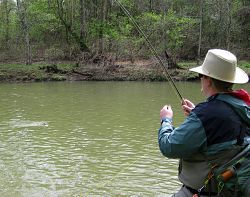 So much going on! But here I am trying to get a decent report in for you guys, again! We had at long last gotten back to no releases other than the extra minimum that we've had since last November. I was up last Wednesday and at 11:00 AM the flow from #3 shut down and the river began to drop to "normal" (i.e. - traditional) flows... That was a bit of a shock to us and, undoubtedly, the fish!
Asa Warren found the April waters high and murky, but the fish were cooperative! >>>>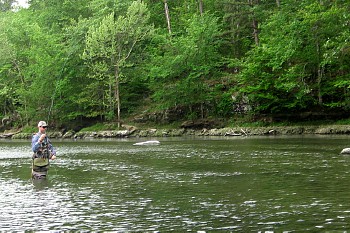 We've got an entire crop of fish in the river that never knew anything but either really high water or that extra minimum! I just looked (12:30 today) at the Rivergages site and there was the quite evident drop on Wednesday/Thursday and then right back up Thursday morning! Which means they cranked it back up around midnight it would appear!
<<<< Mike Yoes in a long range fight on the Flat...
On Wednesday, I just assumed that the CORPS was done with the powerhouse project and all was as it used to be, but I guess not quite yet...
We really need to get some normal generation going to get all the algae and silt flushed out at Riverside. Downstream is looking nice because all that has a chance to settle out at the Wall Hole, the Meat (Nieman Marcus) Hole and the Couch Hole (River Ridge). You can't hardly walk around the Flat at Riverside without stirring up a ton of algae and silt! Never seen it like this!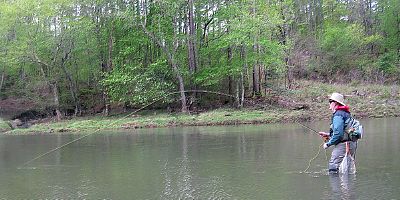 But the last month of regular flows have made for some good to very nice fishing for those who've been going! I had several trips with folks since the last report and we all experienced some decent fishing. The fish are really spread out from one end of the "trout water" to the other. With the extra flow out there, the water temps just haven't had a chance to get up much yet. The extra 8-10 inches really made for some great flows and fishing!
Asa Warren gets a serious bend in a rod! >>>>
It's the closest the Little Mo' has ever been to a "natural" flow - when the Bunger Valves weren't open! So trout were acting like free flow fish for a change as opposed to "tail water" fish. It was very interesting the other day, though, when the water started to fall out at Riverside we saw no less than three squadrons of fish, with maybe 10 to 15 fish in each one, come zipping down out of the shallow water upstream! They apparently know where the Wall Hole is no matter what the flows are like!
So, just to catch up a bit with those who did fish with me...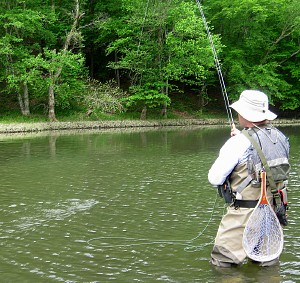 WAY back in the middle of April, Asa Warren came up from LA as we got to squeeze in a day between Bunger Valve releases! We had some really nice fishing as I recall though it was rather cool! Obviously we fished around the Park and in the trough for sure, but I can't really pull up much in the way of details... Too far back! Asa might be able to tell us better at this point!
Dak Strahan - post Bunger Valve only releases. You can see the discoloration on the far bank at Riverside... >>>>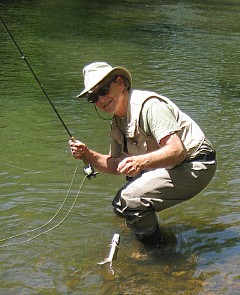 I know he did get me a report that he's returned at least once, recently, and did "quite" well with a Long Creek. All the fish are in really great shape too, by the way!
Right after that trip, though, we had a brief return of Bunger Valve releases due to more rain! Man - could we ever use some of that now, despite this morning's wake up thunder!!!
<<<< Fred Meyers got into some nice fish on his day to the river...
Next up, at the beginning of May, Tom Bullock came from The Port to get around the river a little bit and see and fish a variety of spots. That was his plan for the day - that is learn a little bit about as many of the accesses as we could in a few hours! It was more bouncing around than significant fishing. But it turned up about what we expected none the less.
The very next day, Dak Strahan and Mike Yoes made it up from south Louisiana! We had a great time until my starter went out at Hind's Bluff! Thanks guys for banging on the starter until it worked!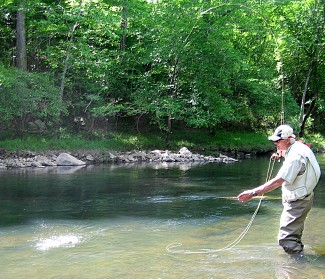 But before that we had had a really good time fishing up around The Flat and The Trough. Lots of really nice fish to shoot at and they were quite agreeable! I believe we stuck with A & W's pretty much the whole time! I had hoped to get into some good caddis hatches, particularly around Butt Buster Shoal, but that just wasn't happening that day... Not to any serious extent least ways. I'm afraid we missed the best of that hatch in early April under the high water...
John Leggett started off good and kept it going! >>>>
Fred Meyers (Bismark, AR) returned on May 6th after a long hiatus from the river! And we got into fish on a really nice afternoon and did just about everything we wanted to do that day! There were a bunch of fish hanging around what I like to call the Basin and Fred had plenty of action there. We got to fish a variety and found fish in the "J" Ledge to boot. And I tell you what - ever since that week the "J" Ledge has been fishing nicely! And producing some really nice fish!
The "J" is just such a prime little stretch of the river and frequently overlooked by a lot of folks because it just doesn't look productive until you get a fly deep and in front of their noses. Fred had his share of really nice fish on, but they were winning most of the time!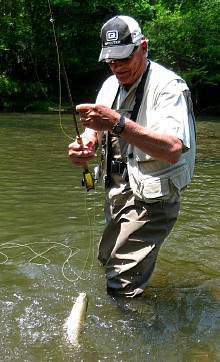 Last week we got John Leggett (College Station, TX) in there too and we hit a few beasts! Fourteen inch class or maybe even better, but heavy, HEAVY fish!!! John had to deal with he same things that Fred had just the week before...
John did get around the river quite a bit on his inaugural trip! We didn't fare so well up in the Skinny Water as we had on a couple of previous occasions, but the "J" Ledge and Low Water made up for that! He also did rather well on his own around the Factory Site.
<<<< John Leggett with a really heavy bodied 'Bow...
Just about all of our fishing to this point has been done with A & W's and Long Creeks... Haven't really had the situation to throw much of anything else! I suspect as we get into the summer and the water returns to normal we'll start seeing our classic summertime patterns develop...
This past Wednesday Jim and Judy Foster brought their friends Nancy & Don Stephan over from Monticello, AR! The plan was to get a little better grasp of the casting and then see what we could do! We got through that and started to throw some A & W's around the lower end of the Flat while there were still some fish hovering around in there. That's when we saw the squadrons come zipping by with no interest whatsoever in feeding right there!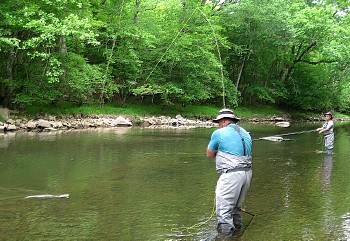 But it was down at the "J" Ledge once again that they got into a bunch of fish. The water was starting to fall out down there by the time we got into them and you could really tell the difference in how the fish were acting. I suspect they are going to be real pains when things return to normal...
Finished out Wednesday with a visit from Eric Anderson (Shreveport) and his daughter Gretchen! It had been quite a few years since Eric has been to the river! Way too long! One of those things where he had to track down his gear - you know that's too long!
Don Stephan works on one at the "J" Ledge with Nancy looking on. >>>>
We headed right down to Low water to see what we could do while the water was still flowing nicely there. The runs still produced about what I expected, maybe not what John Leggett had gotten into the week before, but enough to keep up some interest for a while. Gretchen was happy to get just about anything on and I believe Eric was just happy to be there!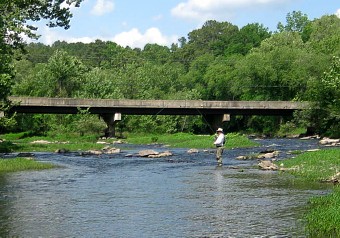 We were having a good time until we decided to go upriver - that was about the time we could see the clouds developing to the west! Actually they were exploding as we watched and by the time we got halfway back up the highway, I stopped, checked the radar and the dark clouds and lightning to the west that was already upon us and we decided not to throw graphite around in that. Made for a brief afternoon, but just productive enough!
<<<< Eric Anderson working one of the best stretchesof the river - at least until it just gets too hot!
So! We still have irregular water for the moment, though I suspect we're getting closer to that coming to an end... And the lake is quite full at 547' going into the summer. Pretty normal there! There is no "generation" scheduled for next week, but that's been the case all this time anyway. Hopefully the current minimum flow will remain until we start getting normal generation patterns for the summer.
I contacted AGFC's Cold Water Coordinator, Melissa Jones, this morning and she says that they did stock on May 8th at River Ridge and Riverside with 500 fish each. And she says they are on schedule to stock the June load as planned. That's good to know, particularly with the seasonal Catch & Release now in place!
AND, hopefully I'll be back on here with a new update sooner than a month from now!!!

Back Cast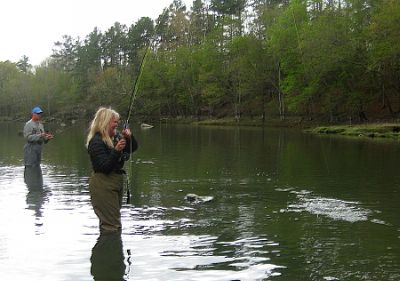 Wow! Undoubtedly, this has been the longest period I have NOT been on the river in probably twenty years!!! The "March 2018 High Water Event" was one of the major ones! Third time in the lake's history to go over the spillway (563') - 1968, 2009 and now 2018! Looks like we maxxed out at 563.42' on March 4th...
<<<< Kerrie Henderson gets into one at The Trough while hubby, Jim gets a shot or two!
We knew it was going to be a long wait!!!
And we did get to see some low water last week and some folks got to fish finally. The reports weren't great, as far as finding fish or significant size, but at least there's fish and fishing! I returned this past Thursday to meet Kerrie & Jim Henderson (Indiana) and her dad Jim Kendall (Florida)! We timed the trip just right as I found out later in the day that the CORPS did have the Bunger Valves open till about 8:00 that morning! In fact, they had them open for two and a half days this past week!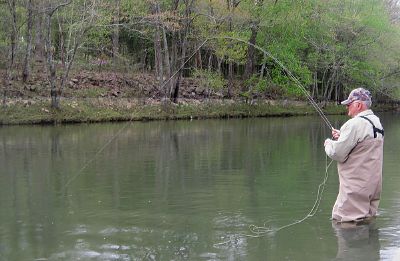 At any rate, we were back to the extra minimum flow that we had been enjoying for months! Oh, that is so nice! Gonna hate to see that go away whenever they get done with what all they're doing at the powerhouse. Supposedly, that'll still be done next month, sometime...
Jim Kendall had good fish working the shallow water... >>>>
As is typical for some novices and true first timers, it was casting for a while. There were fish showing themselves pretty regularly and March Browns were doing likewise! So, when it came time to load up it was on with the A & W's! Pretty much a given at this time of year, particularly with the long period of high water.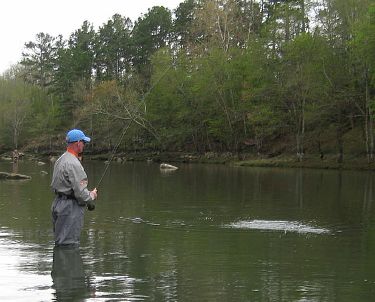 Normally, right now, we'd been getting into the peak of the dry fly fishing, but when the fish have been under high water for so long it takes them all a while to learn to eat the actual dries. But they do get to see plenty of emergers! And they do hammer them when they are spotted!!!
<<<< Jim Henderson had a real good groove going and probably produced the most hits! There is no doubt a direct correllation between clean casts and takes. After that, it's up to you!
We started in the middle of the Flat with the casting and stayed there for just a bit. It didn't seem like a lot was going on - there were fish, but not real busy... I wanted to go up into the shallower water to see what was happening there. That move paid off nicely.
I got Jim H into The Trough, just below Kerrie who was at the top, and Jim K along the shallow bedrock ledge. There were lots of fish in The Trough and they were happy to oblige us with plenty of action the rest of the session! We easily lost track of fish on and probably even how many released! There wasn't a lot of size which confirmed the reports, but like I said, there was fish and fishing taking place!
Once the guys got a good groove going with the casting and working, the nice casts and tight lines paid off thoroughly. And you might account that the fish were settling into a better water situation from the previous couple of days too. The combination was just right for everyone! I had noticed on the way up in the morning that most of the cattle in the area were laying down and not eating. Apparently the trout do not subscribe to that theory after all. They were happy to feed!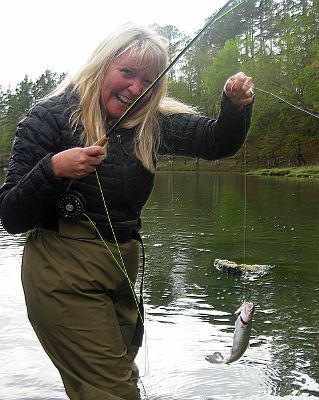 Unfortunately, though, despite what the weather predictions had been - that is for showers in the overnight - the thunderstorms moved in during the afternoon with just enough close and overhead lightning to run us out of the water! I didn't mention that when I got there in the morning it was 50° and bright enough to have the sunglasses on - by the time I left town it was 47&deg and still raining!
<<<< Kerrie pretty much captures the mood for the day! Lots of fish caught by all and nobody got hurt (just cold)... It was a good day. Topped out by an immature eagle flying over us with a trout clutched in its talons!!!
And of course we all know what happened yesterday and today! I thought this was supposed to be April, but it's not the first time we've had snow threatened in April... Downright chilly in the Port today - glad I was teaching inside! They are talking temps touching the 20's in the morning (Sunday) in the Boro!
With all that said, the storms of the last 36 hours have dropped significant water into the lake again. It's back up to 549.24' tonight, however the upper river has dropped nicely and there's not that much water coming down out of the mountains... US 67 reading got up to 14', but it's cresting as well. So don't be surprised if we see some more water releases soon. Maybe just like this past week - some Bunger activity mid week. Currently no rain forecast until Friday...
So! Maybe, just MAYBE we will be seeing a nicer month the rest of April and into May and get the river back to where we all like it! Predictable!!!
Going to try to get back up this weekend. Maybe we will have some nice hatches going on - March Browns and I hope, some Caddis as well!

Back Cast
Always On The Water - Jeff
Please join in on the Message Board! Email me to register...
Click here to E-mail me at jeffonthelittlemo@gmail.com and say "hi" if you have any questions! Remember, if you do e-mail me, make sure you mention fishing on the subject line and identify yourself. Otherwise, I'm liable not to open the e-mail. That virus thing, you know!