Little Missouri Fly Fishing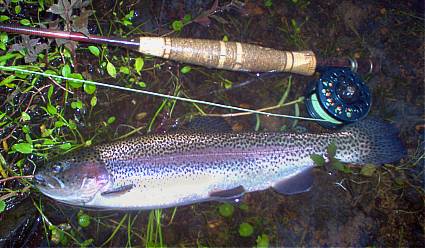 The Latest
Friday - October 26, 2018
Monday - September 10, 2018
Friday - August 24, 2018


870-210-3681
Check out the current weather and forecast in Murfreesboro!
"Now, I bet'cha wonderin' - how come he don't write!" (Hapless Wagon Driver - "Dances With Wolves")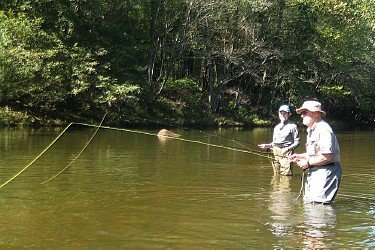 Been wonderin' myself! Just don't seem to stop long enough to get cranked up at the computer! Been too busy enjoying the finally autumn weather elsewhere! But there was a little fishing mixed in a couple of weeks back with John & Patti Montgomery from the Austin area!
Patti and John Montgomery enjoying the great weather, their fly fishing education and a few fish on! Turned out to be a perfect day! >>>>
It was their first attempt at throwing a fly line so they weren't expecting a lot... So considering the time of year and the tough fish one has to deal with at the end of each season they did rather well! Saw a lot of fish, got hits consistently throughout the session and had several on after just a little bit of casting instruction!
We actually had the first real autumn weather of the year to contend with! Low fifties early that morning and not warming up a whole bunch! Enough to have the waders on myself and a decently cool breeze swirling around most of the day. Oh, what a change finally from the brutal September and rather peculiar first half of October we had!
The CORPS had been back to work at the power house again throughout the last few months so we still have that little extra flow going with no generation for quite a while. The fish have been loving it! And they had been showing the conditions on their backs! That is, wide body and great shape!
They've maintained their daily schedules and routines - running up and down the Flat, through their usual haunts. Amazing how predictable they can be year after year, crop after crop - they develop the same patterns every fall! We tried to take advantage of that with some success.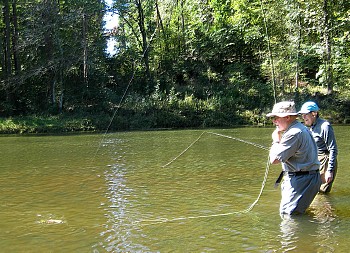 Patti and John didn't land a lot, but they sure had some action, and that's typical for the late season. Lots of looks and a bent rod here and there. Makes getting that one or two in all the better. You know you worked for them!
We threw an assortment of flies once again. Mostly Long Creeks, Cahill Sliders and ADL Midges though. Those got the most interest on a regular basis. The Light Cahills have just about reached their peak for their hatch by now.
John Montgomery does battle with his first rainbow on a fly while Patti certainly seems to be getting a great kick out of the entire event! The day was quite the pleasure to be a part of as for myself! >>>>
We got the reports a couple of days ago (the 24th) that stocking has resumed! We should be seeing about 1,500 fish spread out between Riverside, River Ridge, Hind's Bluff and the Factory Site! Without full generation, though, those fish will tend to stay put a little. But with the extra minimum still going, some of them are certainly going to be moving a bit!
November will get the stocking going into full swing. We can expect more than 5,500 fish brought in during November! That's not quite the typical numbers, may be down a bit, but the AGFC says they should have nice sized fish to make up for lost numbers this season.
And so, what I consider to be the 2017-18 season is over... And we begin the 2018-19 season! I've been hanging around the Little Mo' since the early 70's and November has always been the un-official start of the new season with new fish and new promises. Always looking at the winter water conditions, hoping we get a nice amount of cold rain each winter to fill the lake with great water for the following summer! Hoping we don't see extended high water situations that keep us off the river as we had this past spring! That was brutal... Ten weeks with no fishing - changed my world a bit. Good thing I was teaching a lot of tennis!!!
I've already been filling in some fly orders for the season. If you want to get your Long Creeks, Little Mo' Woolies, A&W's and Smidges in the queue, you'd better let me know soon before I get bogged down! It's going to be a busy fall and December! I'll be at LA State Playoffs (tennis) in a couple of weeks and Sandy has to have her cataracts done later in November and December, so I'll be nursing for quite a few days in there too!
Looking forward to getting back to the river on a more regular basis!

Back Cast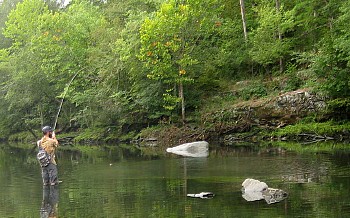 Managed to get in another trip this past Friday with the returning Ben Glick and his brother Adam (Texarkana). It was Adam's first trip to the Little Mo' and as usual, this is a trying time of year for first timers, but he did rather well when all was said and done!
<<<< Ben was first up while Adam was in the midst of getting his casting indoctrination.
Of course there was some casting to get under control for Adam - not an outright beginner, but in a little need none the less! We took care of that and got into some fishing pretty quickly. We only had till noon before high water after all.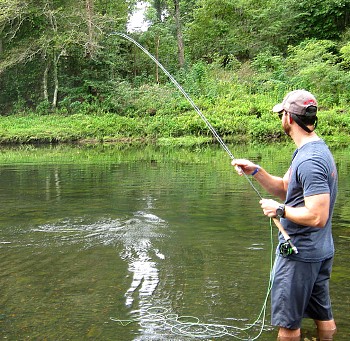 And for early September we had decent conditions as well! It wasn't dry and windy as we would like and expect at this time of year, but it was pretty heavy over-cast and a hint of breeze here and there as the morning progressed. The fish were certainly moving and showing themselves in the usual cruising lanes. I've mentioned in the past how interesting, to me at least, that every year a new crop of fish develop the same patterns with very few variations!
Adam got his first Little Mo' Bow at the Trough in beautiful late summer water, and fashion. >>>>
In that respect, trout certainly seem to be a rather predictable sort, but then there's always that day when nothing holds consistent! At least we usually feel like we have the upper hand until we're thoroughly humbled.
At any rate, it wasn't long after getting flies on that the guys were starting to see some action. Ben, with a little more experience on this river, raised the first fish and it ran all over the Flat for a couple of minutes! However, that skewed the "one out of four out of four" ratio against Adam and he had to go through a bunch of hits and fish on before he had his first one in...
Ben started out with a Light Cahill dry he had and once Adam was fishing we tried a Cahill Slider and then a Griffith's Gnat and they had the fish intrigued at least and produced some takes, but they seemed almost a little half-hearted. Still fish were caught on both. But when I switched to the ADL (All Day Long midge) the takes were definitely more frequent
<<<< Ben with another healthy fish, literally, in hand.
I think the ADL accounted for most of the fish on the day. There were only a few Light Cahills flying around so I can understand that the interest just isn't quite there yet. We are still getting generation too early in the day and too far into the evening for the fish to get really keyed in on those.
But they certainly do see midges throughout the day, every day! And particularly even more so on days that are over-cast and even a bit drizzly! In fact at one point, what prompted going to the midge to begin with, was a sudden flurry of activity and numerous rises with nothing in sight! In other words - midge time! The midges are virtually impossible to see so you have to really stay in contact with where you believe the fly to be and keep a nice tight line to the fly!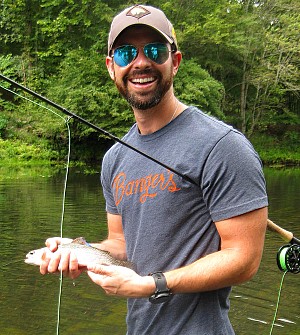 If you can stay focused and properly prepared, you can stick a lot of fish once you know what you're looking for... So much of the success in midge fishing is looking for the tell tale signs of a take. A swish of a tail, a twitch in the tippet, or best of all, the open white mouth of a trout that has your fly!
Adam matched Ben and the matching smiles pretty much say it all on the day! >>>>
The longer the guys stared into the water the better they got at spotting such occurrences and they had a rather decent morning for September! These are getting to be the toughest fish some of you will ever fish over! They are wily and educated and they also know what to do when hooked up! In short, an all around challenge!!!
And you can expect them to get tougher over the next few weeks until the fresh stockers start to arrive in mid October. To my knowledge as yet, there's probably no major changes in the stocking schedule, though the overall numbers for 2018-19 might be down slightly due to last year's flooding at the Spring River Hatchery. i doubt we'll even really notice!
Generation the rest of this week:
Tuesday, Thursday and Friday cranking up at Noon again and running till 7:00 PM.
Wednesday, Saturday and Sunday running from 1:00 PM to 7:00 PM.

Back Cast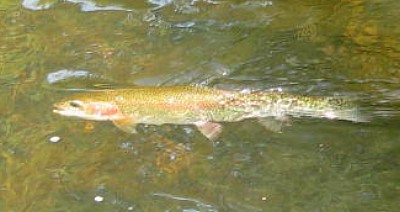 Wow! A bunch of catching up to do!!! Been a brutal summer to be anywhere except for fishing! Those days that I was on the river were rather nice, even with the rains a couple of weeks ago!
Back towards the end of July I met with Janet & Robert Shope from south Louisiana! They'd done a lot of salt fishing but never any fly fishing, much less stream fishing for trout! So they had a bit to work on initially, but that's never a problem.
One of the pay-offs for the Shope's! Nice hefty fish in great shape! >>>>
They had their challenges, not the least of which were the hot conditions and spooky fish, but they did manage to get a few on. This was one of those bucket list type trips that so many people tend to make. It was a really nice add on for their travels into Arkansas.
The water was finally starting to get back to normal clarity after the very wet spring and early summer. The fish were starting to get into their typical summer time patterns too while still enjoying the extra minimum flows.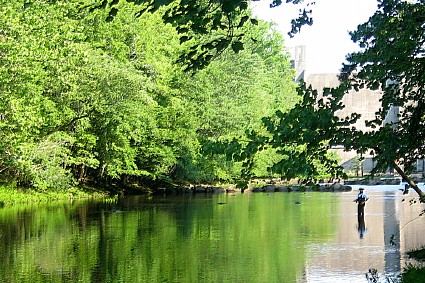 The next week brought Jim Goforth (Rusk, TX) for his first trip to the Little Mo'... We met early on that Thursday morning and at the time we still had that nice flow going. He was one of the last to enjoy that as the CORPS finally wrapped up the work that was creating the extra minimum shortly thereafter.
They got everything back on-line at the end of July and, with the exception of last weekend we've been on a regular summer generation schedule since!
Jim Goforth gets his cover shot. I was that far away because I went back to the car to get a regular leader for Jim. He had come out with a full fluorocarbon leader which sinks from one end to the other. This was getting Jim down into the rocks in the shallows way too fast. Just a small bit of advice for those thinking along those lines. Fluoro tippets only, unless you want to get to the bottom! >>>>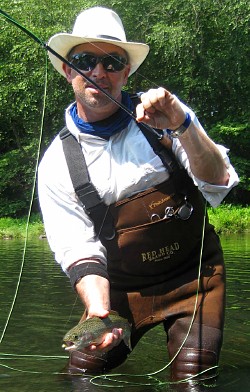 So, with some absolutely great weather and nice hatches going we took full advantage of the situation. There were caddis and Cahills in the works and I believe we fished Sliders for the most part. I know we also threw a Long Creek in there as well and all had good results.
An ADL was also employed again with some good action. Those little sub-surface midges are a bear to keep track of though. The takes are either very subtle or savage - doesn't seem to be any in between!
<<<< Jim and one of his chunky, deeply toned fish on the day.
The water was back to a nice "normal" clear, the bottom was dark, and the grasses were bright greens again! With the normal summer conditions the fish were showing their colors and fight! We moved up and down the Flat finding fish in all the usual hang-outs... Seemed like we could hardly go wrong.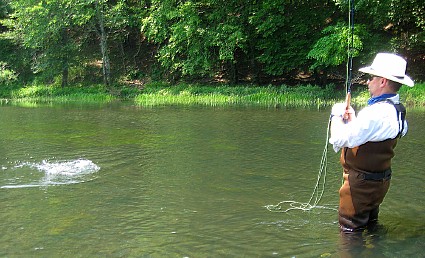 We easily lost track of how many fish were hooked up. That's always a good sign! And for the most part they were all chunky and averaging 12 inches or so with a couple noticeably larger - more like close to 14's.
No matter how large - or smallish - though they are all feisty as they can be! That's doubtlessly continued to be the case with daily generation ever since.
Having fun now! >>>>
A couple of weeks back Marty Newman came up from Dallas. He spent the night at Dynamite Hill through those vicious thunderstorms that plagued the area for several days. And I traveled into some pretty ominous stuff just to get there that morning!
I understand that while we were actually on the river, Murfreesboro got nearly eight inches of rain!!! It had just started as I arrived and apparently rained cats and cats and dogs and dogs the whole time - in the Boro!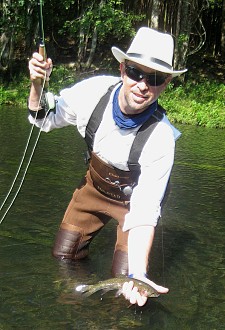 Not so much on us, even though the rain was quite significant... But there was one period mid morning when a torrent, which probably doubled the flow of the river - came crashing down Dynamite Hill and through the grass just upstream of the stocking ramp at Riverside. I've never seen that much water coming down that hill! It dumped so much debris off the hill and banks that we couldn't get a fly into the water where we were! We had to move above the raft of leaves, sticks and branches that covered the Flat for a while!
<<<< Another gorgeous fish for Jim...
Lucky, for us however, we sat out the worst of the downpours and lightning under the pavilion and got in the water when we felt safe. As you can see, the rain did not deter us from our fishing, just made us pause a few times... One of the nice things about Riverside - I've sat out many a storm, winds, lightning and hail under the pavilion! Pushed the envelope a few times in younger days, not so inclined to do that anymore!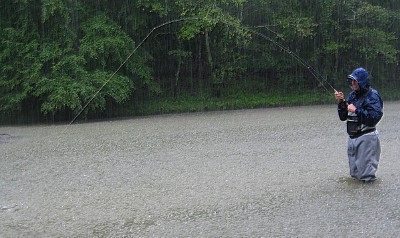 And while the rain was sometimes at its worst we had some of the best fishing. But it also appeared that after that quasi flash flood and the real storming was done for the day, so were the fish.
Marty Newman battles the elements and fish during what turned out to be some excellent fishing - when we could! >>>>
I don't know if they didn't like the new pH of the river, or the rains warmed it up a bit, or they didn't like the change in the stability, or the cafe' au lait coloring, but they nearly disappeared!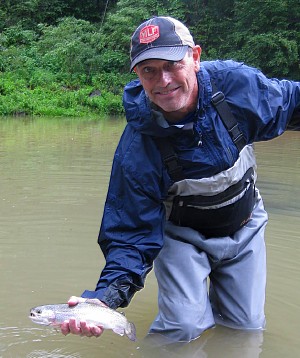 Never the less we had excellent fishing when we could! And some really nice fish on this day. The big boys came out in the open with the weather and heavy cloud cover.
I'd say the average fish on this day was closer to 13' and seems they're still growing! It's going to be a very nice late summer and September... The daily generation of late should be keeping the fish in great shape!
<<<< Marty shows off a chunk! You can see what the rains did to the water clarity around us. Also even looks like a swollen river at that moment - hell - because it was!!! The fish even lose their color when the water is muddied up. Interesting bit of chameleon like behavior they have...
Speaking of which, we've got generation today, Saturday and Sunday from Noon to 8:00 PM scheduled this week. Next week - the 27th through September 2nd - we've got generation from 1:00 PM to 7:00 PM with the exception of Friday till 8:00 PM and Sunday from 4:00 PM to 7:00 PM only!
Late summer - early autumn fish will be the most contentious of the year, unless you have perfect conditions! The fish are tremendous athletes, but very wily. It is not a good time for beginners unless you're just looking for the challenge. The payoffs are great though! Be looking for over cast with westerly to north westerly winds. that's going to be your best days. Of course those still look to be a little ways off but September is almost upon us after all!!!

Back Cast
Always On The Water - Jeff
Please join in on the Message Board! Email me to register...
Click here to E-mail me at jeffonthelittlemo@gmail.com and say "hi" if you have any questions! Remember, if you do e-mail me, make sure you mention fishing on the subject line and identify yourself. Otherwise, I'm liable not to open the e-mail. That virus thing, you know!